Despite reports, Kilpatrick not joining Vale of Atholl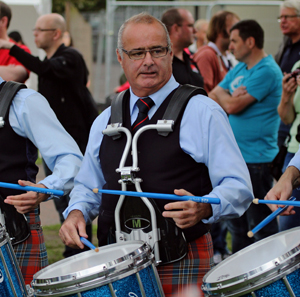 The Grade 1 Vale of Atholl has confirmed that Jim Kilpatrick, the former Shotts & Dykehead Caledonia and Polkemmet leading-drummer and 16-time World Solo Drumming Champion, will not be joining The band, following some consideration.
Numerous obviously unsubstantiated reports had said that Kilpatrick would be joining the Vale, taking over the leading-drummer role from Alistair "Bongo" McNab, who had held down the spot since 2013.
Rumours have abounded since Kilpatrick departed Shotts & Dykehead under controversial circumstances, Shotts insisting that he resigned, Kilpatrick contending that he was removed. In addition to reports that he was joining Vale of Atholl, other speculation has included Kilpatrick joining a number of bands, including Boghall & Bathgate Caledonia, Spirit of Scotland, and an altogether new band sponsored by a wealthy benefactor.
Following Kilpatrick's departure, Shotts & Dykehead appointed Blair Brown leading-drummer, only to announce on November 16th that he had left the band due to personal matters, with Andrew Lawson taking over the role permanently.
Vale of Atholl confirmed that it is still searching for a leading-drummer, following McNab's stepping down after the 2015 season. The band has also lost four snare drummers, and recently Pipe-Sergeant Craig Sutherland, who has joined the Grade 1 Simon Fraser University of Vancouver.
Stay tuned to pipes|drums for news what band the 59-year-old Kilpatrick joins, if any. He has been unresponsive so far to requests for comment.