LA Scots drummer uses score at World's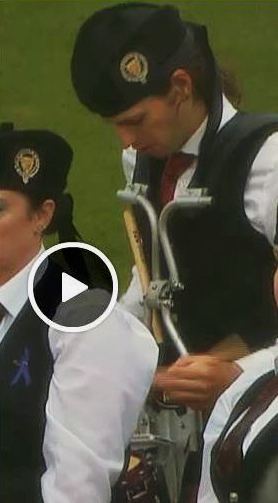 Richard Baughman, a snare drummer with the Grade 1 Los Angeles Scots, might be the first to openly read a score while competing at the World Pipe Band Championships. While memorization is standard for pipe band, solo piping and pipe band drumming performances, only the Eastern United States Pipe Band Association has a rule that disallows the use of music in competition.
Baughman is the pipe band drumming instructor at Carnegie-Mellon University in Pittsburgh, and served as leading-drummer for the LA Scots from 2006 until 2010 when he was replaced by Glenn Kvidahl over "philosophical differences." Molly Steuber was made L-D of the band in September 2015 and, according to Baughman, she and Pipe-Major Colin Armstrong were fine with him using music.
"I did it because I feel more comfortable reading and the band didn't cut me, even though it's looked down on and in some cases illegal," Baughman said. "I want my students to be able to read [music] if they don't have time in their busy schedules to memorize the music, which isn't very important, in my opinion. I prefer to focus on how the music is played and approached."
Baughman pointed out that using the musical score is commonly used in most genres and is perfectly acceptable and accepted.
LA Scots competed in the medley and MSR events in the Friday qualifying round, and the band finished last in each event, but was ahead of a few bands in drumming, which was judged by Ciaran Mordaunt (MSR) and Mark Wilson (medley).
"[The judges] are not looking for it, [but] I was not hiding it," Baughman added. "The judges are supposed to listen and luckily RSPBA judges . . . are highly respected by me and most intelligent folks."
Baughman used a set-up for his iPhone 4s called AirTurn TAP, which allows the score to be displayed and the player taps a pad with a stick to turn the page when needed. He used Velcro to stick his iPhone to the rim of his drum, with the page-turning pads velcroed to his harness, connected to his phone by Bluetooth. To prepare for the bad weather, Baughman coated the device with a water-repellent wax that he purchased at a camping store in Glasgow.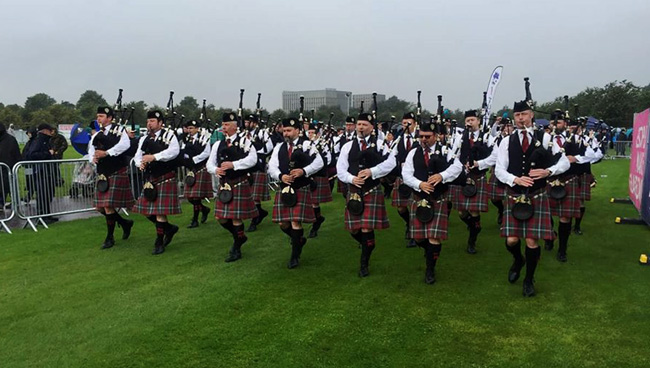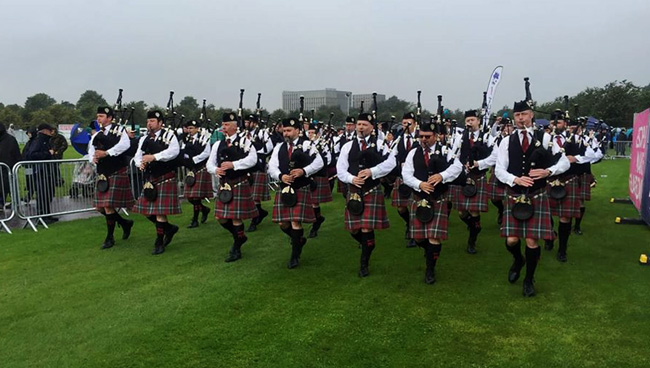 Baughman also used the application when competing with LA Scots at the Victoria Highland Games in British Columbia earlier in the season. He said that drumming judges Colin Magee and Bill Saul knew that he was sight-reading at that competition and there appeared to be no penalties from either adjudicator.
The Carnegie-Mellon band competes in the EUSPBA circuit, and Baughman said that he hopes that the association will rescind the rule against sight-reading while competing.
Baughman is a graduate of the prestigious Juilliard School of music in New York, holds a Doctorate in Musical Arts from the University of Southern California.