Mac-Cals back with Brummage as L-D

With Buchan Peterson, Johnstone and Police Service of Northern Ireland each moving up to Grade 1, Grade 2 bands are looking to rise higher, and one of the first steps for MacKenzie Caledonian of Dundee, Scotland, was to secure a new lead-drummer.
The band has settled on long-time former L-D Barham Brummage to take over its back end, and the move was ratified at the band's annual general meeting on October 7th.
Brummage had served as the band's lead-tip until 2012 when the role was handed over to Calum Burns, who held the post through the 2016 World Championships, stepping down due to personal commitments. Brummage had remained with the band as a corps drummer over the last three seasons.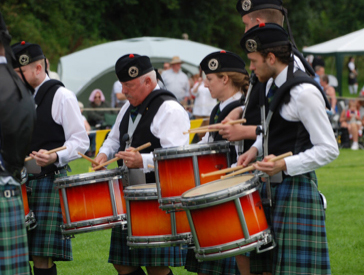 "Having stood down from the leading-drummer position to allow a younger, person to take over, I find myself back in the firing line again," Brummage said. "At first I ruled myself out of the running, but as time wore on I got to thinking that Calum had done a lot of good work and introduced interesting and challenging scores. Bringing in an outsider would probably mean most of this being ditched. I therefore decided to declare my interest. I feel with the repertoire and scores much the same we can kick on from our successes of last season. We have new players coming in and I hope to persuade a couple of our corps who have moved out of the area to remain part of the band. I am taking on this position for a year and will review it with Neil and the corps at the conclusion of 2017 season."
Brummage has a 47-year career with a number of other bands, including Dalziel Steelworks, Dumbarton, Glasgow Skye, Polkemmet, Lomond & Clyde and Torphichen & Bathgate. He lives in Bathgate, Scotland, and will continue to travel to Dundee for Mac-Cal practices with his daughter, Ruth, who is also a drummer with the band.
Pipe-Major Neil Nicholson said, "I look forward to working with Barham and have great confidence in his ability to once again lead and develop the talent in our committed and loyal corps. Barham's experience, respect from the corps, and our shared passion for success were the key factors in his appointment. His commitment to the band since he joined in 2008 has been exemplary. On behalf of the management committee I would like to thank all who expressed an interest in the vacant role. Change can be a challenge to any organization, however the professionalism of both the corps and outgoing leading drummer, Calum Burns in managing this cannot be overstated. Calum moves on with a legacy of strengthening the established corps, which Barham passed to him, having achieved third-place for drumming at the 2016 World Championships."
The band is welcoming "team players with a desire to compete at a high level" to contact Nicholson directly or via the band's Facebook page.
MacKenzie Caledonian generally hovered around sixth and seventh at major championships in 2016, and the band competes directly for prizes and personnel with fellow Dundee Grade 2 band, City of Discovery.