Men on bass: Triumph Street, Toronto Police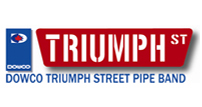 Former 78th Fraser Highlanders bass drummer Johnny Rowe has found a new home with Dowco Triumph Street of Vancouver. Rowe, who lives in Toronto, will commute to practices, which are variously held in Vancouver and Scotland, due to about half of the band being based in each area.
Rowe had been abruptly dismissed from the 78th Frasers, who eventually appointed former Grade 1 Toronto Police Pipe Band bass player, Sean Allan, to the role. Allan is the brother-in-law of 78th Frasers' Lead-Drummer Drew Duthart.
+ 78th Frasers replace Rowe with Allan on bass

Pipe-Major Sean McKeown confirmed that the Toronto Police have just appointed Cam MacGibbon as the band's new bass drummer. MacGibbon is a protégé of former World Champion bass drummer Jimmy Stewart, one of the world's innovators on the instrument in the 1980s and '90s with the Grade 1 Guelph and Toronto & District bands. MacGibbon previously played with the Hamilton Police organization.
MacGibbon played bass with the Toronto Police mini-band at the celebration event for Reay Mackay in late September, and McKeown said that he liked what he heard and thought that MacGibbon would be a perfect fit.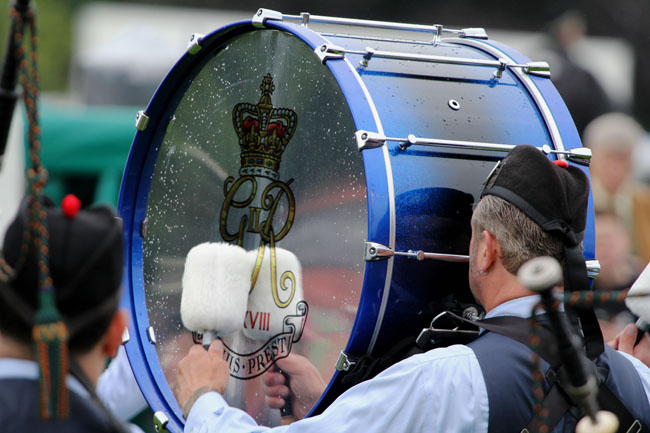 Dowco Triumph Street qualified for the Grade 1 World's Final in 2017, after taking a hiatus from the event in 2016 when the band revamped its drum section after the appointment of Northern Ireland-based Gary Corkin. The band's membership is spread between Vancouver and the UK, with practices held in various spots over the winter. Dowco Triumph Street placed twelfth out of 12 in the World's Grade 1 Final, and also competed at the British Championships at Paisley, Scotland, where they finished eighth overall.
+ Corkin signs on as Triumph Street L-D
+ Inveraray: 2017 British Champions
Rowe said that he is planning to travel according to what the band's leadership decides, and that he hopes to make several overseas trips in 2018.
Dowco Triumph Street Pipe-Major David Hilder said that Rowe replaces Terrance Cadiente, who had been with the band for four years prior to his one season on bass, and that Cadiente went back to the Grade 2 Portland Metro as a tenor drummer at the end of the 2017 season.