Move to change SPJA conflict policy
panel of the Pipers & Pipe Band Society of Ontario for a matter stemming from the organization's code of conduct that requires judges not to adjudicate events in which they are not officially certified.
+ Gail Brown no longer on judging panel
In short order, three other judges with the SPJA – Bill Livingstone of Ontario, Rab Wallace of Scotland, and Bob Worrall, also from Ontario – expressed their support of McRae's appeal in follow-on email messages to all SPJA members.
Remarkably, Wallace wrote in his message, "Contrary to what has been written, I am not in favour of judges judging pupils," but went on to couch his opinion by saying that those teachers present on benches should recuse themselves from specific decision-making and that their integrity should trusted.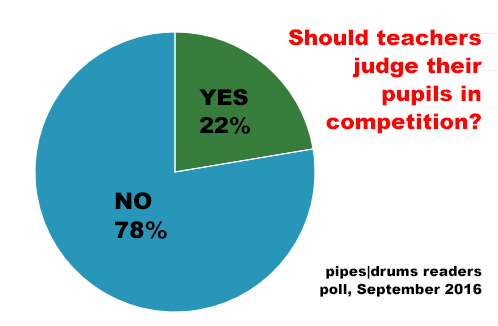 In a poll of pipes|drums readers conducted in September 2016 that asked "Should teachers judge their pupils in competition?" 78% answered No.
"Competitions are about the competitors, not the judges," said one prominent piper who spoke on condition of anonymity. "If the majority of pipers or bands don't want teachers judging their students, then shouldn't associations respect their wish?"
The SPJA is one of few piping and drumming associations worldwide that has implemented such a policy. The Eastern United States Pipe Band Association has a similar policy. Many membership-based competition-running organizations have far more stringent rules designed to circumvent real or perceived conflict of interest, including the Scottish Official Board of Highland Dancing. The SOBHD's Teacher/Judge code of ethics reads: "Teachers/judges must behave in a professional manner at all times and will not compromise dancers by advocating an unfair advantage."
"I support the current policy of the [SPJA] and it's not because I distrust judges or think they are biased. That is really irrelevant. I am on the side of the competitors at all times. Whether we think it fair or not, there is a stigma that sticks forever to a piper winning major prizes where their instructors have judged," said another soloist who competes at the Premier level, who also spoke on condition that his name is not used.
Neither Competing Pipers Association President Glenn Brown nor SPJA Secretary Jack Taylor had responded to a request for comment at publication time.
One other member of the SPJA described the situation as "an orchestrated attempt at a coup."
A date for the SPJA's next annual general meeting has apparently not yet been set.
Stay tuned to pipes|drums for more on the matter as it develops.