New G.S. McLennan march now has a name – and a new manuscript version
By Jim McGillivray
The unknown six-parted G.S. McLennan competition march that debuted on pipes|drums a few weeks ago now has a companion manuscript — the same tune with changes, thought to have been written out some years later.
+ Newly discovered six-parted 2/4 march by G.S. McLennan published first on pipes|drums
The tune also has a name, given to it by the family. More on that below. First, the new manuscript.
The new version of the tune was brought to light recently by Hamish McLennan, grandson of the great G.S., and an exemplary curator of his material.
+ Glorious online homage to G.S. McLennan unveiled
Hamish McLennan writes:
This march appears as #14 in GS's manuscripts, but with differences from the version held by Colin MacLellan that went public on pipes|drums in April. The letter written by GS that accompanied Colin's manuscript implied that he himself recognized that the tune needed some tweaking and it would seem that he did just that between the two versions.
We cannot of course be sure that these changes were the consequence of G.S. rethinking his own work or if the original recipient of the MS responded to the letter and passed on some acceptable suggestions.
The manuscript from Colin MacLellan is dated April 1908. The G.S. manuscript booklet in which march #14 is recorded, has inscribed on the inside front cover: "Pipe Major G.S. McLennan, Aberdeen. December 1913." This suggests that all entries were completed after that date – so march #14 is a reworking of the tune some five years after its inception.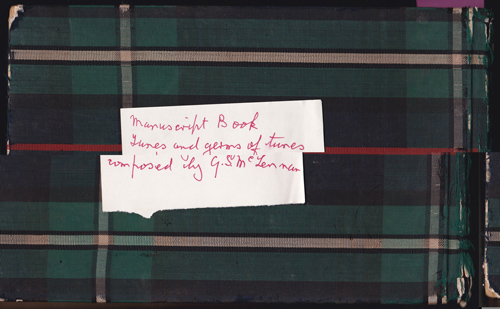 In studying both manuscripts, it became clear very quickly that the second manuscript is quite inconsistent and seems more like a draft, while the first version seems more finished. The supposedly later manuscript appears as though G.S. was thinking out loud, with nearly every ending and middle of the part (bars 3 and 4, and bars 7 and 8) written out slightly differently or with slightly different technique. Of course, G.S.'s practice of writing tunes out evenly so the performer could interpret them as desired is still affected by how he gracenotes the tune. Certain gracings demand certain interpretations. The various versions of the ending phrase in the later manuscript raise many expressive possibilities.
There are other changes in the melody sprinkled throughout the tune, and while I have my own opinion as to which is the superior version, we'll leave it up to you to decide.
Both of the typeset versions, their manuscripts and their recordings are published here. While I enjoyed recording the first version, recent hand surgery (nothing serious) precludes me from recording this one at present. I asked Matt MacIsaac if he would help out with his Blair Digital Chanter, and he kindly agreed. I've asked Matt to play the tune exactly as written despite the inconsistent gracenoting, but to express it as he wishes.
Here's the typeset version of the original unnamed manuscript of the tune: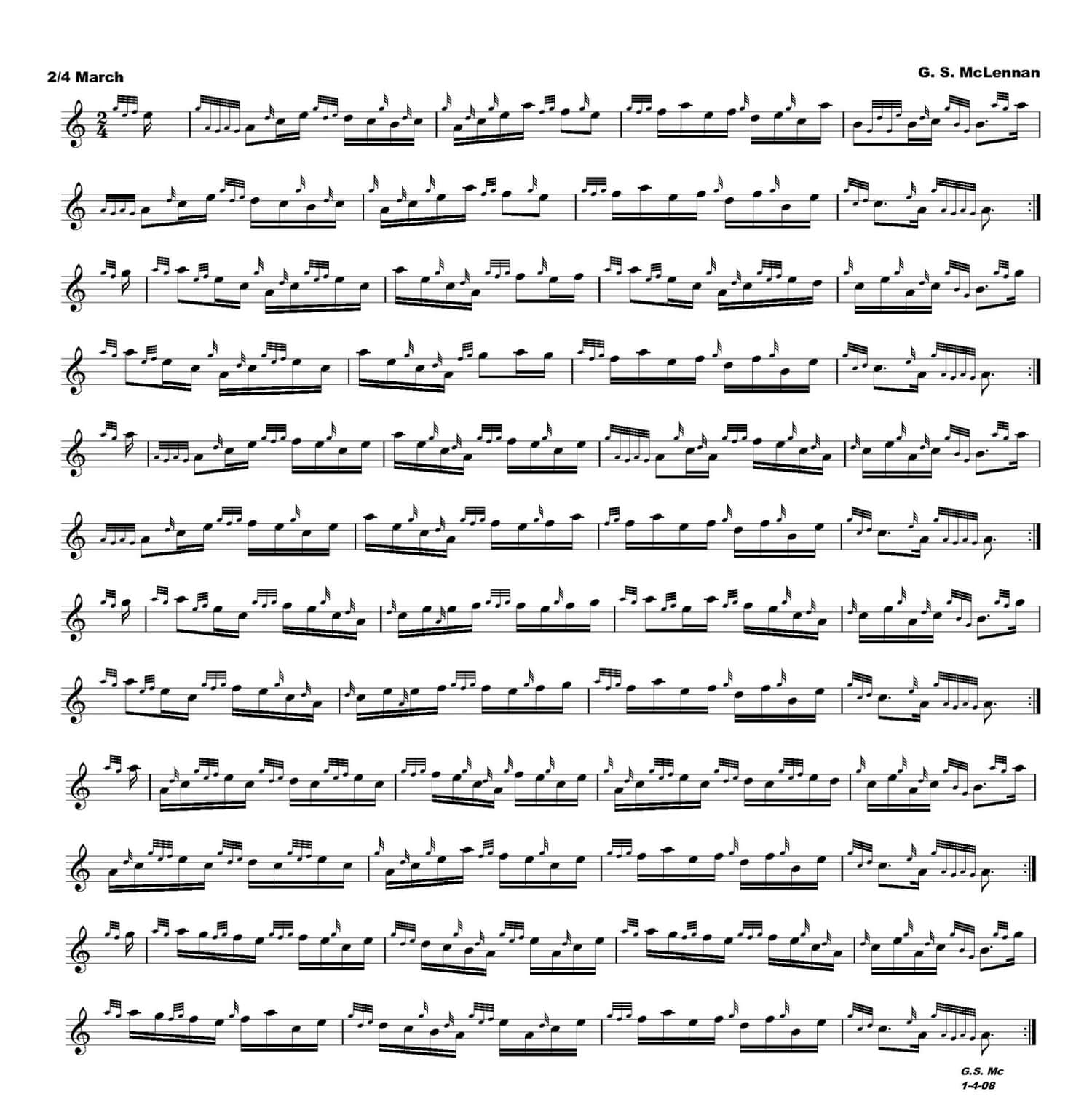 Audio recording of Jim McGillivray playing the original unnamed manuscript:

And here is a typeset version of the second manuscript, now named "George McLennan":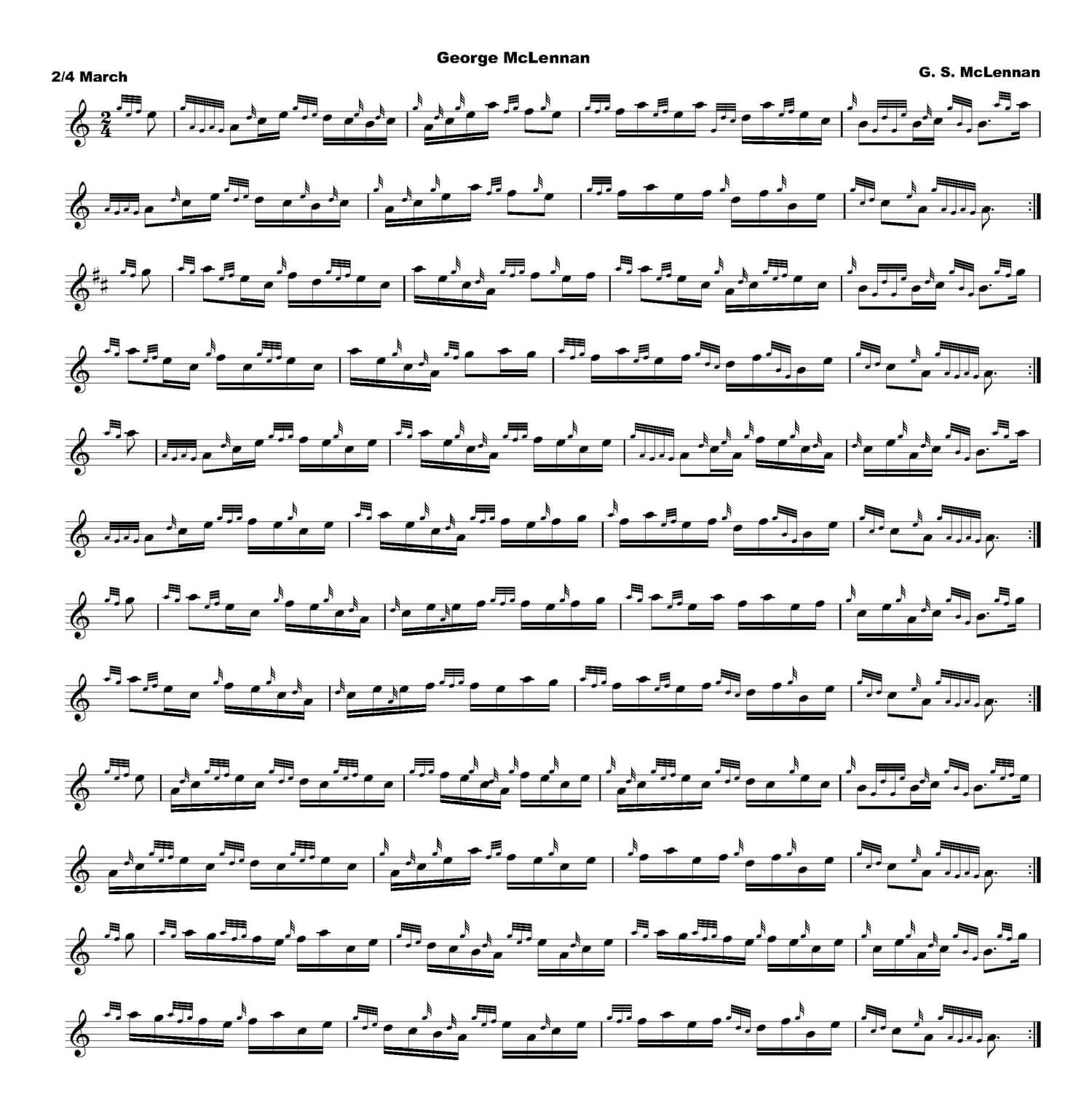 Audio recording of Matt MacIsaac playing "George McLennan."
As to the naming of the tune, Hamish McLennan writes in an April email:
As a family, we are in agreement that there is only one person, place or thing above all others who really merits being recognised as the subject of this tune. That person is the late George McLennan, elder son of G.S. and Nona.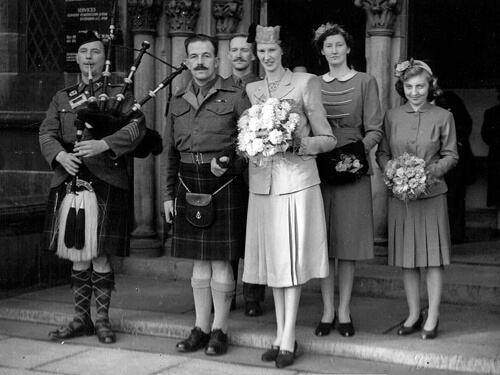 The timing is particularly significant as today (16th April) is the 22nd anniversary of his death at the age of 82. Remarkably, by having a tune dedicated to his memory, all 6 of the family remembered on the gravestone in the Grove Cemetery in Aberdeen now have that honour. These are G.S., Nona, their sons George and John, daughter-in-law Jessie and granddaughter Nona. [G.S. himself was actually interred in Echo Bank Cemetery in Edinburgh.]
Following his father's death in 1929, young George left school to become a joinery apprentice to provide a household income. Soon after the early death of their mother in 1938, George and younger brother John were off to France with the Gordon Highlanders. John would die in June 1940. George was injured by a sniper's bullet to his ankle in nearby action. George was a Medical Orderly and continued to work in the makeshift Dressing Station in St Valery on his hands and knees despite the doctor trying to persuade him to evacuate. He would spend the next five years enduring misery and deprivation in German prisoner-of-war camps.
On his return to Aberdeen he married Jessie Watt, to whom he had become engaged while a POW. They would remain happily married for the next 50 years. Their first child, Nona, was born in 1948 but died unexpectedly at age four. They had two sons, John and Hamish. [Though Nona was G.S.'s wife's name, the lovely 3/4 march called "Nona" was in fact titled after the granddaughter by G.S.'s half-brother D.R., who named many of his numbered tunes.]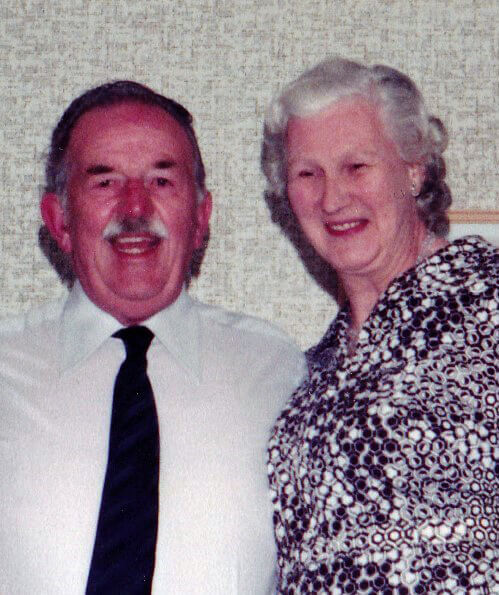 Outside work and home, George was Secretary of the 5th/7th Gordons Old Comrades Association and an active and committed elder of Rubislaw Church. His only solo public performance as a piper took place when he played his father's previously unpublished tune "The Braemar Gathering" at the eponymous event in 1950 in front of the King and a crowd of several thousand. As a rule, he restricted his piping to playing in the New Year in the garden of the family home, a tradition he had learned from his father.
He carefully stored and guarded the music, artifacts and memory of his father's life. He was very involved with his uncle D.R. MacLennan in the preparation and naming of more of G.S.'s unpublished works, which were ultimately to appear in the Gordon Highlanders Pipe Music Collections in the 1980's.
After his retirement as a joiner, he was an enthusiastic and knowledgeable researcher at the Gordons Museum and was able to make regular sociable visits to the Northern Meeting.
But above all George was a family man for whom the arrival of his children and grandchildren helped disperse the clouds of the past. As Robbie Shepherd MBE, broadcaster and doyen of Scottish Dance Music wrote of George McLennan's funeral in his column in the Aberdeen Press & Journal – "The croods at turnt oot tae the Kirk Service said it aa – there's nae mony like George gyan aboot – a real gentleman in the truest sense."
So, our feeling is that "George McLennan" should finally be recognised as the title of a tune created by his father, and a lasting memorial to link both men.
Many thanks to Hamish McLennan for sharing this material and these memories with us, and to Colin MacLellan for getting the ball rolling with the first manuscript.
For more on G.S. McLennan, go to the G.S. McLennan website, or view his biography on the pipetunes.ca sheet music website.
Jim McGillivray achieved great success as a competitive solo piper. He won both Highland Society of London Gold Medals as well as the Clasp at Inverness. He also won the MSR at the Glenfiddich Championship, and then retired from competitive solo playing at age 36 in 1991. He was the Pipe-Major of the Grade 1 Guelph Pipe Band when it won the North American Championship in 1981, and was a member of the 78th Fraser Highlanders from 1988-'92 and the Spirit of Scotland Pipe Band in 2008. He is Director of the piping and drumming program at St. Andrew's College in Aurora, Ontario, an independent boys' school teaching grades 5-12. He also owns and operates McGillivray Piping and pipetunes.ca where you can download bagpipe music and free demonstrations of the tunes by Jim and by many of the composers themselves.