Oban Day 2: Alex Gandy gets a double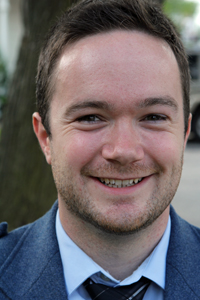 Oban, Scotland – August 24, 2017 – The second day of competition at the Argyllshire Gathering as always took competitors to the games field for outdoor events after the traditional march to the games through the town, pipers leading, Argyllshire gentry following. Weather for the world's top solo pipers competing in what is one of the world's top solo competitions was sunny until about 3 pm when the rain started just in time for th A-Grade final competitions.
Alex Gandy won both the Grade A March and Strathspey & Reel events, a feat his father, Bruce Gandy, also achieved in 1999 at the Northern Meeting at Inverness. The younger Gandy's feat was also accomplished by Alasdair Henderson of Dunoon, Scotland, in 2015, and, before that, Craig Sutherland of Crieff, Scotland, in 2014. Seven of the 12 prizes across the events went to North Americans.
+ Oban Day 2: Henderson wins both A-Grade events
+ Oban Day 2: Sutherland sweeps A-Grade; Morrison king of the jigs; Lee, Ouellette take B-Grade events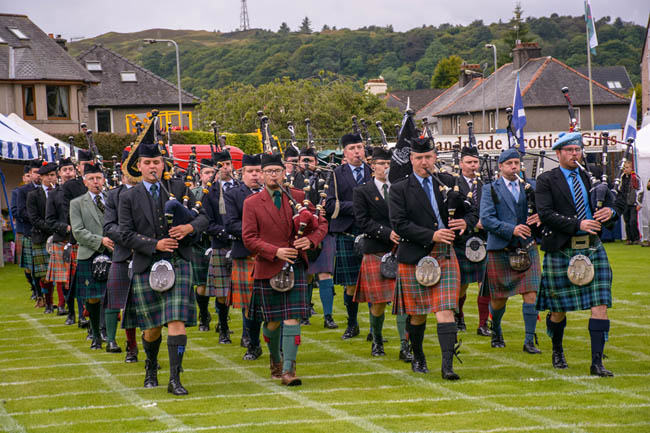 Over the two days there were apparently no instances of teachers judging their pupils, as per recently instated policy of the Solo Piping Judges Association.
"The Argyllshire Gathering are due particular kudos for taking the trouble to make sure that the new SPJA rule of no teachers judging pupils was strictly enforced," said one senior judge who commented on condition of anonymity. "For the first time ever, all of the competitions were judged without any conflicts whatsoever, firmly putting paid to the argument that there are not enough judges to go around if none judge their pupils. This year's gathering proves that there are plenty of judges to go around and piping can now look forward to a new era where the dubious practice of teachers judging pupils is now firmly in the past where it has long belonged."
A-Grade
March
1st Alex Gandy, Dartmouth, Nova Scotia
2nd Sean McKeown, Toronto
3rd Ben McClamrock, Washington, DC
4th Nick Hudson, Houston
5th Angus J. MacColl, Oban, Scotland
6th Peter Hunt, Stevenston, Scotland
Judges: Ian Duncan, Jack Taylor, John Wilson
Strathspey & Reel
1st Alex Gandy
2nd Andrew Hayes, Ottawa
3rd James P. Troy, Victoria, British Columbia
4th Sarah Muir, Glasgow
5th Ben Duncan, Edinburgh
6th Callum Beaumont
Judges: Patricia Henderson, Iain MacFadyen, Stuart Samson
B-Grade
March
1st Willie Rowe, New Zealand
2nd Matt Wilson, Dollar, Scotland
3rd Matt Pantaleoni, St. Louis
4th Cameron MacDougall, Nigg, Scotland
5th Euan Dewar, Oban, Scotland
Judges: Colin Maclellan, Neil Mulvie, Andrew Wright
Strathspey & Reel
1st Conor Sinclair, Crieff, Scotland
2nd Stuart Easton, New Zealand
3rd Sandy Cameron, Roy Bridge, Scotland
4th Steven Leask, Glasgow
5th Matt Wilson, Glasgow
Judges: Jimmy Bell, Ronnie McShannon, Bob Worrall
Premier & A-Grade Jigs
1st Gordon McCready, Paisley, Scotland
2nd Callum Beamont, Linlithgow, Scotland
3rd Callum Moffat, Lockerbie, Scotland
4th Ben Duncan
5th John Angus Smith, London
Judges: Andrew Frater, Malcolm McRae, Willie Morrison
For results from the first day of the Argyllshire Gathering, click here.