Oban Day 1: Sutherland takes Gold; Brown, Sr.; MacDougall Silver
Oban, Scotland – August 23, 2017 – The first day of competitions at the two-day Argyllshire Gathering saw the piobaireachd events held indoors while there was sunshine outside. Craig Sutherland of Crieff, Scotland, won the Highland Society of London Gold Medal, and Glenn Brown of Glasgow took the Senior Piobaireachd for previous winners of the Gold Medal. It was Brown's first win of the major prize, and for their success both pipers gain an invitation to the 2017 Glenfiddich Championship. Cameron MacDougall of Nigg, Scotland, won the Silver Medal in the first result of the day, while Lewis Russell took the MacGregor Memorial.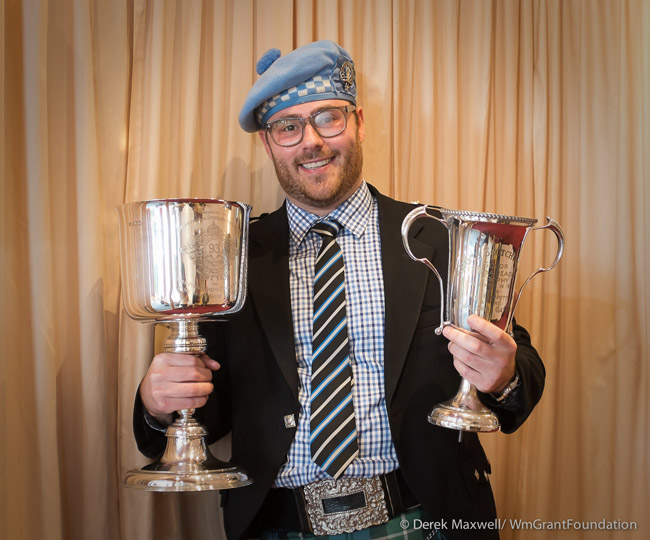 The Former Winners March, Strathspey & Reel was won by Jack Lee, with the event concluding around 10:30 pm. The competition saw a reduction in competitors due to at least two entrants withdrawing because of their displeasure with one of the judges. The contest was also a qualifier for the Glenfiddich, but Lee had previously qualified after winning the Masters Competition at Piping Live!
+ Oban Former Winners MSR under pressure
+ 2017 Masters' Champion: Jack Lee
The policy recently instated by the Solo Piping Judges Association that prohibits judges from assessing their pupils in competition worked well, with no apparent instances. In the MacGregor Memorial, adjudicator Jack Taylor ensured that you was not judging the heat in which his pupil was competing. When his pupil went through to the final, Taylor recused himself from the bench entirely.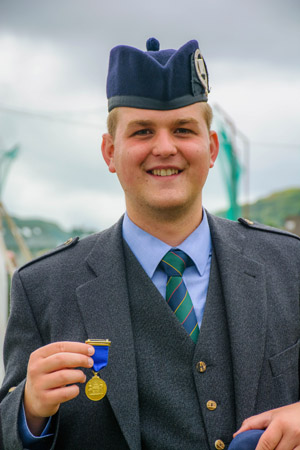 Highland Society of London Gold Medal
1st Craig Sutherland, Crieff, Scotland, "Lord Lovat's Lament"
2nd Cameron Drummond, Edinburgh
3rd Andrew Hayes, Ottawa
4th Peter McCalister, Dunblane, Scotland
5th Bill Geddes
Judges: Malcolm McRae, Ronnie McShannon, Stuart Shedden
Senior Piobaireachd
1st Glenn Brown, Glasgow, "Craigellachie"
2nd Ian K. MacDonald, Whitby, Ontario
3rd Roddy MacLeod, Glasgow
4th Angus MacColl, Benderloch, Scotland
5th Faye Henderson, Kirriemuir, Scotland
Judges: Iain MacFadyen, Andrew Wright, Stuart Samson
Silver Medal
1st Cameron MacDougall, "The Reverend Norman MacLeod's Lament"
2nd Sarah Muir, Glasgow
3rd Xavier Boderiou, Brittany
4th Stuart Easton, New Zealand
5th Mael Sicard Cras, Brittany
Judges: Colin MacLellan, John Wilson, Bob Worrall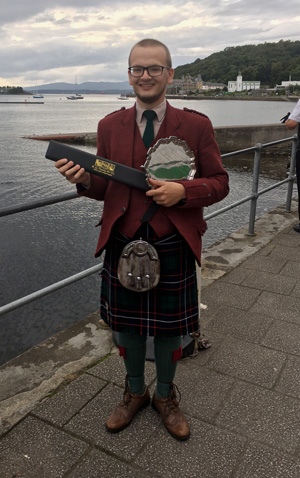 MacGregor Memorial Piobaireachd
1st Lewis Russell, Livingston, Scotland
2nd Andrew Ferguson
3rd Rebecca Tierney
4th John Dew
Judges: Jimmy Bell, Patricia Henderson, Neil Mulvie.
Former Winners March, Strathspey & Reel
1st Jack Lee, Surrey, British Columbia
2nd Finlay Johnston, Glasgow
3rd Cameron Drummond, Edinburgh
4th Bruce Gandy, Dartmouth, Nova Scotia
5th Iain Speirs, Edinburgh
Judges: Ian Duncan, Willie Morrison, Robert Wallace
For results from Day 2 of the Argyllshire Gathering, click here.