Parkes, Johnston, MacDonald join SPJA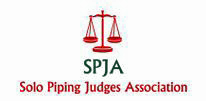 The UK's Solo Piping Judges Association has added three new members to its list of adjudicators. Roddy "R.S." MacDonald of Australia, Northern Ireland's Richard Parkes, and Anne Johnston (nee Sinclair) of Glasgow have joined the organization's membership of nearly 60 members. MacDonald and Parkes have been brought on for light music adjudication only at "senior" and "approved" levels, respectively, while Sinclair is a member in both light music and piobaireachd "approved" capacities.
Senior status means that an SPJA member can judge any competition, while Approved adjudicators cannot assess the biggest events, like the Clasp, Former Winners or Senior Piobaireachd contests for elite players unless there are two other Senior judges with him/her.
MacDonald and Parkes had relatively short but highly successful careers in competition solo piping, while Johnston had a long and successful tenure as one of the first top-tier female solo competitors in Scotland, following the UK's anti-gender discrimination laws coming into effect in 1976. Before then, the Argyllshire Gathering at Oban and the Northern Meeting at Inverness, among others, summarily rejected female applicants.
Parkes is best known as the pipe-major of the 11-time World Pipe Band Champions Field Marshal Montgomery, but has won the Hornpipe & Jig at the Northern Meeting several times.
The SPJA has also fleshed out its executive committee. Joining Colin MacLellan as Chair, Jack Taylor secretary and Euan Anderson treasurer, are Bruce Hitchings, Dr. Angus MacDonald and Neill Mulvie – all of Scotland – as judges representatives.
The SPJA is the only governing association for solo piping judges in the UK. Unlike associations around the world that have strict criteria and accreditation processes, the SPJA essentially confirms members based on their record as solo pipers and solo piping experts.
The organization in late 2016 voted unanimously to adopt a policy that disallows its members from judging their pupils. A group of members unsuccessfully challenged the policy last year.
+ Carried: no judging pupils at big UK events
+ Move to change SPJA conflict policy
The organization at its December 13, 2017, meeting also elected to review its Complaints & Grievances Procedures. Euan Anderson will manage the review with the help of Chief Justice Robin Maclean Webster, who is also a piper, and Neill Mulvie. The SPJA has had to deal with several complaints leveled against one of its members, who has since resigned from the organization.
Any competition in the UK is welcomed and encouraged by the organization to use SPJA judges, but currently only the Argyllshire Gathering, Northern Meeting and Scottish Pipers Society of London events have made a commitment.