Peel Police, Carnegie Mellon on top at Toronto Indoor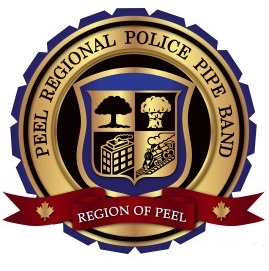 Toronto – April 20, 2019 – It was a wet early spring day outside, but the Toronto Indoor Games were safe and dry in Moss Park Armoury, where there was a smaller entry than usual. Matt MacIsaac was the biggest overall winner in the Professional solo piping, taking the Piper of the Day award, while the Peel Regional Police represented strongly with bands in Grade 2 and Grade 4. Despite the combined Grade 1 and Grade 2 band contest, Peel was the only entrant, and there were only two in the Grade 3 event, where Pittsburgh's Carnegie Mellon University prevailed over Ontario's Guelph. Carnegie Mellon's instructor, Richard Baughman won both Professional snare drumming events, and was the Drummer of the Day. Many of Carnegie Mellon's pipers and drummers did well in their various solo events. Amateur Piper of the Day was Colin Johnstone, and Tom Litherland was Amateur Drummer of the Day.
The band competitions were held in concert formation, competitors on a stage, facing the audience and judges.
Bands
Grades 1&2
Medley
1st Peel Regional Police (Gr2)
Judges: Michael Grey, Glenna Mackay Johnstone (piping); Ken Constable (drumming); Ken Eller (ensemble)
MSR
1st Peel Regional Police (Gr2)
Judges: Michael Grey, Ken Eller (piping); Ken Constable (drumming); Glenna Mackay Johnstone (ensemble)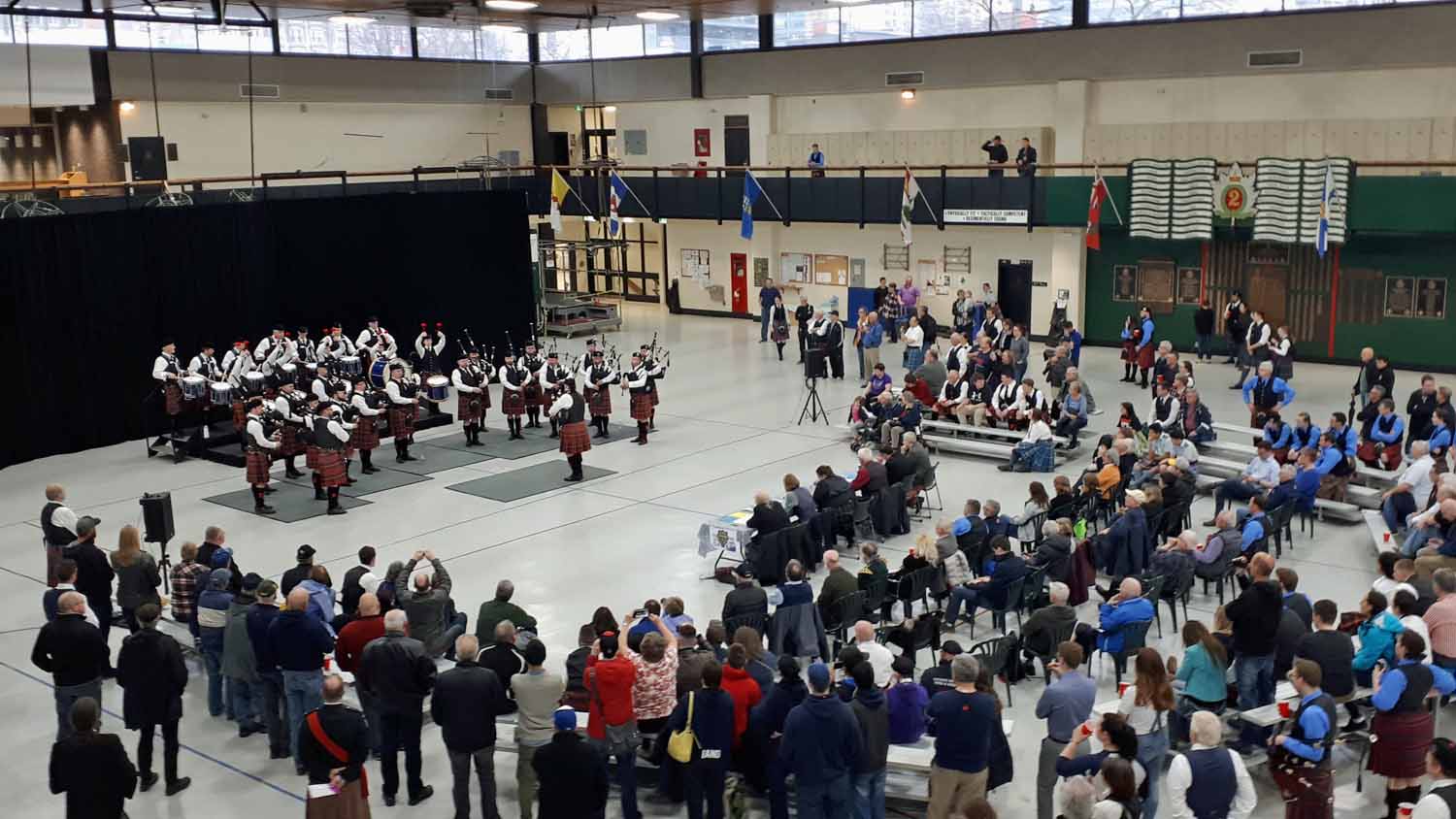 Grade 3 (Medley)
1st Carnegie Mellon University (1,1,1,1)
2nd Guelph (2,2,2,2)
Judges: Michael Grey, Ken Eller (piping); Ken Constable (drumming); Glenna Mackay Johnstone (ensemble)
Grade 4 (Medley)
1st Peel Regional Police (Gr4) (3,1,2,1) (ens.pref.)
2nd Niagara Regional Police (1,2,1,3)
3rd Guelph (Gr4) (2,4,3,2)
4th Barrie (4,3,4,4)
Judges: Glenna Mackay Johnstone, Ken Eller (piping); Ken Constable (drumming); Michael Grey (ensemble)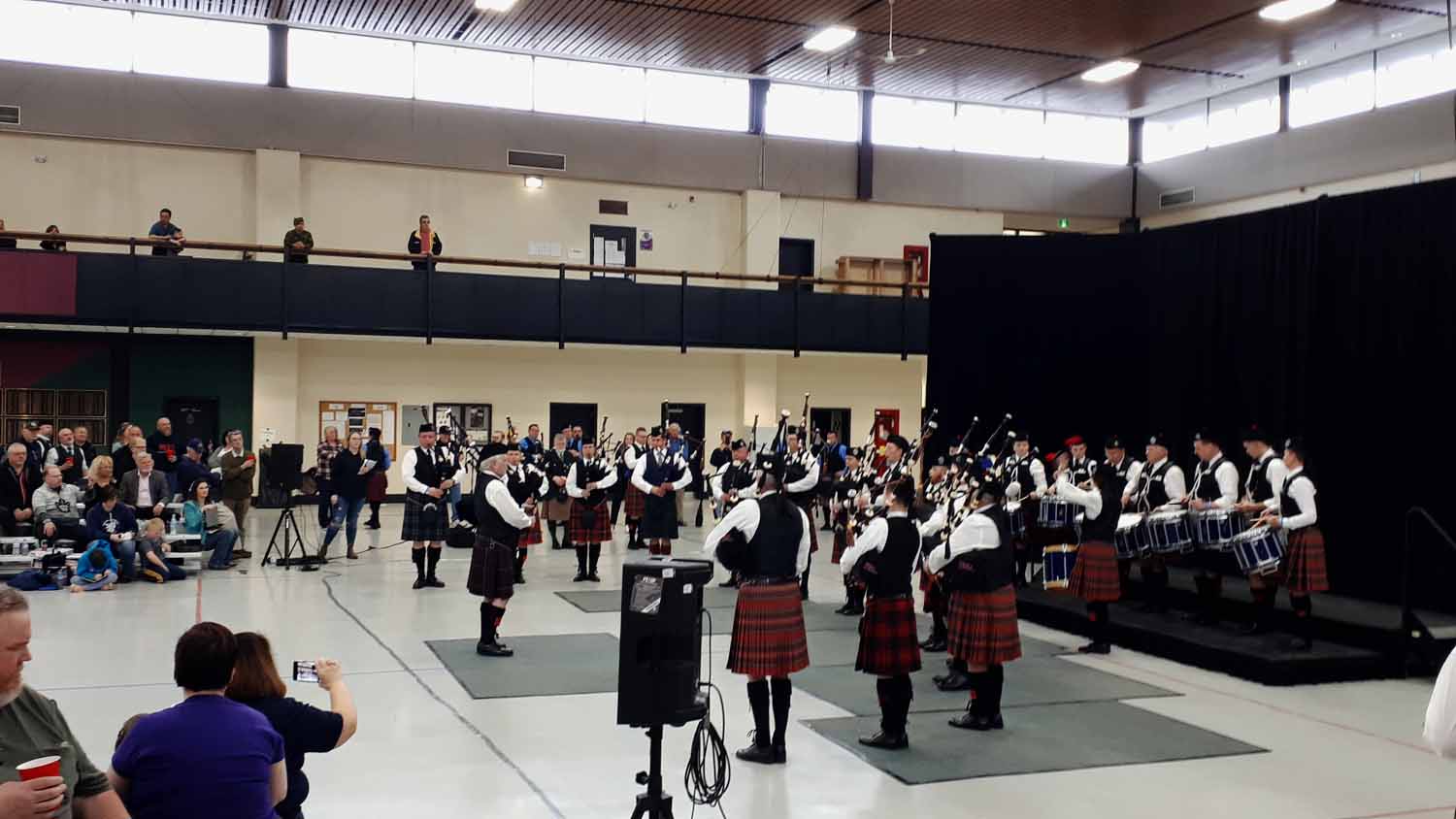 Grade 5 (March Medley)
1st Niagara Regional Police (Gr5) (2,1,1,1)
2nd Spirit of Ontario (1,2,4,4)
3rd Carnegie Mellon University (Gr5) (3,3,2,6)
4th Paris Port Dover (6,4,3,2)
5th St. Andrew's College Association (4,6,5,3)
6th York Regional Police (5,5,6,5)
7th Toronto Scottish Regiment (7,7,7,7)
Judges: Glenna Mackay Johnstone, Ken Eller (piping); Ken Constable (drumming); Michael Grey (ensemble)
Solo Piping
Piobaireachd
Professional (eight competed)
1st Andrew Carlisle, Pittsburgh
2nd Sean McKeown, Toronto
3rd Matt MacIsaac, Stayner, Ontario
4th Ian K. MacDonald, Whitby, Ontario
5th Palmer Shonk, Pittsburgh
6th Alastair Murray, Pittsburgh
Judge: Michael Grey
Senior Amateur (16 entered)
1st Bobby Dunn
2nd Colin Johnstone
3rd Tyler Destremps
4th Henry Paluch
5th Kolya Sier
6th Ryan Kavanagh
Judge: Bill Livingstone
Intermediate Amateur Piobaireachd (seven competed)
1st Alex Burlew, "The Groat"
2nd Evan Burlew, "Lament for Captain MacDougall"
3rd Alexander Macdonald
4th Roy Huang
5th Matthew Parsons
6th Caleb John Macpherson
Judge: Andrew Berthoff
Junior Amateur (11 entered)
1st Jeremy Cameron Rostirolla
2nd Anders Rhode
3rd Colin Swett
4th Sarah MacKinnon
5th Robert Anderson
6th Joy Rutherford
Judge: Michael MacDonald
Novice (nine entered)
1st Clinton Houston-McMillan
2nd Joanne Drury
3rd Clayton Nelson
4th Paul Lofthouse
5th Emma Belliveau
6th Amy Howard
Judge: Michael MacDonald
Light Music
Professional
MSR (eight competed)
1st Matt MacIsaac
2nd Ian K. MacDonald
3rd Andrew Carlisle
4th Sean McKeown
5th Alastair Murray
6th Palmer Shonk
Judge: Ken Eller
Hornpipe & Jig (seven competed)
1st Matt MacIsaac, "Bobby Cutherbertson," "Donald MacLean"
2nd Andrew Carlisle
3rd Sean McKeown
4th Palmer Shonk
5th Dylan Whittemore, Guelph, Ontario
6th Alastair Murray
Judge: Andrew Berthoff
Grade1 MSR (18 entered)
1st Kolya Sier
2nd Colin Johnstone
3rd Tyler Destremps
4th Steven MacDonald
5th Mitchell E. Arnold
6th Caleb Thibodeau
Judge: Calum MacDonald
Grade 2 MSR (14 entered)
1st Alex Burlew
2nd Matthew Parsons
3rd Courtney Ivany
4th Kevin Berry
5th Roy Huang
6th Janet French
Judge: John Cairns
Grade 3 (13 entered)
March
1st Cameron Fotopoulos
2nd Paul Brunning
3rd Alexander Macdonald
4th Chris Marshall
5th Tyler Redford
6th James Doucette
Judge: Ken Eller
Strathspey & Reel
1st Alexander Macdonald
2nd Graham Waddell
3rd Chris Marshall
4th Colin Swett
5th Emma Belliveau
6th James Doucette
Judge: Glenna Mackay-Johnstone
Grade 4 March (18 entered)
1st Matt Greco
2nd Anders Rhode
3rd Liethan Seth Velasco
4th Gordie McDonell
5th Jeremy Cameron Rostirolla
6th Robert Anderson
Judge: Trish Kirkwood
Grade 5 March (17 entered)
1st Connor Ellwood
2nd Kaiden Sabbadin
3rd Alec MacDonald
4th Jean Zhang
5th John Douglas Beattie
6th Devon Saunders
Judge: Glenna Mackay-Johnstone
Novice Practice Chanter (three competed)
1st Michael Varga
2nd Siya Sood
3rd Sanay Sood
Judge: Trish Kirkwood
Solo Snare Drumming
Professional
MSR
1st Richard Baughman
2nd Kyle Wardell
Judge: Ken Constable
Hornpipe & Jig
1st Richard Baughman
2nd Kyle Wardell
Judge: Ken Constable
Grade 2 MSR
1st Tom Litherland
Judge: Ken Constable
Grade 3 MSR
1st Victoria Hingley
2nd Aprille Holmes
3rd Nath Nguyen
4th Quintin Brunning
Judge: Ken Constable
Grade 4 March
1st Cameron Redford
2nd Julia Williams
3rd Kaylee Ellwood
4th Mark Gregory Rugman
Judge: Ken Constable
Grade 5 March
1st Logan Stevenson
2nd Marc Whelan
3rd Renee Mathieu
Judge: Ken Constable
Solo Tenor Drumming
Grade 2 MSR
1st Jaymee McCarthy
Judge: Emily Skelly
Grade 3 MSR
1st Liam McFadden
Judge: Emily Skelly
Grade 4 March
1st Jieth Velasco
2nd Erin Callon
3rd Margaret Maxwell Haynes
4th Bregitte Rugman
Judge: Emily Skelly
Solo Bass Drumming
Amateur MSR
1st Liam McFadden
2nd Drew Ellis
Judge: Emily Skelly
---
Related stories

It's a start: Ontario season gets going with Toronto Indoor