Piping at the front rank again in Scots Trad Music Awards noms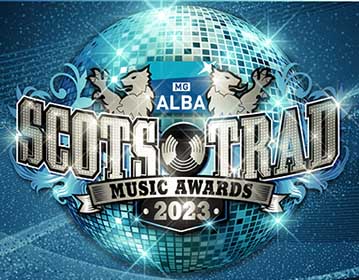 The 21st annual MG ALBA Scots Trad Music Awards are on December 2nd at the Caird Music Hall in Dundee, Scotland, and this year Highland piping again comes up in several spots among the 22 categories.
Multi-instrumentalist-piper Ross Ainslie seemed ubiquitous in 2023 with many solo and ensemble projects, and DIAD, his collaboration with English multi-instrumentalist and composer Tim Edey, is up for Album of the Year, as is Fàs by the Celtic folk group Breabach, fronted by piper Calum MacCrimmon.
In the Scottish Folk Band of the Year category, both Assynt and Gnoss are nominated, fronted by virtuoso Highland pipers and instrumentalists David Shedden and Connor Sinclair, respectively.
Gary West's new podcast, "Enjoy Your Piping," gets a nom nod in the Trad Music in the Media award category.
The picks in the Scottish Pipe Band of the Year award category can be intriguing sometimes to die-hard competition people, in the past including non-competing "community" groups and bands not even based in Scotland. This year, the organizers seemed to get it right by naming 2023 World Champions Peoples Ford Boghall & Bathgate Caledonia, the resurrected and resurgent Glasgow Skye Association, and the inspiring Renfrewshire Schools as the three nominees.
Noticeably absent from the list of nominees are the Piping Live! festival and the massive World Pipe Band Championships, both of which feature world-class musical groups and performances, not to mention bringing in millions of tourist pounds for Scotland, according to market research studies.
The Scots Trad Music Awards are decided via a public vote, and pipes|drums readers can stuff the ballot box with their favourites here.