RSPBA keeps World's two days; pipes|drums survey shows 90% of bands favour one-day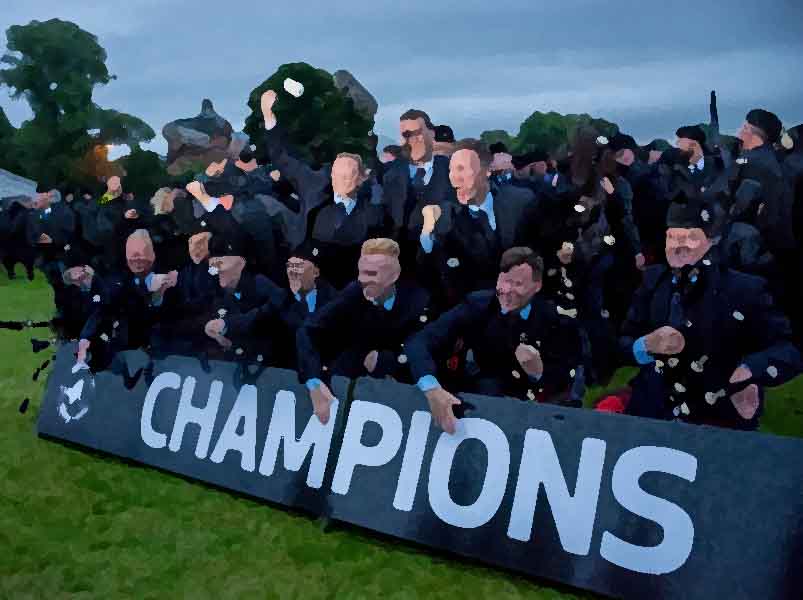 Saying that it based its decision on feedback from "Grade 1 bands, adjudicators and others," the RSPBA has elected to maintain the two-day format of the Grade 1 competition at the World Pipe Band Championship. The organization said that it made the decision at its annual general meeting on March 9 in Glasgow.
"We considered all of the feedback we received from bands plus feedback from our Adjudicator Panel Management Board and our Music Board," RSPBA Board Chair John Hughes said in a public statement. "We have discussed the options and have confirmed today that the World's will remain a two-day event."
But contrary to the RSPBA's statement that its own survey showed support for keeping the Grade 1 competition a two-day event, a pipes|drums poll of Grade 1 bands asked how bands responded to the RSPBA's question, and whether they prefer a one-day or two-day competition.
Of the 19 Grade 1 bands that responded to our request, 90% said that they would like to see a one-day event.
Only two bands said that they prefer a two-day contest, and one band said that they received the survey, but abstained from indicating their preference.
"The World's spectacle is being reduced to a farce before our eyes and nobody seems capable of doing anything to fix it," said Scott Currie, a veteran percussionist with Grade 1 bands. "While this outcome will surprise few, it will disappoint the many competitors and the public who feel that the World's has lost its way and clearly is not working in its present format. I learned a long time ago that the organization simply doesn't listen, and frankly doesn't appear to care about what bands and players want, so this development will only reinforce that perception in many quarters. Why consult bands at all if you are unwilling or unable to act on their feedback? The consultation exercise appears to have been disingenuous to begin with and it raises serious concerns as to what, if any, influence bands actually carry within the organization, if their views in such a crucial matter as their attendance and performance at the World Pipe Band Championships can be disregarded so easily in favour of those held by adjudicators and others. Why are adjudicators influencing operational policy decisions and who are these 'others'?"
There are currently 21 bands actively competing internationally in the top grade, and pipes|drums originally determined that, at most, 15 planned to participate in the year's competition. With 15 or fewer vying for the championship, the need for a two-day format, or even a qualifier event, was brought into question, especially when the RSPBA rules call for a qualifying round in any grade only when a 22-band threshold is met.
Not all bands appear to have received the RSPBA survey, with two saying that nothing arrived.
While pipes|drums found that no more than 15 of the 21 Grade 1 bands that compete internationally are likely to enter the event, the RSPBA stated, "Entries are still open, and we do not know how many bands are travelling next year so we need to be very careful to produce an event which is sustainable and flexible."
The statement added: "The format of that event will be decided by the Music Board who already have a number of proposals in place. We will ask them to confirm their preferences and these will come to the Board of Directors' meeting on the 27th April.
"These recommendations will be debated by the Board, in particular how they will align with the operational challenges of any particular event.
"But we can confirm to all bands that it is a two-day event and that each Grade 1 band will require two MSRs and two Medleys exactly as they have had to prepare in the past."
The statement appears to leave the door open to doing away with a qualifying round, and having all bands compete on both days.
"The bands need to know what to expect," the RSPBA statement said. "They now know it will be a two-day event. They know they are going to have to play an MSR and a Medley on the Friday and the same on the Saturday if they want participate in the Grade 1 World's."
According to a source close to the RSPBA, there was some upset within the organization's board of directors that the association even polled bands for their opinion. The survey was sent out by Hughes, but allegedly without the agreement of, or possibly even consultation with, all directors.
The RSPBA sent out its survey some 11 days after pipes|drums first reported on the likelihood of a Grade 1 World's comprising no more than 15 bands. The two-day event at Glasgow Green is licensed to Glasgow Live and BBC Scotland, and is one of the largest ticketed public events in Scotland.
Thirty-seven bands were represented at the RSPBA's annual meeting, or about 20% of the association's total membership.
First-prize for the World Pipe Band Champion in 2018 was £1,500. Bands that do not gain a prize receive no compensation for their performances, except for a payment of less than £100 from the BBC.
The RSPBA introduced the two-day World's format in 2013 following input from member bands.
(This article was updated after another Grade 1 band provided their input to our survey.)
---
Related coverage

World's Grade 1 probably only 15 bands
February 16, 2019
---

One-day 2019 World's likely a non-starter
February 19, 2019
---

RSPBA polling Grade 1 bands on World's format
February 27, 2019
---

Two-day World's to be introduced in 2013
February 29, 2012