Shotts-Kilpatrick story continues: band offers an apology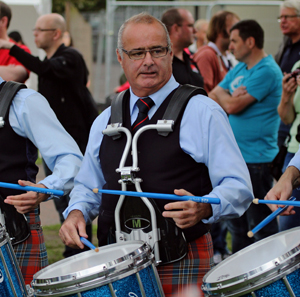 The latest development in the rift between Shotts & Dykehead Caledonia and its former Leading-Drummer Jim Kilpatrick saw a new development, with the band offering an apology to Kilpatrick, admitting mistakes and asking for understanding, if not forgiveness.
Since the band released the news of Kilpatrick's departure and the appointment of Blair Brown to the leading-drummer post on October 12th, it was revealed that the separation was in fact acrimonious, and not the retirement that was initially concluded. Kilpatrick contended that he was forced from the position. The band has stated that Kilpatrick resigned after an impasse, when the band wanted a gradual transition over 2016, allowing Brown to ease into the role.
Kilpatrick provided pipes|drums with a lengthy analysis of his side of the story, while the Shotts band has remained succinct with its comments. The past week has seen a storm on social media, with many of Kilpatrick's supporters excoriating Shotts for their perceived actions.
pipes|drums received the following lengthy statement from Ryan Canning, which is published here verbatim, following a careful review:
Having been at the brunt of a storm for some time now, I feel it is time for me to come forward with a statement. I had hoped that this would not be necessary, as personally I feel very uncomfortable being in the limelight and I have very little confidence in writing anything even semi-official for fear of making things worse. This kind of thing certainly is not a strong suit of mine. However, given the current circumstances, I feel I need to be clear as to what has actually transpired within the band and lead to these current, very sad state of affairs. I do find it odd as to why there is so much hype and public interest around a group of people that play bagpipes and drums, but regardless here is my take on things anyway.