Shotts RISE recording ready for pre-order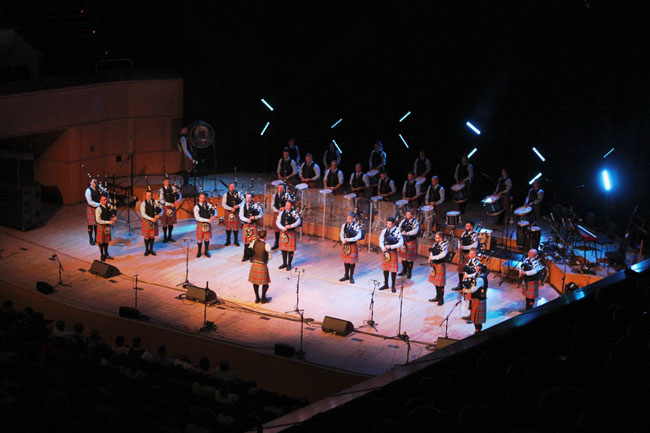 The RISE pre-World's concert by Shotts & Dykehead Caledonia was a smashing success, highlighting the band's return to form following its 2015 World Championship win and subsequent re-organization.
Now the recording of the event is available for pre-order, with the hard copy CDs in limited number.
The band's standing room only concert on August 9, 2017, at the Glasgow Royal Concert Hall was seen by many as a reclamation at the top-tier of the world's greatest bands. The show was well-reviewed by Wilson Brown in pipes|drums.
According to the band, the CD will begin to ship the week of July 30. Those pre-ordering now will receive a free RISE t-shirt for pick-up at the Scottish Championships at Dumbarton, Scotland, on July 28, or at the North Berwick Highland Games in North Berwick, Scotland, on August 11. Details for pre-ordering are at the band's website.
Shotts & Dykehead experienced a rapid rise to the top of the world, culminating in the band's 2015 World's win. It was the first time in history that a World Championship would be the first RSPBA major championship win for a pipe-major of a Grade 1 band when Ryan Canning achieved the feat. Canning had been in charge of Shotts for only two full seasons after taking the role late August 2012.
+ Ryan Canning accepts Shotts Pipe-Major position
+ Shotts & Dykehead Caledonia: 2015 World Pipe Band Champions
A year after appointing Andrew Lawson lead-drummer late in 2015, following a series of extraordinary events, the band returned to regular contention at major championships.
+ Shotts appoints Andrew Lawson leading-drummer
The annual pre-World's concert, sponsored by the Grade 1 Glasgow Skye Association Pipe Band, is one of the biggest annual non-competition events in the pipe band world. It is often thought that the concert is good luck for the World Championships. This year's concert features Grade 1 St. Laurence O'Toole of Dublin. The last time that that band performed the concert, they went on to win the 2010 World Pipe Band Championship.
+ 2010 World Champions: St. Laurence O'Toole; FMM 2nd; 3rd and 4th prizes muddled; Ravara takes Grade 2