Shotts Rises up for Pre-World's Concert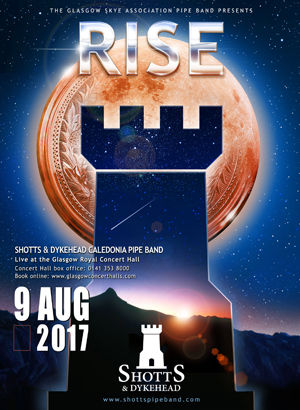 The mystery surrounding which band will take the Glasgow Royal Concert Hall stage for the prestigious "Pre-World's Concert" was finally solved, with the Grade 1 Shotts & Dykehead Caledonia announced as the chosen ones, with a show named "Rise" on Wednesday, August 9, 2017.
The event will mark the first time that the band under Pipe-Major Ryan Canning will take on the monumental task, which comes just two days before the World Pipe Band Championship. The band did the concert under Pipe-Major Robert Mathieson several times during the 1990s and 2000s.
The event has been produced and coordinated by the Grade 2 Glasgow Skye Association Pipe Band of Glasgow. Typically, the headlining band is announced well before the New Year, but Glasgow Skye has changed the management of the concert to Pipe-Sergeant Kurt Mackintosh, with long-time manager Dougie Orr stepping away from the role.
"We are thrilled to host yet another of the world's greatest pipe bands for the pre-Worlds concert," said Kurt Mackintoh. "Shotts & Dykehead Caledonia Pipe Band are one of the most resilient and successful pipe bands in recent decades. We have no doubt they will put on a fantastic show."
After a meteoric rise from a state of confusion when Canning took over in 2012, to winning the World Championship in 2015, to several changes in leading-drummer in the fall of 2015, Shotts bounced back in 2016 to take prizes at several RSPBA championships, including a fourth at the World's.
+ Field Marshal Montgomery: 2016 World Champions
+ Shotts appoints Andrew Lawson leading-drummer
+ Ryan Canning accepts Shotts Pipe-Major position
"Shotts & Dykehead Caledonia Pipe Band are thrilled to be taking on the highly popular 'Pre-World's' concert at the Glasgow Royal Concert Hall this August," said Canning. "The band's ethos is to continually strive to play at the top of our abilities and to reach the highest level of competitive success. 'Rise' befits what we have and will continue to aim for as a band. We can't wait to get on stage on August 9th."
The Pre-World's Concert is often seen as a good luck talisman for bands competing at the World's. The roots of the concert came from the 1987 78th Fraser Highlanders' "Live In Ireland" concert in Balleymena, Northern Ireland, when the band went on to win the World's a few days later. Among other bands to enjoy similar post-concert success have been Field Marshal Montgomery, Inveraray & District, Simon Fraser University, St. Laurence O'Toole, and ScottishPower.
Field Marshal played the 2016 concert and later won the World Championship for its eleventh time.
The concerts are typically sold-out, with standing-room tickets opened up in the final weeks before each event.
Tickets are priced at £20 and go on sale on Wednesday, February 8th from the Royal Concert Hall box office.