So much more than a "pipe band concert"
the big screen displayed many old WW1 photographs and this together with the excellent musical arrangement and playing made this a very poignant moment.
The next track saw the Pipe-Major take to the whistle playing the Phil Cunningham tune, "Lightly Swims the Swan." The band joined in and gave us an excellent set of tunes, "Miss Victoria Ross," "Miss Victoria Ross (Reel)," "Lady Margaret Stewart," "Port A Beul" and "Lord McConnell." I liked this.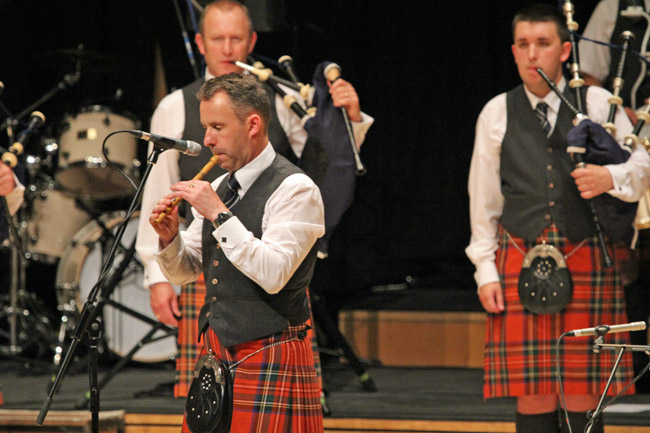 Next up was the "He Man Do Set." I don't know much about the title, but this was a monster set of tunes that needed more than a touch of "he man" just to get through them all. I would have liked to have heard more of the band playing on their own without the backing. Perhaps this was an auditorium/acoustic thing, but sometimes I felt the piping was lost amongst it all. You couldn't fault the playing, though. More sparkling stuff from front and back.
Rachael Walker returned with some very attractive-male vocals (you owe me boys), giving us the lovely "Thoir Mo Shoraidh Thar Ghunnaidh." The audience kicked in and we had a lovely wee moment of Highland tradition.
Before the last set, Duncan Nicholson gave his votes of thanks, not least to the Glasgow Skye Association Pipe Band, which is, of course, the backbone to these great events.
The penultimate set of tunes were "Caber Feidh" and "Alick C. MacGregor." The band started as they finished, and this was a fitting end to a great show. Of course they came back for an encore and not for them a flashy modern day piece. No. They simply played two 2/4 marches, signing off with the great "John MacDonald's Welcome to South Uist." Very classy.
From the program mention must be made to the other musicians who made this concert: Ewan Robertson on –guitare and vocals; Allan Henderson on keyboards; James Lindsay playing double bass.
So was this better than concerts of the past years? Was it technically perfect and without flaw or issue? Actually that doesn't really matter. You have to stand back and see this show for what it was. This was so much more than a "pipe band concert." This was a body of work that was dripping with music, which was full of heart and soul, fuelled by passion.
This was a musical statement that said, "This is where we are from and this is where we are going." It had meaning and there was something in the music that needed to be said. I heard it loud and clear. Outstanding.
To all involved: Congratulations.
Recently retired as a Detective Inspector from Police Scotland, Euan Anderson was Pipe-Sergeant of the Lothian & Borders Police Pipe Band for a number of years. He is currently Honourary Pipe-Major of the Eagle Pipers' Society who meet every second Tuesday in the Scot's Guards Club in Edinburgh. He lives in Edinburgh.