Ten headlines we could be writing in 2016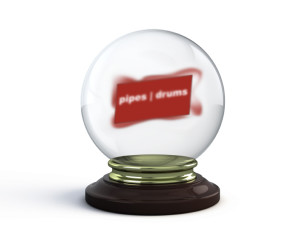 Looking forward after looking back, we're setting our sights on the next 12 months for the piping and drumming world. If 2016 is anything like 2015 it will be like a great pipe band medley: full of surprises, twists and turns where the only thing that's predictable is unpredictability.
But predict we will!
We asked about 20 piping and drumming insiders (the editor of pipes|drums not included) to submit two predictions each to see if we could spot a few trends and whittle a list down to 10 essential forecasts for what the year ahead might well bring, and they follow as headlines that we could potentially write in 2016.
As always, your thoughts will vary, We don't necessarily agree with or support or condemn any of the predictions. it's all in good fun, and all readers are invited to submit their own predicted headlines using our comments platform or Facebook comments at the end of each page.
Here's to an eventful 2016!