Ward takes his talents to Bleary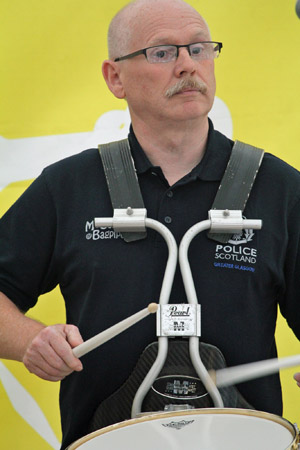 Legendary pipe band drummer Eric Ward has decided to take his considerable talents to the Grade 1 Bleary & District of Northern Ireland, following his sudden dismissal from the Grade 1 Greater Glasgow Police Scotland Pipe Band.
Originally from Banbridge, Northern Ireland, about 20 miles from Bleary, Ward will reportedly bring with him several other drummers, and has already been working with Pipe-Major Nigel Davison on music and musical ideas. Ward will continue to reside in Glasgow and make regular quick commutes across the water to Northern Ireland.
"I am extremely happy to be a part of this new partnership with Bleary," Ward said. "Looking forward, I am excited to work with Nigel, we have both set out clear intentions for the band's success. In addition, current members along with new players who will be joining myself will be working hard and closely to develop a championship contending band. Myself and Nigel have already organized tune selection and set everything in place for practices and competitions that all involved are motivated to be a part of. I am delighted to have the backing of Pearl Percussion and Innovative Percussion, as well as the overwhelming support from many in the pipe band world."
After 23 years with the Strathclyde/Greater Glasgow Police Pipe Band, Ward was summarily dismissed by the band's pipe-major, Iain MacPherson, and manager, Niall West, who worked with the group's officer-in-charge to approve the change.
Ward replaces Bleary & District's previous lead-drummer, David Brown, who retired after the World Pipe Band Championships.
"We are excited for the next chapter of Bleary & District," the band said in a statement to pipes|drums. "Eric brings a wealth of experience and his knowledge will be invaluable to the band progressing in Grade 1. Eric is well respected in the pipe band world and his achievements over the years speak for themselves. This appointment brings great excitement to all ranks of the band."
Bleary & District in 2017 will enter its second year in Grade 1, following its promotion after the 2015 season. It's inaugural campaign in the top grade was considered successful on many fronts, often receiving mid-range marks in piping especially, ahead of other more established Grade 1 bands.
The move follows the appointment of Northern Ireland-based Adrian Hoy as lead-drummer of the Grade 1 Vale of Atholl of Scotland. It is believed that Bleary & District had been in discussions with Hoy before he joined the Vale, and that move preceded Ward's departure from Greater Glasgow Police Scotland by six days. Hoy replaced Lee Irwin, also of Northern Ireland.
Greater Glasgow Police Scotland last week announced that former Shotts & Dykehead Caledonia and Spirit of Scotland side drummer David Henderson has been appointed its new lead-drummer.