Glasgow Police to start rebuilding with Henderson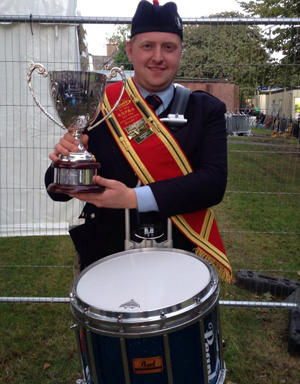 He has large shoes to fill and enters a band with reputation questions, but David Henderson has been selected to help to lead the Grade 1 Greater Glasgow Police Scotland Pipe Band into the future as the replacement leading-drummer for pipe band drumming legend Eric Ward who was dismissed under acrimonious circumstances earlier in September.
Henderson comes most recently from the Grade 1 Spirit of Scotland during that band's reappearance this year with Lead-Drummer Jim Kilpatrick, with whom he was a committed corps drummer in Shotts & Dykehead Caledonia for many years. He was previously a member of the now defunct Grade 1 David Urquhart Travel Pipe Band, and also performs with the Red Hot Chilli Pipers bagpipe-pop-cover-band.
A terse statement from the Greater Glasgow Police Scotland Pipe Band said that the decision to go with Henderson came after "consideration of several applications for the post," and will take "immediate effect."
About Henderson, Kilpatrick said, "David is a class act and a first-class player and has been my right hand man both in Shotts and the Spirit of Scotland. He is a fantastic bands-person both on and off the field and knows what it takes to drive a top Grade 1 band – perfect for the Police L-D position.   He will bring great energy and musicality to the band."
Henderson and Pipe-Major Iain MacPherson will have reputational work cut out for them following the public relations backlash in the worldwide pipe band community when the popular Ward – who also is employed by Police Scotland – was let go after 23 years with the band, bringing a drumming championship to the group as recently as 2014. A strong majority of social media comments were critical of the band and sympathetic with Ward.
Ward maintained that he never agreed to stepping down, and accused MacPherson and bass drummer / band manager Niall West of unilaterally making the decision for the band without consulting any other members.
Henderson was not immediately available for comment and MacPherson did not provide any more insight when asked about Henderson's appointment or the future of the band.
The move is the latest regarding top bands and lead-drummers, following Bleary & District, the Peel Regional Police,and Vale of Atholl each making changes. In August, Dowco Triumph Street of Vancouver appointed Gary Corkin of Northern Ireland lead-drummer.