World Solo Drumming tests new format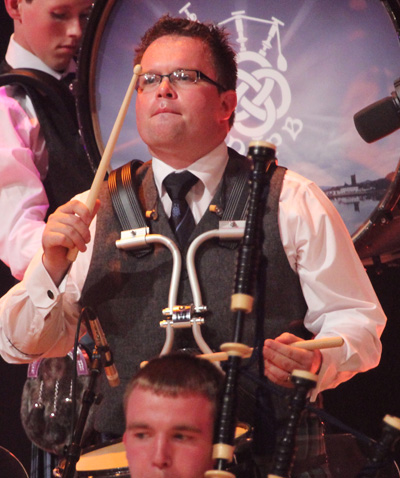 The RSPBA's annual World Solo Drumming Championship is by far the biggest event for pipe band drummers showcasing their individual skills, and the 2018 edition of the competition introduces a new format that not everyone likes.
The organization announced in February that it would hold four qualifying events run by branches that would present an opportunity for four contestants from each of the four branch contests would get through the semi-final round of 29, narrowed from an entry of 44 in the first round.
No specific reasons were communicated as to why the organization chose to move away from the previous system that saw prize-winners from the previous year gain a bye to semi-final, but the RSPBA did cite general findings from a survey of competitors. Many assumed that the decision was based largely on the RSPBA's desire to invigorate off-season branch events.
The new system ensures that high prize-winners such as Blair Brown, Stephen Creighton, Jake Jørgensen, Michael McKenna, and even reigning champion and eight-time winner Steven McWhirter would get no dispensation for their record of success. Either they attend a regional event in an attempt to pre-qualify, or they have to go through the grueling rounds to get to the final.
With the three of the pre-qualifying competitions held in Scotland and one in Northern Ireland, many competitors, including the overseas contestants who regularly attend the event, would have to travel a long way to participate in them. And the RSPBA's announcement being made in February left little time for many to organize the funds and time off work to travel to the contests.
Those who competed in the pre-qualifying events are welcome to have another crack at it at the World Solos.
While there was room for 16 pre-qualified semi-finalists, only 14 are listed in the order of play, with eight pre-drawn in one section but only six in the other. The reason for the disparity is not known. Those pre-qualified via the advance regional contests:
Grant Cassidy
Jamie Clark
Glen Creighton
William Glenholmes
Simon Grant
Ryan Green
Mark Hastings
David Henderson
Jason Hoy
Jake Jørgensen
Ross Martin
Gareth McLees
Steven Nelson
Marcus Wenlock
The possibility that deserving players might not get a spot in the semi-finals because of spots taken up by pre-qualified contestants is a reality.
"As to whether there are spots taken by players that might not otherwise get through the morning-of qualifying heats, that could be true," said one pipe band snare drummer who spoke on condition that his name was not used. "But it's at least partly on players to try their best to get to the contests that are designated as being pre-qualifying events. The system that has been implemented has the potential to be good. It's on players to turn up to compete. But it's also up to organizers to let competitors know when the contests will be, so plans can be made."
Though unconfirmed, the RSPBA is reportedly considering designating pre-qualifying competitions in other areas, including the annual Winter Storm contest in January in Kansas City.
The event will also no longer provide scoresheets from judges and, as with the new format, no rationale for the decision was known to be communicated.
+ RSPBA nixes scoresheets at World Solo Drumming
The 2018 World Solo Drumming takes place at Glasgow Caledonian University in Glasgow on Saturday, October 20. A total of 142 snare drummers and 45 tenor drummers have entered in adult and juvenile events.
Jim Kilpatrick holds the record for most World Solo Drumming wins, with 16. McWhirter, lead-drummer of 2017 World Champions Inveraray & District, will go for his ninth title and eighth in a row.
+ McWhirter wins eighth World Solo Drumming Championship