LATEST NEWS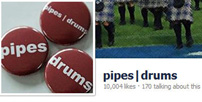 pipes|drums Magazine tops 10,000 on Facebook
Last Updated: April 20, 2014
pipes|drums Magazine has exceeded ... | Read more »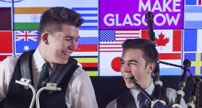 Glasgow kicks off Piping Live! week, promising ...
Last Updated: April 18, 2014
The 2014 and eleventh annual edition ... | Read more »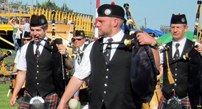 City of Washington to sit out 2014 season
Last Updated: April 16, 2014
One of the United States' most ... | Read more »
THE LATEST FROM THE PIPE|DRUMS VIDEO CHANNEL
REVIEWS
Taking it all in

Last Updated: February 14, 2014

For subscribers only, Colin MacLellan reviews "Ascension - Live at the Glasgow Royal Concert Hall,"the new double CD package by the Inveraray & District Pipe Band, and awards the project a rating rarely given to any recording or product reviewed on pipes|drums..

Subscribers Only: Read More » | Comments (0)
THIS DAY IN HISTORY:
April 21, 1949
Donald MacLeod's "Knightswood Ceilidh" gets 3rd prize in composing contest. Hector MacLean wins with "The Knightswood Highlanders".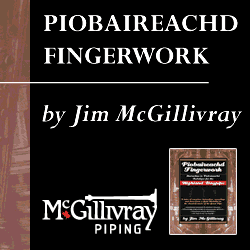 UPCOMING EVENTS
April 25, 2014
The Midlothian Scottish Pipe Band Spring Concert
The Brauer House. 1000 N Rohlwing Road - Lombard, IL 60148
April 26, 2014
North of Scotland Mini Bands
Gordon Schools, Huntly, Aberdeenshire
April 26, 2014
2014 Atlantic Canada Piobaireachd Challenge
Summerside, PE
April 26, 2014
Atlantic Canada Piobaireachd Challenge
The College of Piping, Summerside, PEI
April 26, 2014
Atlantic Canada Piobaireachd Challenge
The College of Piping and Celtic Performing Arts o
TIP OF THE DAY
Pipers should avoid memorizing their music until the tune can be played from start to finish, fluidly, without error and at full speed. Once you memorize your music, it will become your reference every time you play. If your memory of the music has flaws in it, through repetition, you will permanently cement these flaws in your playing. Memorization is similar to the wood stain that would be added when building a bookcase – it would be the final touch to a finished product.
John Cairns, London, Ontario
FROM THE ARCHIVES