15th annual pipes|drums New Year's Honours
2016 Piper of the Year
Ian K. MacDonald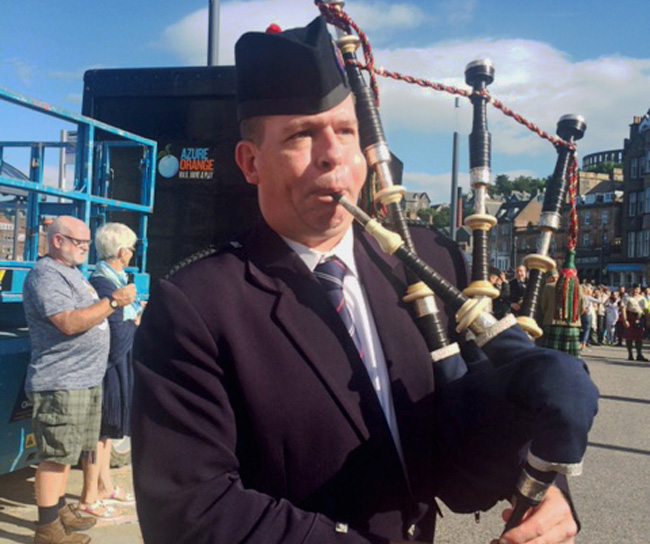 It all came together for "Ian K." in 2016, winning both Highland Society of London Gold Medals after decades of trying and, often, narrowly missing. To think that the affable MacDonald's career nearly came to end after suffering a heart attack several years ago, makes his a story of determination and perseverance, overcoming obstacle and odds to realize his piping dream not just once, but twice.
Panellists' comments:
"Two in the same year to an old-school piper who had been knocking at the door for a long time. His commitment to his band is without question."
"Anyone who travels to and wins big ticket events has always come from the outside barrier (in horse racing parlance). A great achievement."
"Sometimes, nice guys do finish first."
"One word: historic."
Also nominated (alphabetical order):
Roddy MacLeod – the director of the National Piping Centre and Piping Live! added major solo and band success to his year. He won the Glenfiddich and led Spirit of Scotland to prizes at three majors.
Stuart Liddell – the Inveraray & District pipe-major took his band to its first Grade 1 Champion of Champions title, while maintaining his usual other-worldly solo standard.
Richard Parkes – World's win number 11 and continuing to be seen as the model for pipe-majors in every grade to emulate for his calm under pressure and his loyalty to his team. A quiet leader whose results do the talking.
Alen Tully – top-three finishes in every major championship, and a win at the European, the St. Laurence O'Toole pipe-major has a huge future laid before him – and he does it with a smile and a kind word for all.