The 17th annual pipes|drums New Year's Honours
2017 Drummer of the Year
Steven McWhirter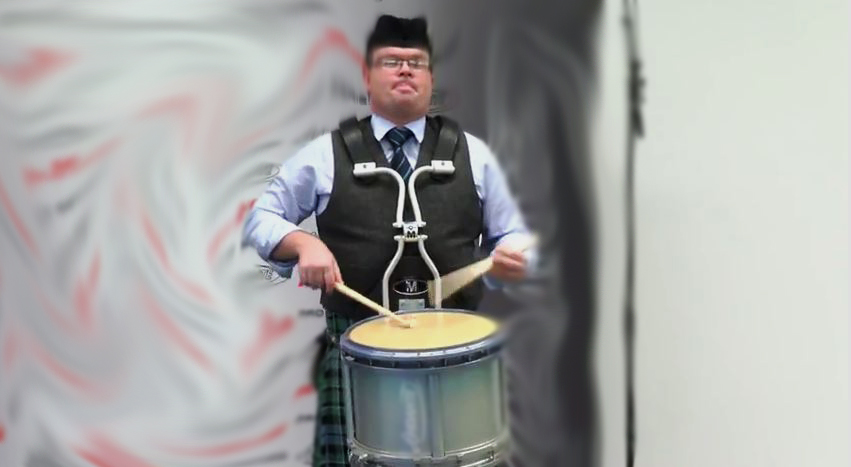 The World Pipe Band Drumming Championship, his eighth World Solo Championship, Grade 1 Drumming Champion of Champions, and helping to guide his band to a World's win made 2017 an incredible year for Steven McWhirter. Another near-unanimous vote, with only one panellist going with another nominee. This was McWhirter's sixth time winning the pipes|drums Drummer of the Year Award (2006, 2011, 2013, 2015, 2016), another record for the Northern Ireland-born and raised Inveraray & District leader holds.
Panellists" comments:
"Steven is special player. He has a wonderful ability to combine excitement, feel and emotion in his playing and at the same time deliver wonderful execution at the highest level of clarity and sound. He is now achieving success by using the same approach with his corps and the results are following."
"An almost perfect season for Steven."
"Great musical support for Inveraray and District and yet another World Solo Championship."
"Apart from all the titles won this year, he is that one leading drummer who plays with the PM and allows the rest of the band to follow."
"An obvious choice really. Very consistent Andrea may yet rival Jim Kilpatrick's records."
 Also nominated (alphabetical order):
Stephen Creighton – the St. Laurence O'Toole lead-drummer took his corps to wins at the British, Scottish, and All-Ireland championships, and seconds in both the World's and the Grade 1 Drumming Champion of Champions. As one panellist said, "For a decade, Stephen has been consistently producing a winning drum corps, outside the geography of the central belt of Scotland, cultivating top talent in Ireland and attracting top talent from Scotland and further afield to play in his corps. This longevity and consistency of quality is hard to rival."
Arthur Cook – it was when the Grade 2 Glasgow Skye recruited Cook to join that the band took off, culminating with the band taking the grade at the World Championships and their subsequent promotion to Grade 1. It was a great year for him and his corps, taking the Champion of Champions title for drumming in Grade 2.