2023 Scottish Pipe Band Champions: Field Marshal Montgomery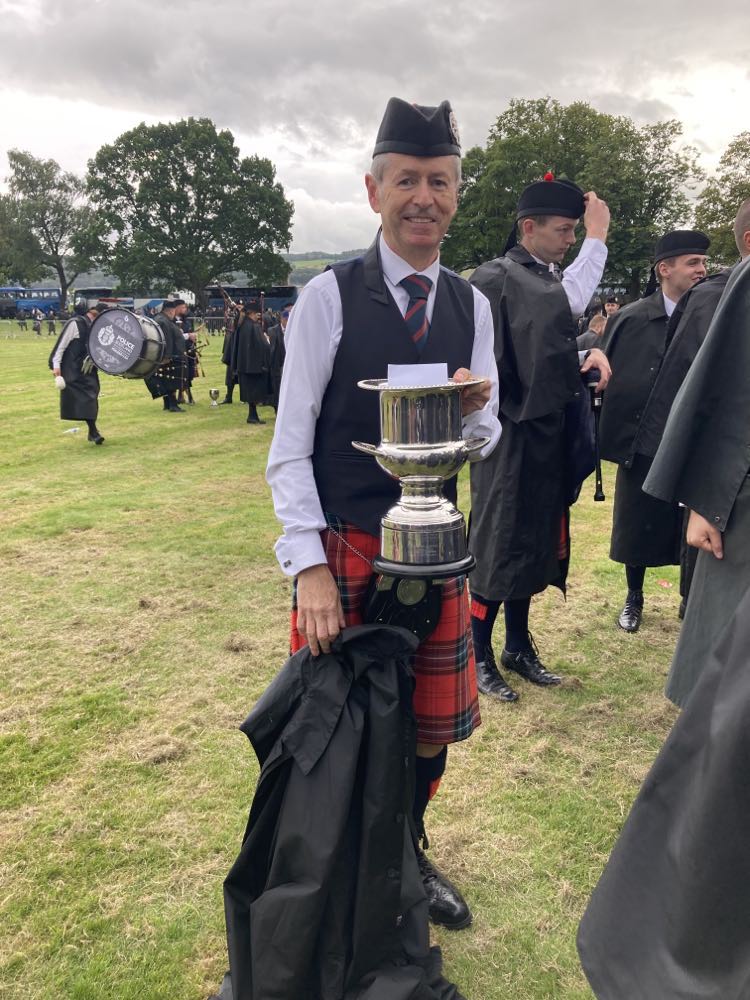 Dumbarton, Scotland – July 29, 2023 – On a day of intermittent sun and showers in the shadow of Dumbarton Rock at Levengrove Park, Field Marshal Montgomery were awarded the 2023 Scottish Championship in a medley competition against nine other Grade 1 contestants. The band successfully defended its 2022 Scottish title
Thirty-six hours after the competition, the RSPBA announced that it had made a mistake, saying that Inveraray & District won the drumming, after the association used the ensemble judge's ranking for the drumming, and vice-versa.
Similar to the 2022 season, the Scottish was the first RSPBA major championship win for FMM. In 2022, the band went on to win the World Pipe Band Championship.
It was the seventeenth win of the Scottish Championship for the band and Parkes in Grade 1, both all-time records.
European Champions Inveraray & District had to settle for second, but St. Laurence O'Toole and Johnstone made strides up the charts with a third and a seventh, respectively.
In Grade 2, Royal Burgh of Annan took the top prize with the winners of the previous two championships, Ravara and Portlethen & District, taking the next two places. Notably, Kilchoman Distillery Isle of Islay took two firsts in piping, and but placed fourth due to a twelfth in drumming and an ensemble fourth.
Dollar Academy continued its undefeated season, winning the the Juvenile Grade.
The next and final major competition on the RSPBA circuit are the World Pipe Band Championships August 18-19 at Glasgow Green in Glasgow.
The RSPBA's Champion of Champions table for Grade 1 has Inveraray & District leading, followed by Field Marshal Montgomery; Peoples Ford Boghall & Bathgate Caledonia; Shotts & Dykehead Caledonia and St. Laurence O'Toole tied fourth; and ScottishPower in sixth. The Champion of Champions award is determined only by the association's major championships.
After the Grade 1 drumming result was corrected, the Champion of Champions Drumming standings show: Field Marshal Montgomery in the lead, followed by Peoples Ford Boghall & Bathgate Caledonia, St. Laurence O'Toole, Inveraray & District, and ScottishPower.
Due to the RSPBA's inability to find a sponsor for the British Championships, there are only four majors in 2023.
Grade 1 (medley, 10 competed)
1st Field Marshal Montgomery (Northern Ireland) (1,1,2,1)
2nd Inveraray & District (Scotland) (3,2,1,2)
3rd St. Laurence O'Toole (Republic of Ireland) (4,4,3,3)
4th Peoples Ford Boghall & Bathgate Caledonia (Scotland) (2,5,4,4)
5th Shotts & Dykehead Caledonia (Scotland) (5,3,5,8)
6th ScottishPower (Scotland) (7,6,8,6)
7th Johnstone (Scotland) (6,7,7,9)
8th Police Scotland Fife (Scotland) (9,9,6,7)
9th Police Scotland & Federation (Scotland) (8,10,9,5)
10th Closkelt (Northern Ireland (10,8,10,10)
Judges: Ross Walker, Colin Moffett (piping;) Mark Wilson (drumming); Gordon Lawrie (ensemble)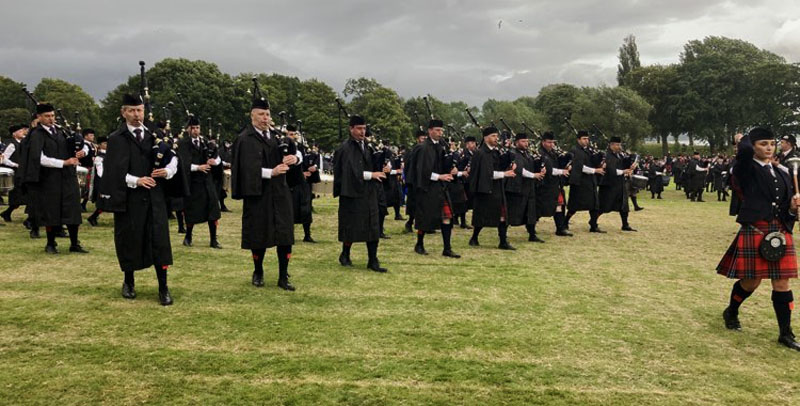 Grade 2 (MSR, 13 entered)
1st Royal Burgh of Annan (Scotland) (2,2,2,1)
2nd Ravara (Northern Ireland) (3,3,6,3)
3rd Portlethen & District (Scotland) (5,8,1,2)
4th Kilchoman Distillery Isle of Islay (Scotland) (1,1,12,4)
5th Manorcunningham (Republic of Ireland) (ens.pref.) (7,5,5,5)
6th City of Edinburgh (Scotland) (4,4,8,6)
Judges: John Wilson, John Reville (piping); Arthur Cook (drumming); Bob Worrall (ensemble)
Grade 3A (medley, 18 entered)
1st Coalburn IOR (Scotland)
2nd Tullylagan (Northern Ireland)
3rd Matt Boyd Memorial (Northern Ireland)
4th McNeillstown (Northern Ireland)
5th Vale of Atholl (Scotland)
6th City of Newcastle (England)
Drumming: Tullylagan
Judges: Peter Hunt, Jim Semple (piping); Adrian Hoy (drumming); Peter Snaddon (ensemble)
Grade 3B (medley, nine entered)
1st Macánta (ens.pref.) (England)
2nd Ross & Cromarty (Scotland)
3rd Ayr Society (Scotland)
4th Methil & District (Scotland)
5th Lower Clyde (ens.pref.) (Scotland)
6th Scottish Borders (Scotland)
Drumming: Macanta
Judges: Robert Shaw, Brian Switalla (piping); Gordon Brown (drumming; Jim Baxter (ensemble)
Juvenile (MSR, four entered)
1st Dollar Academy
2nd George Watson's College
3rd Preston Lodge
4th George Heriot's School
Drumming: Dollar Academy
Judges: Ross Walker, Colin Moffett (piping;) Mark Wilson (drumming); Gordon Lawrie (ensemble)
Grade 4A (MSR, 19 entered)
1st Burntisland & District (Scotland)
2nd Strathendrick (Scotland)
3rd Uddingston Strathclyde (Scotland)
4th Kilbarchan (ens.pref.)
5th Perth & District (Scotland)
6th Coupar Angus Burgh (Scotland)
Drumming: Uddingston Strathclyde
Judges: Peter Hunt, Jim Semple (piping); Adrian Hoy (drumming); Peter Snaddon (ensemble)
Grade 4B (prescribed marches, 17 entered)
1st Scots School Albury (Australia)
2nd Altnaveigh Memorial (Northern Ireland)
3rd City of Discovery (Scotland)
4th Dunoon Argyll (Scotland)
5th City of Aberdeen (Scotland)
6th Govan Community (Scotland)
Drumming: Govan Community
Judges: Ronnie McShannon, Cameron Edgar (piping); Keith Orr (drumming); Paul Turner (ensemble)
Novice A (MSR, nine entered)
1st Dollar Academy (Scotland)
2nd St. Columba's School Kilmacolm (Scotland)
3rd Scots College Sydney (Australia)
4th North Lanarkshire Schools (Scotland)
5th West Lothian Schools (Scotland)
6th Stirling & District Schools (Scotland)
Drumming: North Lanarkshire Schools
Judges: Ronnie McShannon, Cameron Edgar (piping); Keith Orr (drumming); Paul Turner (ensemble)
Novice B (prescribed marches, 16 entered)
1st Renfrewshire Schools (Scotland)
2nd Lochgelly High School (Scotland)
3rd Oban High School (Scotland)
4th Preston Lodge High School (Scotland)
5th Dollar Academy (Scotland)
6th Burntisland & District (Scotland)
Drumming: Burntisland & District
Judges: John Wilson, John Reville (piping); Arthur Cook (drumming); Bob Worrall (ensemble)