2023 Sherriff Champion: Cameron Bonar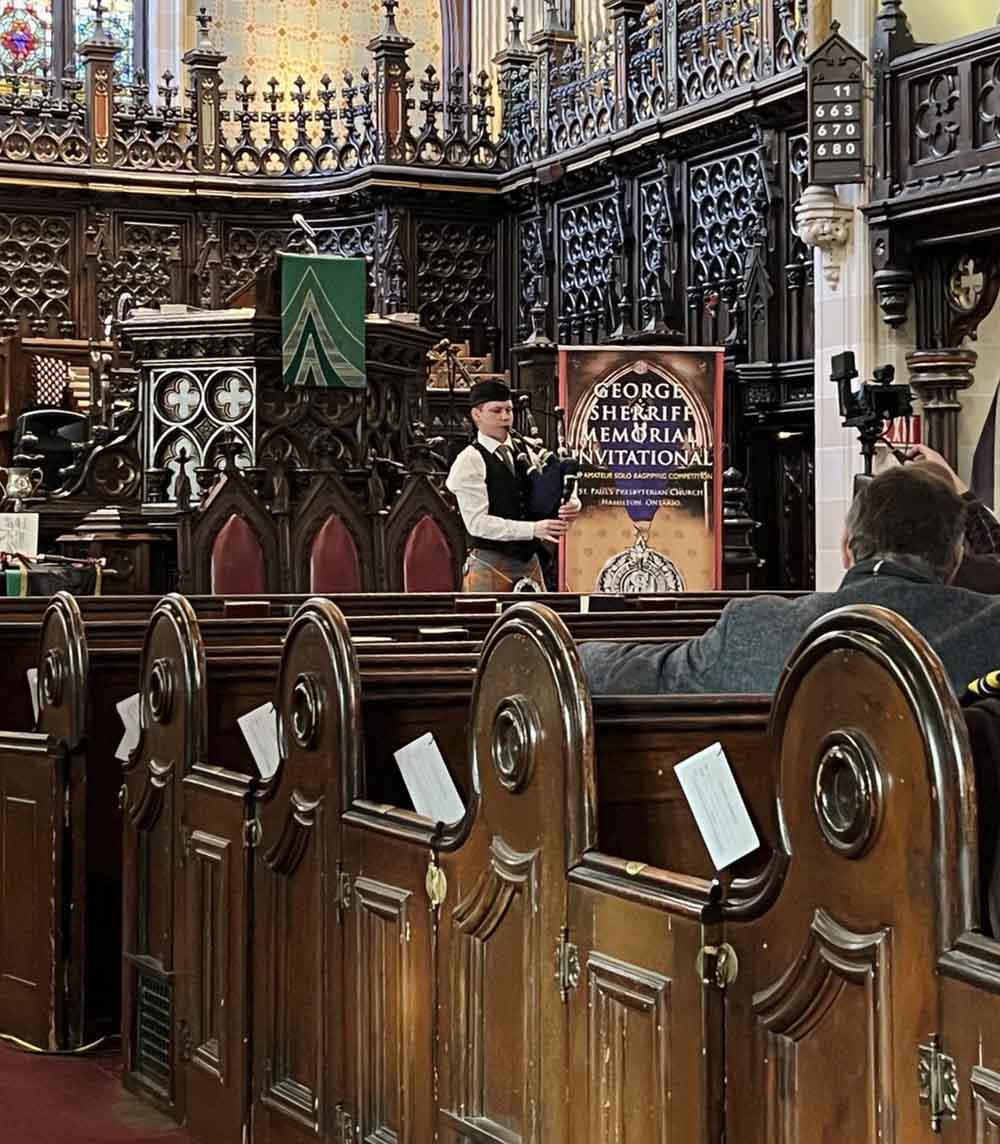 Hamilton, Ontario – November 18, 2023 – Against a field of nine other pipers from around North America, Cameron Bonar of Surrey, British Columbia, gained the 2023 George Sherriff Memorial Amateur Invitational Solo Piping Championship after accruing the most aggregate points over the three events held throughout the day at St. Paul's Presbyterian Church in downtown Hamilton.
Bonar won the Piobaireachd event, and Henry Paluch of Aurora, Ontario, won the MSR and the 6/8 Marches. Bonar finished ahead overall by a point thanks to a fourth prize in the 6/8 Marches and Paluch not in the list in the Piobaireachd.
The prize ended a terrific 2023 for the 15-year-old Bonar, who also won the prestigious Pipe Idol competition at Piping Live! in August, the C-Grade MSR at the Argyllshire Gathering, and several overall amateur champion awards on his local BC Pipers Association circuit, including the new Andrew Bonar Trophy at the Pacific Northwest Scottish Highland Games in Seattle.
Piobaireachd
1st Cameron Bonar
2nd Colin Forrest, Mission, British Columbia
3rd Magnus Stone, Natick, Massachusetts
4th Tom Cangelosi, Arlington, Virginia
5th Michael Malish, Ontario
MSR
1st Henry Paluch
2nd Cameron Bonar
3rd Tom Cangelosi
4th Colin Forrest
5th Gillian Blaney, Lower Sackville, Nova Scotia
6/8 Marches
1st Henry Paluch
2nd Colin Forrest
3rd Gillian Blaney
4th Cameron Bonar
5th Magnus Stone
Also competing: Malachi Johannsen, Modesto, California; Kayleigh Johnstone, Aurora, Ontario; and Mic Trenor, Columbus, Ohio.
Last year, Callum Bevan of Abbotsford, British Columbia, scored a rare Sherriff sweep, winning all three events to cap off his amateur piping career.
Margaret Dunn, Michael Grey and Willie McCallum judged all the events, and Pete Aumonier was the emcee throughout the day.
"The Sherriff" is not sanctioned by any association but receives a large donation from the Pipers & Pipe Band Society of Ontario and support from many other sponsors.