Australian nominations up in the air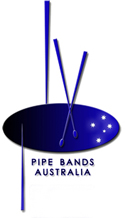 Several nominations for high-level Pipe Bands Australia executive positions have been ruled "invalid" by the organization's membership registrar, according to documents obtained by pipes|drums from several sources.
The nominations of Dean Hall for Principal of Drumming, and Principal of Piping nominations for Brett Tidswell and Kyle Warren were originally ruled invalid by Raylee Riley, PBA Registrar, because the organization's rules demand that only those with paid-up memberships by June 30th of the calendar year are eligible to be nominated or can only be nominated by a paid-up member. Warren was nominated by Queensland Pipe Band Association Chairman Andrew Roach, whose status as a member was also deemed invalid.
There is a one-month grace-period to allow for late registrations. The PBA Nomination Form requires that the signatories be paid-up or "financial" members of the association.
After double-checking with Riley that the details were correct, it was later determined that the membership of incumbent President Chris Earl, who was nominated for the president position, which was originally thought to be invalid, but has apparently been validated, and that Tidswell, as an honourary life member of the organization, is exempt from paying.
Hall was appointed Principal of Drumming in April after the resignation of Greg Bassani, following Bassani's displeasure with the organization.
+ Dean Hall appointed PBA drumming head
Pipe Bands Australia's annual general meeting is scheduled for September 9th but, according to an inside source who asked that his/her name be with withheld, nominations can be made from the floor of the meeting. Presumably, Hall and Warren will by then have paid up their memberships by then and have their names put forward.
Pipe Bands Australia has been embroiled in controversies over the past year, beginning with a crisis involving the Grade 1 City of Whitehorse Pipe Band of Melbourne. Four members of the band were ultimately suspended from one to four years, including Pipe-Major George Shepherd who received a 48-month ban.
The matter stemmed from critical comments allegedly made on a private Facebook group regarding PBA and RSPBA adjudicator seen in a photograph with members of New Zealand's Grade 1 Canterbury Caledonian in which Russell can be seen wearing band merchandise.
+ Whitehorse removed from Pipe Bands Australia
The organization has also had to endure a financial scandal in which a former treasurer with single signing authority allegedly embezzled funds over several years. It was originally thought that the total amount taken was $180,000, but a source close to the matter said that it is actually closer to $250,000.
+ Australian losses exceed $180k
+ Australia accounting matter involves police
Pipe Bands Australia is the collective organization for the country's state associations, which effectively act as branches. Individual memberships are generally paid by a piper or drummer's band.