Boney Invitational livestreaming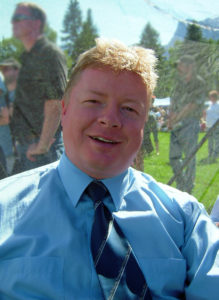 The third annual Boney Memorial Invitational will be for the first time livestreamed on Saturday, 24th, bringing the Vancouver charity-based event to a worldwide audience.
https://livestream.com/bcpipers/BMMI2018
While the livestream is free to all, viewers are being asked to make a donation to the BC Cancer Foundation, a cause that the late Andrew "Boney" Bonar got behind for the nearly three years that he battled glioblastoma, a rare form of brain cancer, before succumbing on October 13, 2017, at the age of 51.
Those attending in-person at the Halpern Centre at Simon Fraser University's Burnaby Campus are also being asked to make a donation at the door.
The contest starts at 7 pm Pacific time (10 pm Eastern, 3 am GMT) and features invited players Jori Chisholm, Seattle; Alastair Lee, Surrey, British Columbia; Andrew Lee, Surrey, British Columbia; Kevin McLean, Maple Ridge, British Columbia; and James P. Troy, Victoria, British Columbia, all of whom qualified by merit of their results in professional competitions on the British Columbia Pipers Association circuit of events in 2017.
+ 3rd Boney Invitational Feb 24th
Andrew Lee was the winner of the 2017 Boney Invitational.
+ Boney Invitational goes to Andrew Lee
One of the most successful pipers to emerge from Canada, Andrew Bonar was a member of the Grade 1 Simon Fraser University Pipe Band for close to three decades. He was a composer and solo competitor of renown, winning, among many other prizes, the Silver Medal at the Northern Meeting in 2010 and the Memorial Cairn for Piobaireachd at the BCPA's Annual Gathering four times (1995, 2006, 2010, 2012).
He wrote a frank account of his ordeal within weeks of his first surgery, and he consistently worked to raise awareness of and money for cancer charities, with totals exceeding $100,000 and counting.
+ Andrew Bonar, in his own words
Those wishing to make a donation to the BC Cancer Foundation can do so right now here.