Calum MacCrimmon officially appointed 11th Honourary Hereditary Piper to the MacLeods
At a ceremony at Dunvegan, Skye, Calum MacCrimmon of Monifieth, Scotland, was officially appointed the 11th Honourary Hereditary Piper to Chief Hugh MacLeod of MacLeod in the long line of MacCrimmon descendants of Donald Ruadh MacCrimmon who inherit the role.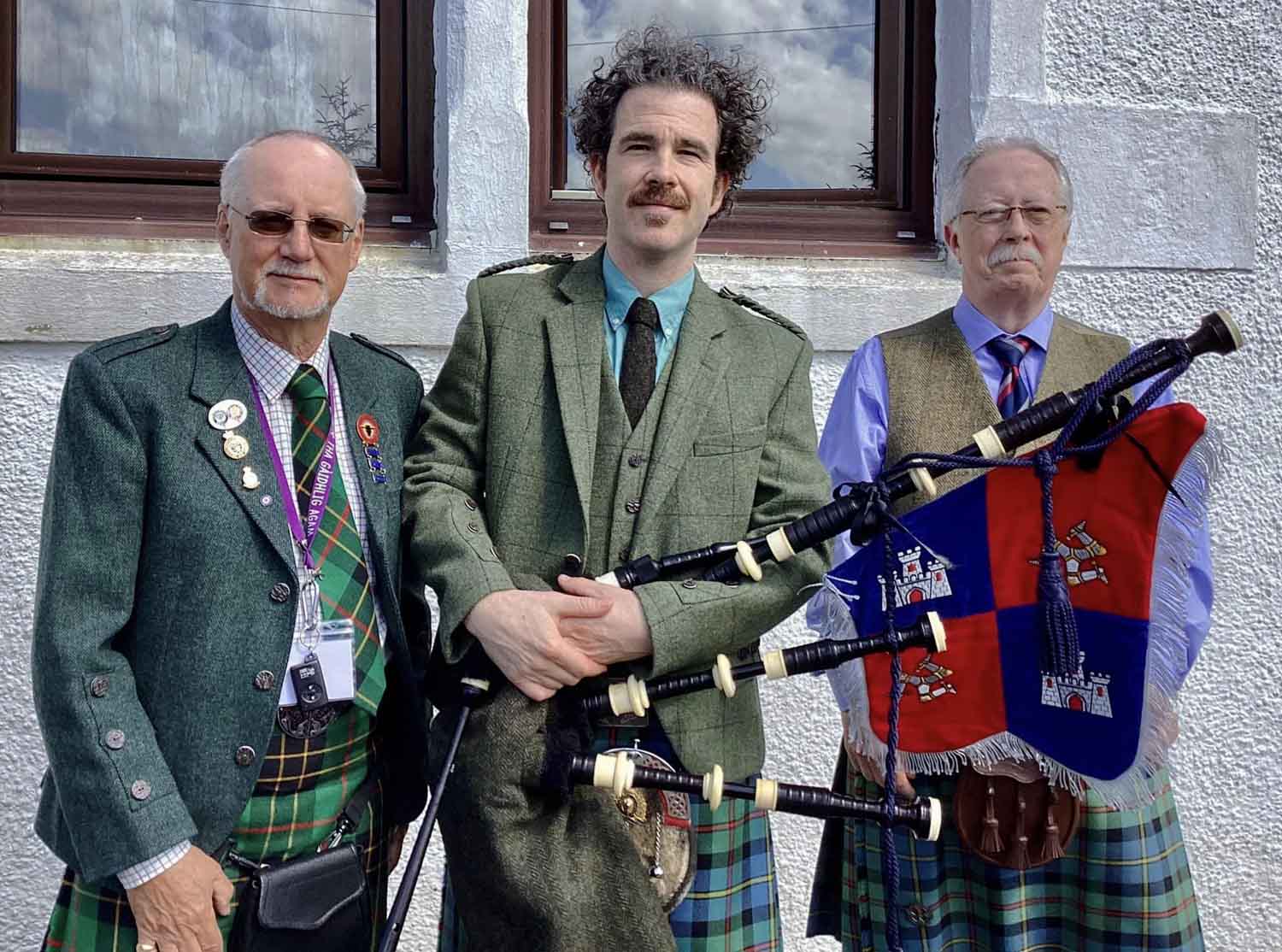 The ceremonial pipe banner was presented by Kevin Tolmie of the Clan MacLeod to the 40-year-old piper, originally from Canada, and well known for his work with the Celtic folk band, Breabach.
He is the son of the piper-composer Iain MacCrimmon of Edmonton, who also has lived for the last 25 years in Scotland.
The Honourary Hereditary Piper role was created by the modern chiefs of Clan MacLeod have now instated three MacCrimmons as hereditary pipers to the chief. Calum MacCrimmon's grandfather, Malcolm Roderick MacCrimmon, was verbally appointed in 1942 by Dame Flora MacLeod of MacLeod
Iain MacCrimmon was instated in 1978 by John MacLeod of MacLeod, the 29th chief of Clan MacLeod, when MacLeod happened to be in Calgary.
The annual piping competitions at Skye commemorate piobaireachds composed by or closely associated with the hallowed MacCrimmon dynasty of pipers, bringing into question whether compositions by the modern MacCrimmon hereditary pipers, such as Iain MacCrimmon's "Salute to Malcolm Roderick MacCrimmon," should be added to the official list of piobaireachds from which contestants can select.
"If MacCrimmon compositions are required to be set, this tune's credentials are impeccable," said piping scholar William Donaldson, author of The Highland Pipe and Scottish Society and the epic pipes|drums' Set Tunes Series, "unlike a lot of  'MacCrimmon tunes' widely accepted as being by members of the famous family, but attributed on very dubious grounds."
The MacCrimmon Cairn at Borreraig, Skye, is currently under offer along with the 2,500-acre Husabost Estate on which it stands.