Canada 150: the 15 Greatest Canadian Pipers & Drummers (deceased)
#4: John Kirkwood Sr.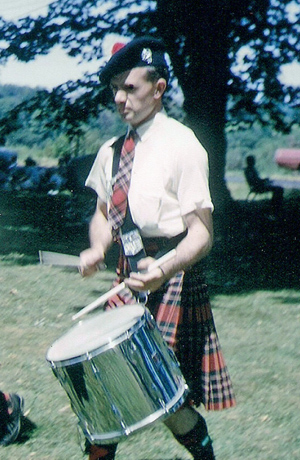 The name "Kirkwood" in Canada means drumming, and it all started with John Kirkwood senior immigrating to Ontario from the pipe band drumming mecca of Lanarkshire, Scotland. Kirkwood, like John Kerr, played with Shotts & Dykehead Caledonia, and introduced truly world-class pipe band drumming to the St. Catharines region. He would be lead-drummer of the Grade 1 Clan MacFarlane Pipe Band, setting the stage for that group's run at world renown under Pipe-Major Ken Eller. John Kirkwood and his brother, Jim, would work to teach pipe band snare drumming, creating a standard unknown in Canada until then. His son, John Jr., would have the Clan MacFarlane drum section passed to him, until he himself immigrated to Scotland to be the L-D of the Glasgow Police Pipe Band during their glory years under P-M Iain MacLellan. John Kirkwood Sr.'s legacy as a patriarch of Canadian pipe band drumming excellence continues today with his grand-nephew, Graham Kirkwood, a member of the Hamilton Police Pipe Band, and Graham's young son, James.