Canada 150: the 15 Greatest Canadian Pipers & Drummers (deceased)
#1: John Wilson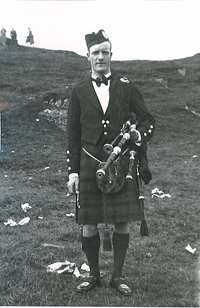 Voted by our panel with resounding agreement as the greatest Canadian piper or drummer no longer living is the legendary John Wilson. Originally from Edinburgh, Wilson was a solo piping contemporaray of Willie Ross, G.S. McLenann, Robert Reid, the Bobs of Balmoral and a Scottish solo scene that might have been the greatest in history. And he was a winner. Despite losing much of the fingers and thumb of his left hand due to a mishap at a young age fooling around with a dynamite blasting cap, he relearned his piping once his injuries healed. Some contended that the stumps of his hand made for a phenomenally clear and precise top-hand embellishments. His technique was impeccable and famous and often compared with that of McLennan's. Wilson immigrated to Ontario in 1948, originally to Oshawa, then to Hamilton, and finally to Toronto, where he would remain in the Willowdale area north of the city centre. He was an inexhaustible teacher, passing along his knowledge strictly and directly to the likes of Reay Mackay, Bob Worrall and Bill Livingstone. John Wilson was another larger-than-life character with an outsized personality that can be felt in his self-published autobiography, A Professional Piper in Peace and War. He published three collections of music that are considered, tune-for-tune, some of the best books this side of Donald MacLeod. His compositions include "Loch Rannoch," "Leaving Lochboisdale," "Tom Kettles" and "St. Valery." Despite suffering at least two heart attacks and having one lung removed due to lung cancer, Wilson relentlessly continued his career as a leader with the Pipers Society of Ontario, taking his judging and teaching talents far and wide until his death in 1979.
So, that's how our panel of experts called it. But what do you think? Who also deserves to be on this list? Make a comment!
Thanks to our panel (they know who they are), and stay tuned for our list of the 15 Greatest Living Canadian Pipers and Drummers as decided by a different panel, as we mark Canada's 150th birthday.