Chanters silenced: might and main, coolness and bravery
As the hundredth anniversary of the end of World War I approaches, we continue with the final part in our "Chanters silenced" series of archival items from the era, highlighting the sacrifices and contributions of just a few of the hundreds of pipers who served.
+ Chanters silenced: pipers lost in the Great War
+ Chanters silenced: pipers lost in the Great War – Angus Morrison, a heroic Uist piper killed
+ Chanters silenced: pipers lost in the Great War – losses on common ground
+ Chanters silenced: pipers lost in the Great War – G.S.'s brother and the youngest pipe-major
+ Chanters silenced: a pupil of John MacColl, heroes of Oban
+ Chanters silenced: two men of the Hebrides
+ Chanters silenced: Meldrum makes a tune and stories of patriotic courage
A common head of gallantry runs through each account. As mentioned, many pipers who served on the front lines were active as stretcher-bearers, an incredibly dangerous role, essentially retrieving the wounded from active battlefields. While rules of engagement dictate that medics and stretcher-bearers should not be considered enemy targets, shells, bullets and shrapnel flying would often claim essential unarmed pipers.
The Battle of the Dardanelles in Turkey in 1914 claimed the lives of many pipers, and this installment includes several accounts of heroism.
The first piece outlines the extraordinary gallantry of one piper who played through heavy fire, piping troops over the top of trenches, and through the action, surviving without being wounded. Others were not so fortunate.
PLAYED INTO THE TRENCHES
The coolness of Piper Cameron, of the Glasgow Highlanders, in a recent engagement at the Dardanelles, is described in a letter from a non-commissioned officer.
Cameron, with his pipes at full blast and a heavy revolver dangling by a cord from his wrist, played the battalion into one trench, then over the parapet into another trench, until final success was achieved. During the second and continued charge, he blew "with might and main," the shrill notes of the pipes distinctly heard above the din. Shot and shell whizzed around him, but still he blew on, and when the day's work was done he had not sustained a scratch.
Piper Cameron is a son of Mr Alexander Cameron, formerly boilermaker with the Highland Railway Company at Inverness, and now resident in the Townhead district of Glasgow.
A BRAVE ISLAY PIPER.
Piper PETER NACNIVEN.

We regret to record the death of Piper Peter M'Niven, who was killed at the Dardanelles in a gallant attack on the Turkish forts. He joined the H.L.I., and he died the death of a hero. He was as modest, intelligent, kindly and gentle a lad as ever left Islay.
Appended is the copy of a letter from his Commanding Officer to his mother: –
Dear Mrs MacNiven, It is my sad duty to inform you of the death of your son, No. 1237, Piper Peter MacNiven. Your son was killed during a charge. I may say that he was a credit to his company, which took a prominent part in a charge which has made a name for the regiment. – With sincere sympathy, I am, Yours truly,
Gordon Daly, Captain.
The following message was also received: –
The King commands me to assure you of the true sympathy of His Majesty and the Queen in your sorrow.
Kitchener.
The Western Islands have sent a praiseworthy number to fight for their King and Country, and Islay has done her share, there being over 100 men between the Army and Navy, and several have laid down their lives in France and in Gallipoli.

HIGHLAND PIPER'S BRAVERY.
[Handwritten: O.T. 16-10-15]
SERGT.-PIPER NEIL MACLEOD.
Police-Sergt John MacLeod, 226 Springburn Road, Glasgow, has been official notified by the War Office that his son, Sergeant-Piper Neil MacLeod, 1/8th Scottish Rifles, has been killed in action in the Dardanelles on 12th July last. Sergt. MacLeod was 23 years of age. He had been connected with the 8th Scottish Rifles for over eight years. He was a boilermaker to trade, and prior to the outbreak of the war he was employed by the Atlas Motor Works, Springburn. He was a well-known piper, and took great interest in the Boys' Brigade movement and taught several Boys' Brigade pipe bands in Glasgow.
Chaplain W.B. Wilson of the British Mediterranean Expeditionary Force, wrote to the Rev. Mr Keir, Springburn, giving some particulars of the death of Sergeant MacLeod:
"There was a big engagement here," writes Mr Wilson, "on July 12-13, and heavy firing on both sides. MacLeod, with the other stretcher-bearers, did magnificent work in very difficult and dangerous trenches, getting the wounded dressed and carried down to the nearest advanced dressing station, and unfortunately while about twenty of our men were in a communication trench (MacLeod amongst them), a Turkish gun got their range and dropped three high explosive shells right into the trench. Only five of the twenty were left unhurt . . . I would just add that in a previous engagement on 28th June, when the 8th Scottish Rifles had a frightful cutting up, Sergeant MacLeod did really magnificent work in attending the wounded under heavy fire. Several men have told me that they saw him going over the parapet of the firing line to fetch in wounded, and his work on that day altogether was an example of coolness and bravery."
A brother, Lance-Corpl. Hector MacLeod, 1/6th Highland Light Infantry, was wounded at the Dardanelles on the same day. Lance-Corpl. MacLeod is twenty years of age, and prior to 1914 served four years in the Battalion. A the outbreak of the war he was employed as a tailor with Laidlaw & Proctor, St. Vincent Street, and rejoined his old regiment. He is now in hospital in Manchester, wounded in both legs.
TWO HERO PIPERS.
At the outbreak of the War, Donald Macphail, son of D. Macphail, late piper, 93rd Highlanders, was head gamekeeper at Inversnaid, Loch Lomond, and when Kitchener asked for men, he offered his services. Along with the late piper John M'Call, he joined at Stirling on 1st December, 1914. After training at Sutton Veny, he went to France with his Battalion, thence to Salonica, where he took part in all the hardships and fighting which fell to their lot. He came through it all without a wound, but was slightly gassed and suffered severely from malaria. He was invalided home in November 1918, and landed at Southampton on 1st December, exactly four years from the date of his enlistment. He received his discharge in the Spring of 1919.
Private Macphail is a fine shot, and is well known on Lachaweside as a prize-winner in the local shooting matches. He was gamekeeper with Sir John S. Ainsworth at Ardanaiseig before going to the employment of Sir Archibald Campbell, Bart. of Succoth.
The Story of the Piper's Crow.
"Jock," the pipers' crow, left its companions in the field, and followed the pipe band of the 12th A. & S. Highlanders on a route march at Sutton Veny, Wiltshire, where the regiment was training. It made its home with the pipers, and whenever the sound of the pipes was heard, Jock was there. It was very intelligent, and attached itself particularly to Piper J. M'Call, of Taynuilt, and is seen sitting on the drone of his pipes. The round ball on his shoulder is a young owl, also a regimental pet.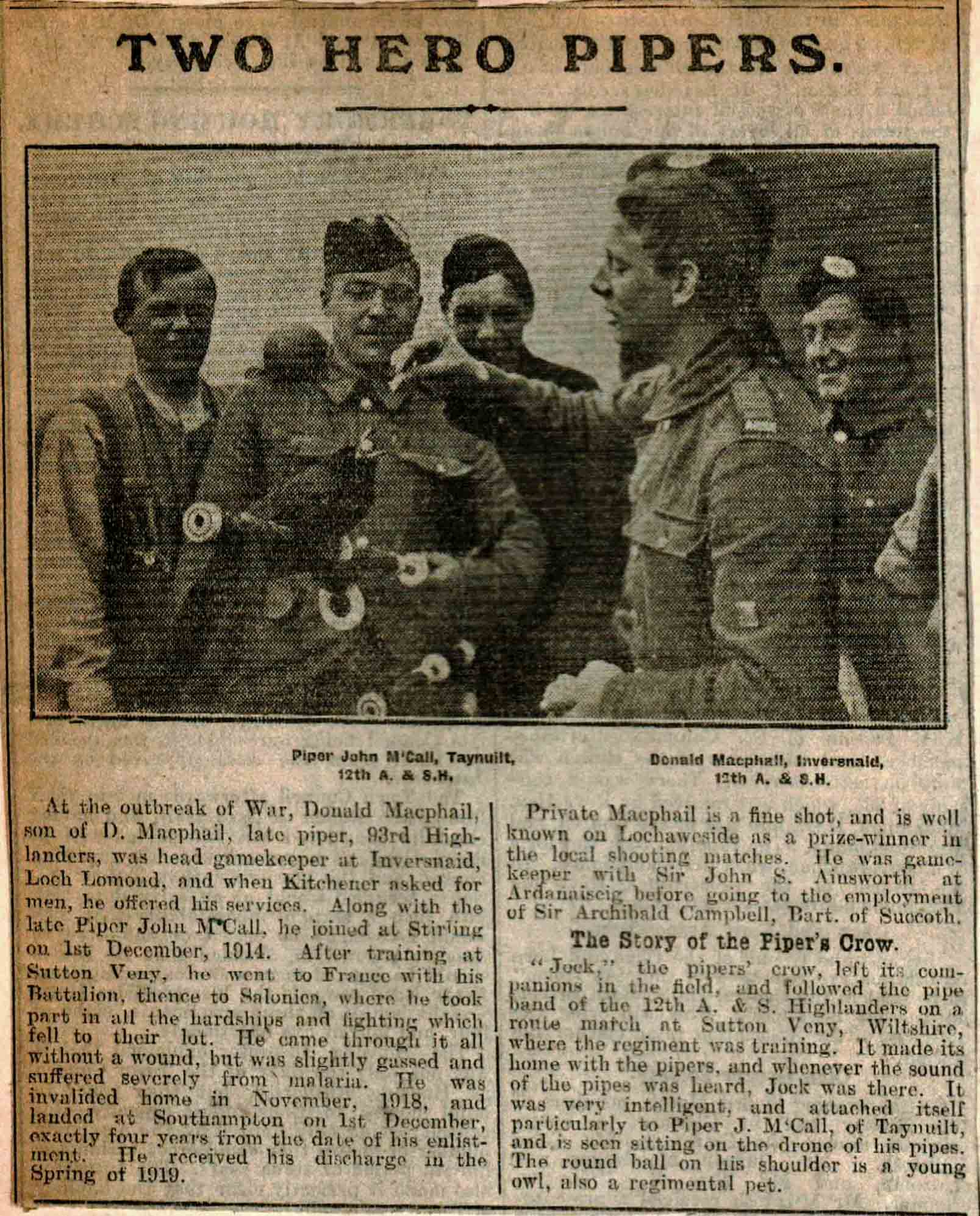 We hope that you have enjoyed pipes|drums' commemoration of the centenary of the end of the Great War through our "Chanters silenced" series. On November 11 at 11 am, be sure to pause to reflect on incredible contributions of pipers and drummers – and all who served – in their service to their countries and the freedoms that we enjoy today.
We invite readers to contact us with an email message with a few details of what you or your pipe band is doing on November 11 to commemorate and contribute to the occasion.