Composer? Arranger? Get the royalties you've earned
license that they must pay could by tens of thousands of dollars. They legally should pay this license for one simple reason: the paying public are paying to enjoy your music, and you deserve a relatively small piece of that.
The World Pipe Band Championships, administered by the RSPBA but put on and marketed by Glasgow Live, could or should be paying a license for a live music festival to PRS for Music in the UK on the order of tens of thousands of pounds – for each day. If Field Marshal Montgomery or other prize-winning Grade 1 band plays your copyright music, which is performed live and broadcast live on the net and subsequently as a recording on the radio and TV, well, if you are not looking after your rights, you are missing potentially hundreds of pounds.
The BBC will pay what is called a "blanket" license to PRS for Music. That means that they can use whatever recorded music they like. But that will not cover live broadcasts. Live events like the World's must be negotiated and paid separately, each piece of music reported, and then PRS for Music tries to match each tune with its composer.
Much of our music is "public domain" or traditional. That means one of two things: the composition is so old no one knows who wrote it, or the known composer has been dead for at least 70 years (this varies from country to country) and the term of copyright is over, and the tune enters the public domain.
"Ach, there's nae money in it."
The familiar refrain for pipers is "there's no money in it." Nothing could be further from the truth. The truth is there is money in it. Sometimes a lot of money. And if pipers are not looking after their own rights, by taking simple steps to protect themselves and maximize the potential to receive what they fairly and rightfully and legally deserve, they are only cheating themselves. Your money will go orphaned and eventually end up in someone else's pocket.
Again, the money is there and the collecting societies want you to have it. But they need to know who owns the copyright and how to contact him or her so that the money can be distributed.
Technically, you could try to collect royalties yourself. This would mean negotiating with each business and event that uses your music. But that's crazy complicated and time-consuming, so music rights organizations that you join will do that exceedingly complicated and time-consuming work for you. They will take generally between 20 and 10 percent to do that work. But the idea is that they will find a lot more uses of your music than you ever could, and do the work that is otherwise unrealistic, if not outright impossible, for you to do on your own.
If you made a significant arrangement of a tune, you own that, too. But it must be substantial enough – like a jig version of a 2/4 march, or completely new parts that you composed. That includes tunes that are "public domain" – usually by a composer who has been dead longer than 50 or 70 or even 90 years. Compositions by G.S. McLennan, who died in 1929, became public domain in 1999. Anyone can record and perform them. Donald MacLeod's tunes are in copyright until 2052 – 70 years after he died in 1982.
Colin MacLellan's now-standard jig arrangements of the strathspey "The Piper's Bonnet" is a significant arrangement of a public domain tune. MacLellan thus owns the rights to any license money paid for its use.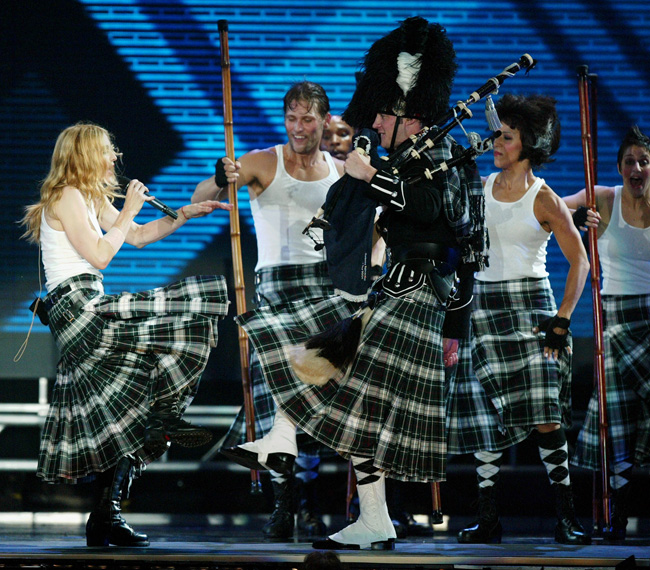 When Lorne Cousin worked with Madonna on her "Reinvention" world tour of arenas and stadiums in 2004, she performed and recorded a version of Donald MacLeod's great strathspey, "Susan MacLeod." It was really just a small part of the tune, but it was nonetheless the property of MacLeod's estate, and they deserved to be compensated fairly for every time it was performed on the tour before millions of fans. Madonna gets royalties for performing songs . . .