Inverness Day 1: Henderson takes Gold, Easton Silver, Duncan: A-MSR, Drummond: Silver Star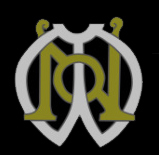 Inverness, Scotland – August 31, 2017 – The world's top competing solo pipers gathered for the annual Northern Meeting competitions held again at Eden Court Theatre. Alasdair Henderson of Dunoon, Scotland, won the Highland Society of London Gold Medal after chapping at the door for several years. Henderson played one of the most prize-winning tunes in Gold Medal history, "The King's Taxes." Cameron Drummond of Edinburgh was again second in the Gold Medal, at least the fifth time he has been second or third in Gold Medal events since first playing in them in 2010. Henderson gains an invitation to the 2017 Glenfiddich Championship in October.
In the Silver Medal, Stuart Easton of Palmerston North, New Zealand, took the prize, vaulting him into the Gold Medal competitions for good. Ben Duncan of Edinburgh  was the winner of the A-Grade MSR. Duncan now qualifies to play in the Former Winners MSR, starting in 2018.
Drummond, though, went on to win the Silver Star Former Winners March, Strathspey & Reel that night, the result announced around 11 pm. It was the first win of "The Big MSR" for Drummond.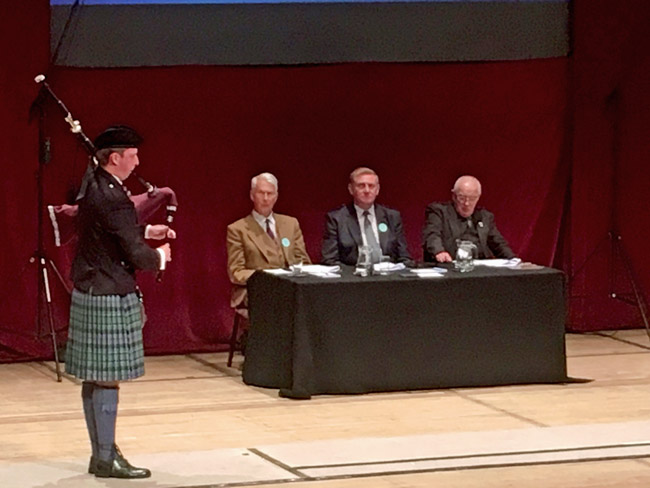 Orders of play for each event can be seen here.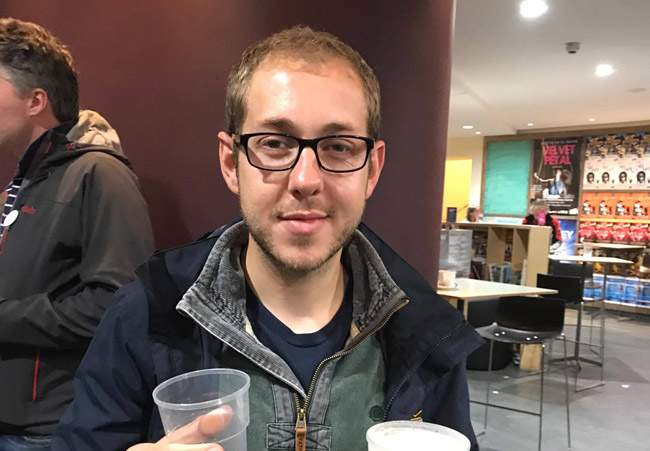 Highland Society of London Gold Medal (25 entered)
1st Alasdair Henderson, "The King's Taxes"
2nd Cameron Drummond, Edinburgh
3rd Jamie Forrester, London
4th Gordon Bruce Kilwinning, Scotland
5th Gordon McCready, Renfrew, Scotland
Judges: Dr. Angus MacDonald, Iain Morrison, Willie Morrison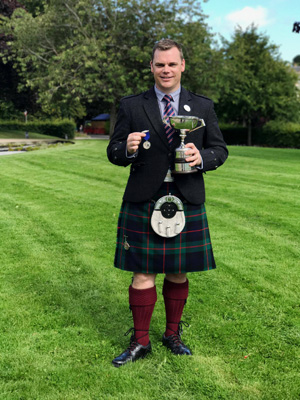 Silver Medal (26 entered)
1st Stuart Easton, "The Sword's Lament"
2nd Andrew Donlon, Germantown, Maryland
3rd Alex Gandy, Dartmouth, Nova Scotia
4th Jacob Dicker, Ottawa
5th Sarah Muir, Glasgow
Judges: Ian Duncan, Iain MacFadyen, Ronnie McShannon
A-Grade MSR (32 entered)
1st Ben Duncan
2nd Alastair Lee, Surrey, British Columbia
3rd Glenn Brown, Glasgow
4th Sara Muir
5th Gordon McCready
Judges: Walter Cowan, Robert Wallace, John Wilson
Silver Star Former Winners MSR
1st Cameron Drummond, "The Lochaber Gathering," "The Glengarry Gathering," "Caledonian Society of London," "Shepherd's Crook," "Mrs. MacPherson of Inveran," "Miss Proud"
2nd Stuart Liddell, Inveraray, Scotland
3rd Niall Stuart, Kyle of Lochalsh, Scotland
4th Iain Speirs, Edinburgh
5th Andrew Hayes, Ottawa
Judges: Ian McLellan, Malcolm McRae, Stuart Samson
The Northern Meeting's sister competition, the Argyllshire Gathering, was held last week in Oban, Scotland.
+ Oban Day 1: Sutherland takes Gold; Brown, Sr.; MacDougall Silver
+ Oban Day 2: Alex Gandy gets a double
Stay tuned to pipes|drums for more results from day t2o of the 2017 Northern Meeting as they become available.