Inverness Day 2: Iain Speirs wins Clasp, Leask B-MSR, MacColl HP&J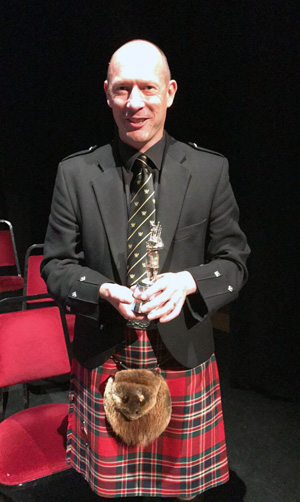 Inverness, Scotland – September 1, 2017 – The Northern Meeting continued at Eden Court Theatre with the Clasp for winners of the Inverness Gold Medal and the balance of the light music competitions. Iain Speirs of Edinburgh won the Clasp, considered the highest award in solo piping for piobaireachd. It was his second time winning the event, his first being in 2014. Speirs also gained the Northern Meeting Quaich for overall best performance across the Premier and A-Grade events. For his win, Speirs gets an invitation to the 2017 Glenfiddich Championship.
Steven Leask of Glasgow took the B-Grade MSR, catapulting him into the A-Grade light music competitions, while Angus D. MacColl took his eighth Premier / A-Grade Hornpipe & Jig title at Inverness.
Stuart Easton of Palmerston North, New Zealand, won the overall trophy in the B-Grade events.
Of note, the legendary solo piper Willie McCallum's streak of 29 consecutive inviiations and appearances at the Glenfiddich will likely come to an end. Between him and his uncle, Hugh MacCallum, there have been 43 successive years of the family competing at the contest since its inception. Stuart Liddell will also likely not gain a Glenfiddich invitation.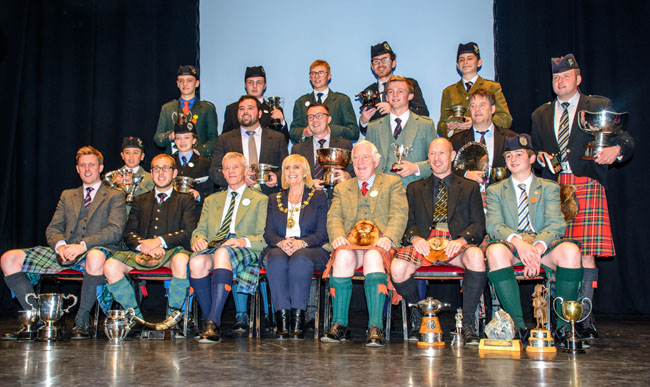 The first day of the Northern Meeting saw Ali Henderson, Cameron Drummond, Stuart Easton and Ben Duncan win, respectively, the Gold Medal, Silver Star, Silver Medal and A-Grade MSR.
+ Inverness Day 1: Henderson takes Gold, Easton Silver, Duncan: A-MSR, Drummond: Silver Star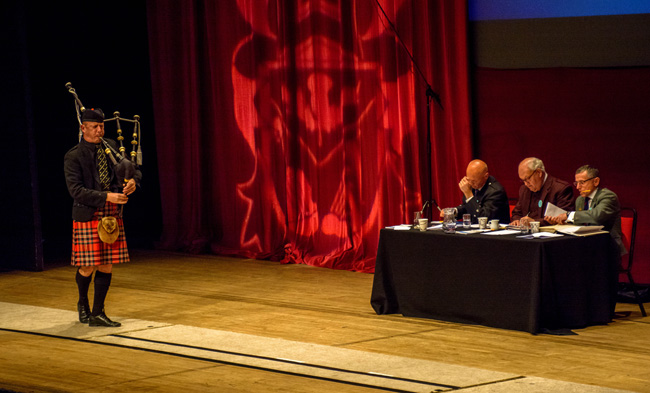 Clasp (for winners of the Gold Medal at Inverness, 20 entered)
1st Iain Speirs, "Lament for Colin Roy MacKenzie"
2nd Angus D. MacColl, Benderloch, Scotland
3rd Stuart Liddell, Inveraray, Scotland
4th Glenn Brown, Glasgow
5th Bruce Gandy, Dartmouth Nova Scotia
Judges: Stuart Shedden, Jack Taylor, John Wilson
B-Grade MSR (34 entered)
1st Steven Leask, Glasgow
2nd Jonathon Simpson,Bo'ness, Scotland
3rd Connor Sinclair, Crieff, Scotland
4th Sandy Cameron, Kyle of Lochalsh, Scotland
5th Andrew Lee, Surrey, British Columbia
Judges: Ian Duncan, Ronnie McShannon, Iain Morrison
Premier & A-Grade Hornpipe & Jig (41 entered)
1st Angus D. MacColl
2nd Stuart Liddell
3rd Jenny Hazzard, Edinburgh
4th Ian K. MacDonald, Whitby, Ontario
5th Sean McKeown, Toronto
Judge: Walter Cowan, Dr. Angus MacDonald, Iain MacFadyen,
B-Grade Hornpipe & Jig (32 entered)
1st Sandy Cameron
2nd Stuart Easton
3rd Ursa Beckford, Clifton, Maine
4th Callum Watson, Lockerbie, Scotland
5th Greig Wilson, Cardenden, Scotland
Judges: Ian McLellan, Robert Wallace
Under 18
Piobaireachd
1st Finlay Cameron
2nd Martin MacRae
3rd Jordan Ednie
4th Andrew Ferguson
MSR
1st Robbie MacIsaac
2nd Finlay Cameron
3rd Calum Craib
4th Andrew Ferguson
Under 15
Piobaireachd
1st Peyton Stewart
2nd Kyle Cameron
3rd Ciaran Kellet
4th Robert Allan
MSR
1st Robert Allan
2nd Kyle Cameron
3rd Paul Christie
4th Eosaph Caimbeul
The Northern Meeting's sister competition, the Argyllshire Gathering, was held last week in Oban, Scotland.
+ Oban Day 1: Sutherland takes Gold; Brown, Sr.; MacDougall Silver
+ Oban Day 2: Alex Gandy gets a double