Memories of Boney
Andrew Bonar was one of my piping heroes, then we became bandmates, fellow competitors, travel companions, and dear friends.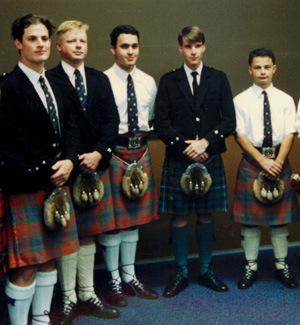 Boney was the lifeblood of the SFU Pipe Band, where we played together for 19 years. He was a strong, inspirational player who set a high standard of excellence in all aspects of his playing. He was a great teammate who supported his bandmates. He was a humble, quiet leader who led by example. He was a creative force and contributed his talents generously. His love of history, facts, and statistics gave him a wonderful sense of perspective on life. He had a great sense of humour. But behind his ageless smile and twinkling eyes was great wisdom.
I could go on for days about the important life lessons I learned from Boney's example: how to win gracefully, how to lose gracefully, how to welcome new faces, how to find joy in the struggle, when to focus on the details and when to step back and look at the big picture, when to stay the course and when to try something new, how to innovate and change while staying true to yourself. He was a loyal friend, supportive teammate and was always eager to celebrate the successes of those around him.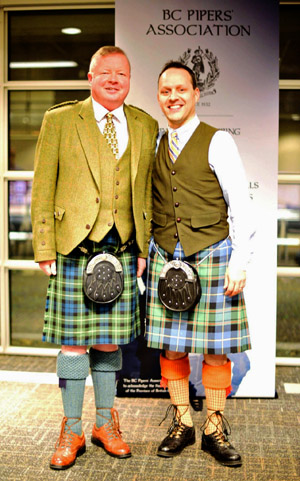 As a piper, Boney was a rock. He always had a bright, strong, perfectly tuned pipe sound. He expressed his tunes with confidence. His fingering was powerful and clear. He gave many incredible performances over the years, but my favourite would be his rendition of "I Got a Kiss of the King's Hand," which I probably heard him play a dozen times or more. When he played it, he was unbeatable. He deserves a ton of credit for the high standard of piping in B.C. and the Pacific Northwest over the past 30 years.
A wise person once said: Life's most persistent and urgent question is, "What are you doing for others?"
In his final three years, and in the face of a crushing diagnosis, Boney showed us how to live with courage, humour, and selflessness. In the time he had left, he focused his life on his family and on helping others. After he was no longer able to pipe in competitions, he started the Boney Music Invitational Piping Competition to raise funds and awareness for brain cancer research.
But more than anything, he loved his family.
Rest in peace, Boney.
– Jori Chisholm, Seattle