Memories of Boney
I first met Andrew, some 40 years ago when he first came on to the scene as a quick-fingered young boy rapidly blasting through the events and grades in Vancouver. Boney was always a guy for the numbers and statistics of who had won what and where, and this was part of what drove him. He was admired by everyone at a young age due to his musicality and his fearlessness when he played. That's what I remember in his playing. Never too careful, always going for it full on. He was a competitor who seemed to excel at many of his favourite venues, which he won with multiple times.
I would say the Vancouver indoor was the most important contest of the year for Andrew, because this was playing at home, in front of all the people who supported him, and that meant a great deal to him. This respect, I think, would lead Boney to accept all of the roles that came to him in the Vancouver area, from BC Pipers' Association director, to working on its music board, judging, and mentoring many young people along the way.
As well as the loud, musical, noticeable side of Boney, he was also one of the kindest people that I ever met. As I write, trying to recall all the conversations that we had over the years, I honestly cannot remember him publicly telling me something nasty about another player.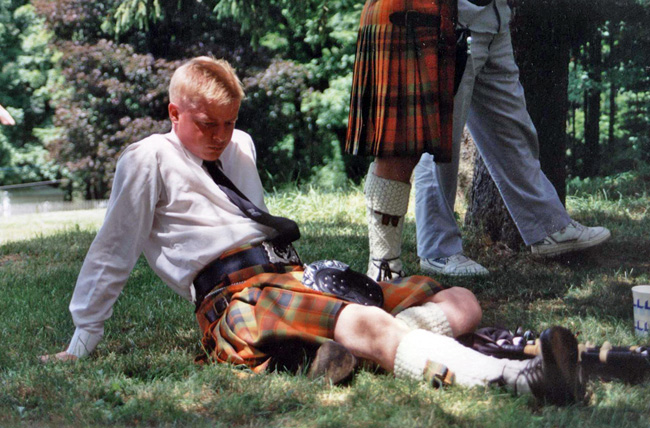 Around 1989, Boney was going to school in Ontario and working when he came to live with us in Oshawa. Andrew also played in the 78th Fraser Highlanders along with me and was part of a great pipe corps, which he added to with solid corps work, innovative ideas, and sometimes, dammit, he could make you laugh at band practice. I'll never forget the band having a not-so-great time with attacks one night and Boney decided to ease the tension but demonstrating his "one beat " attack. This worked a charm and he always had a knack for injecting either a good thought or some good humour when needed.
However, during his time with us, tragedy struck our household when we lost our second son. Alex was very young and, while we were not at our best mentally for a bit of time, Andrew, without ever being asked, just stepped up and became Alex's big brother, looking after him, eating with him, watching cartoons with him, whatever was needed. We will always remember that. It was genuine and showed his great heart. In this past year, Alex and I have attempted to try to return the favour by making recordings of our concert and/or recital preparations, sending them along to Andrew. He just loved to sit in the room with his son, Cameron, and listen to the music and discuss the recordings with him. This was Andrew's gift to his son: to teach him about the music and pass on all the good tips and musical thoughts while getting this chance to spend time with Cameron when he knew that his own time was limited. He was also right on top of everything that Kate did as well, but I'm sure someone else is better prepared to explain that part.
I'll miss Andrew and his sneaky humor, and great musical playing. But I'll learn even more now seeing how he handled himself in such a beautiful and unselfish way while dealing with this crippling disease. I will always continue to play Andrew's two favorite tunes, "I Got a Kiss of the King's Hand" and "Lament for the Earl of Antrim." But these tunes will now have a little more special meaning to me each time. Rest in peace my friend.
– Bruce Gandy, Dartmouth, Nova Scotia