Nick Hudson joins St. Thomas staff in Houston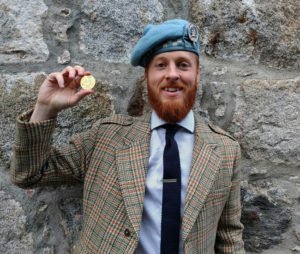 Nick Hudson of Pittsburgh has been appointed piping instructor at the St. Thomas Episcopal School in Houston, Texas, starting officially in the New Year.
Hudson fills the role that had originally been offered to and accepted by Glenn Brown, who at the eleventh hour changed his mind, choosing instead to return to live in Scotland.
Hudson has enjoyed several years of success at the professional grade solo level, wining, among many other awards, the Silver Medal and B-Grade MSR at the Northern Meeting in Inverness, Scotland, and the Livingstone at Hamilton, Ontario, this year, and last year the Piobaireachd Society (Canada) Gold Medal at Maxville, Ontario.
The St. Thomas piping and drumming program has emerged as one of the world's more successful, supporting a prize-winning Grade 3 / Juvenile band, often competing successfully at top events in North America and the World Pipe Band Championships. The band has won the World title in Juvenile in 1985, 1995, 1998, 2004 and 2006.
Other instructors at St. Thomas Episcopal School include Graham Brown and band director Lyric Todkill. Both Todkill and Hudson are products of the Carnegie-Mellon bachelor of arts program in piping.
The Grade 2 St. Thomas Alumni Pipe Band, comprising mainly former students at the school, has also done well at the World's.
Michael Cusack, the United States' most successful competitive solo piper, is the headmaster of St., Thomas Episcopal School. In his career, among many other awards, Cusack won both Highland Society of London Gold Medals, the Clasp at the Northern Meeting, the Bratach Gorm and the Senior Piobaireachd at the Argyllshire Gathering four times.
The exclusive private school's slogan is "Forming honorable men and women through a classical education in a Christ-centered world view."