North Stratton wins first Battle of Alberta event
Calgary, Alberta – May 4, 2019 – Alberta's 2019 pipe band season kicked off this weekend with the annual "Ogden Indoor" competition held at the Bowness High School. Participants travelled from BC, Alberta and Saskatchewan making up the eight bands and 85 soloists entered. North Stratton of Edmonton won the MSR contest kicking off the annual "Battle of Alberta" in Grade 2. In the professional events, Stewart Smith and Andrew Miller won the piping and drumming aggregates, respectively. Once again, in lieu of entry fees and admission, competitors and spectators were asked to bring donations for the local Veterans Food-bank.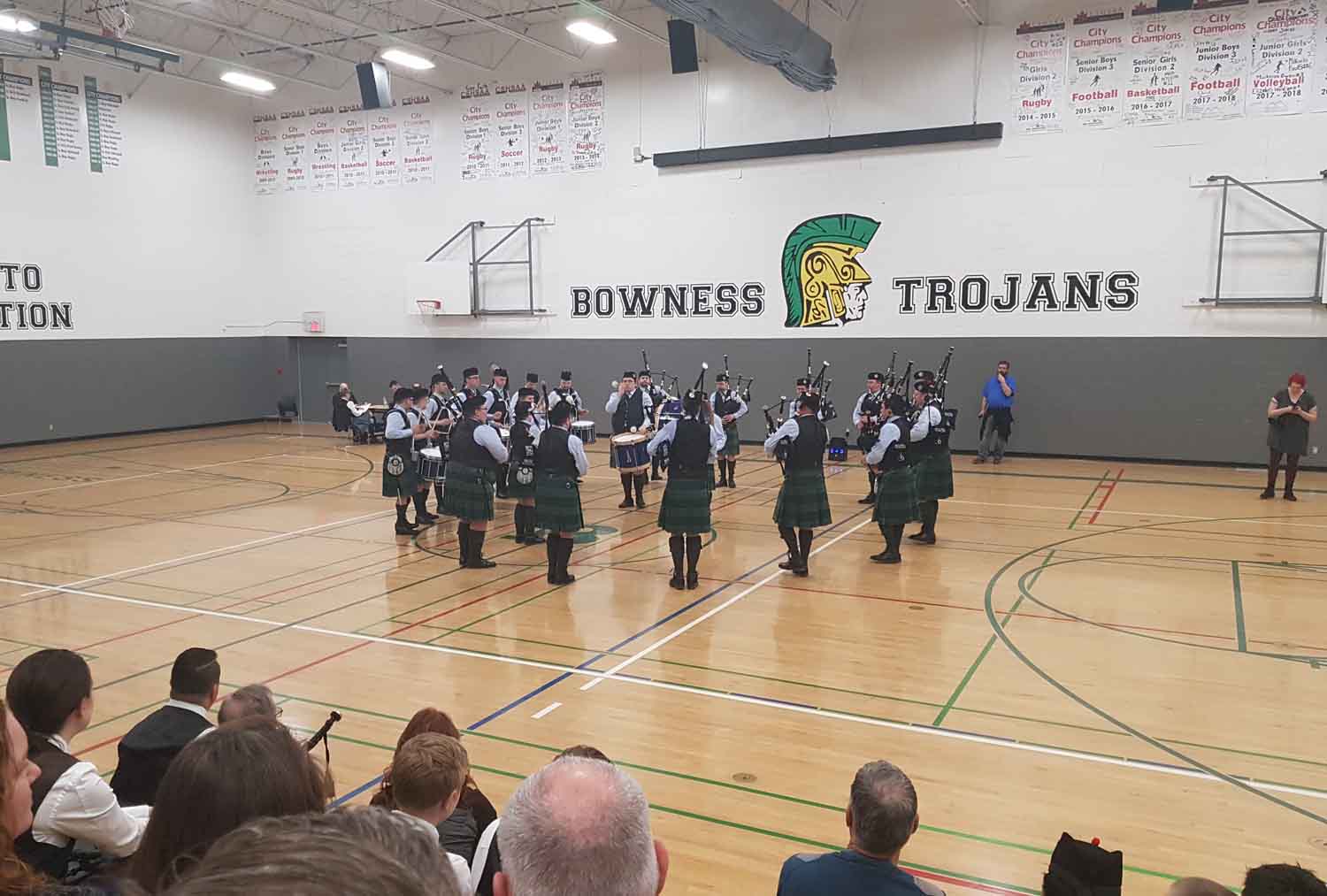 Bands
Grade 2 (MSR)
1st North Stratton (2,1,1,1)
2nd Rocky Mountain (1,2,2,2)
Grade 3 (Medley)
1st Calgary Police Service
Grade 4 (Medley & MSR)
1st Edmonton & District
Grade 5 (March Medley)
1st Grand Prairie & District
2nd Edmonton Youth
3rd Ogden Legion
Judges for all events: Iain MacDonald, Ann Gray (piping); Tim Borton (drumming); Andrew Miller (ensemble).
Solo Piping
Professional
Piobaireachd
1st Jonathan Grady
2nd Ross Barker
Judge: Iain MacDonald
Jig
1st Stewart Smith
2nd Jonathan Grady
Judge: Ann Gray
MSR
1st Stewart Smith
2nd Jonathan Grady
3rd Brandon Summers
Judge: Sean Somers
Snare drumming
Professional
MSR
1st Andrew Miller
2nd Elizabeth Shaw
Judge: Tim Borton
Hornpipe & Jig
1st Andrew Miller
2nd Elizabeth Shaw
Judge: Tim Borton
---
Related articles

Rocky Mountain curtails competition plans
April 30, 2019
---

North Stratton evens the score at Ellerslie
June 25, 2018
---

SK Day 2 also goes to North Stratton
May 21, 2018
---

North Stratton wins Day 1 at SK Gathering
May 20, 2018