Peel Regional Police, Ian K. MacDonald Dicker on top at Cambridge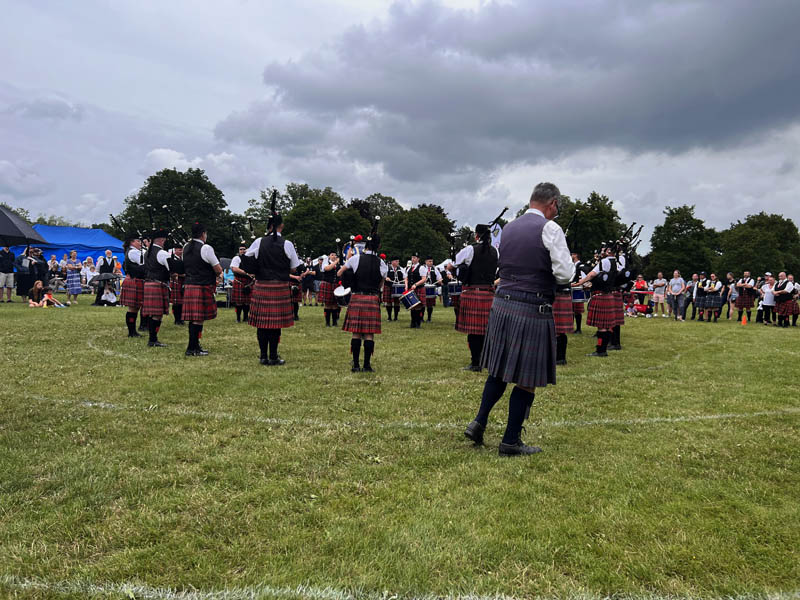 Cambridge, Ontario – July 15, 2023 – Heavy weather impacted the Cambridge Highland Games with a strong rainstorm in the morning and intermittent rain throughout the muggy day. The Peel Regional Police won Grade 2 against four other bands, continuing the band's undefeated streak in 2023.
Due to no entries, there was no Grade 1 band competition.
Ian K. MacDonald of Whitby, Ontario, was the Professional Piper of the Day and Kyle Wardell was the Professional Snare Drummer of the Day. Amateur Piper of the Day was an extraordinary tie, with no tie-breaker due to Kayleigh Johnstone and Henry Paluch both winning their piobaireachd groups, and no second tie-breaker in the rules.
At the prize-giving, the PPBSO announced that Jacob Dicker had won the aggregate Professional Piper of the Day award, but a week later realized that MacDonald had actually earned the award.
Of note, at the first massed bands, the word "apotheosis" was used probably for the first time in the history of Highland games.
Stay tuned to pipes|drums for videos of the Grade 2 medley competition.
Grade 2 (medley, five competed)
1st Peel Regional Police (3,1,2,1)
2nd Ottawa Highlanders (2,4,1,3)
3rd Toronto Police (1,2,3,4)
4th St. Andrew's College Association  (5,3,4,2)
5th Ottawa Police Service (4,5,5,5)
Drumming: Ottawa Highlanders
Bass Section: Peel Police
Judges: Brian Williamson, Amy Garson (piping); Greg Dinsdale (drumming); Bob Worrall (ensemble)
Grade 3 (MSR, four competed)
1st Guelph (1,1,1,1)
2nd Niagara Regional Police (2,3,2,3)
3rd Durham Regional Police (3,2,3,2)
Drumming: Guelph
Bass section: Guelph
Judges: Ken Eller, Conor Cooper (piping); Drew Duthart (drumming); Colin MacLellan (ensemble)
Grade 4 (march medley, six competed)
1st Guelph (Gr4) (1,1,3,1)
2nd Peel Regional Police (Gr4) (2,2,2,3)
3rd London & District (3,4,1,5)
Drumming: London & District
Bass section: Guelph
Judges: Brian Williamson, Amy Garson (piping); Greg Dinsdale (drumming); Bob Worrall (ensemble)
Grade 5 (march medley, eight competed)
1st Ryan Russell Memorial (1,4,1,1)
2nd Smith's Falls Gordon (3,3,2,4)
3rd St. Andrew's College (2,1,7,3)
Drumming: Ryan Russell Memorial
Bass section: Peel Regional Police (Gr5)
Judges: Ken Eller, Conor Cooper (piping); Drew Duthart (drumming); Colin MacLellan (ensemble)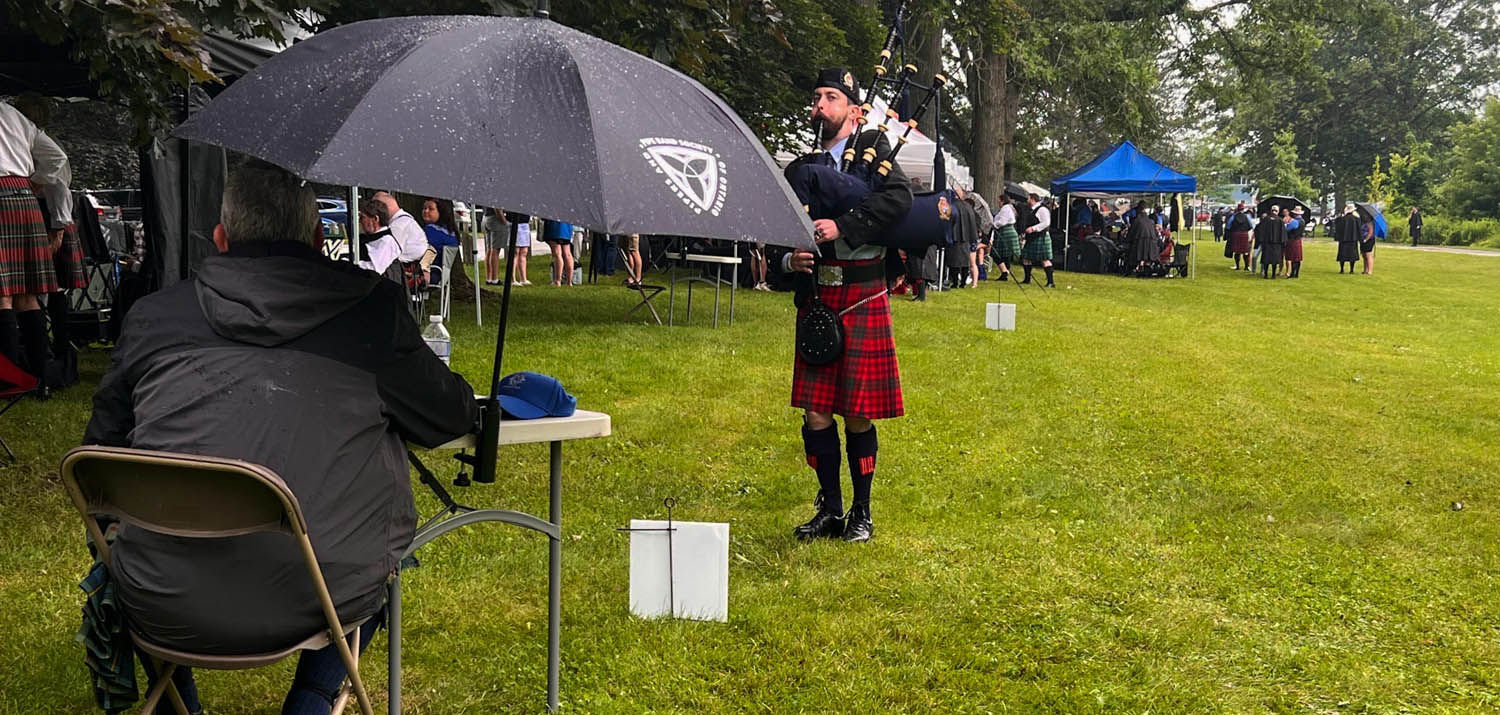 Solo Piping
Professional
Piobaireachd A
1st Ian K. MacDonald
2nd Andrea Boyd, Ottawa
3rd Andrew Hayes, Ottawa
4th Jacob Dicker
5th Callum Harper, Bolton, Ontario
Judge: Bill Livingstone
Piobaireachd B
1st Tyler Harris, "The Desperate Battle"
2nd Jonathon Simpson, Edinburgh, "Sir Ewan Cameron of Lochiel's Salute"
3rd Alan Clarke, Ottawa, "The MacDougalls' Gathering"
4th Liam Melville, "Lament for the Only Son"
5th Colin Johnston, Aurora, Ontario, "Lord Lovat's Lament"
Judge: Andrew Berthoff
2/4 March
1st Jacob Dicker
2nd Tyler Bridge, Guelph, Ontario
3rd Andrew Hayes
4th Jonathon Simpson
5th Tyler Harris
Judge: Colin MacLellan
Strathspey & Reel
1st Ian K. MacDonald
2nd Andrea Boyd
3rd Andrew Hayes
4th Jacob Dicker
5th Tyler Bridge
Judge: Amy Garson
Jig
1st Callum Harper
2nd Ian K. MacDonald
3rd Tyler Bridge
4th Jacob Dicker
5th Andrew Hayes
Judge: Bob Worrall
Solo Drumming
Snare
Professional
MSR
1st Kyle Wardell
2nd Cameron McKail
3rd Matthew Page
Judge: Greg Dinsdale
Hornpipe & Jig
1st Matthew Page
2nd Cameron McKail
3rd Kyle Wardell
Judge: Drew Duthart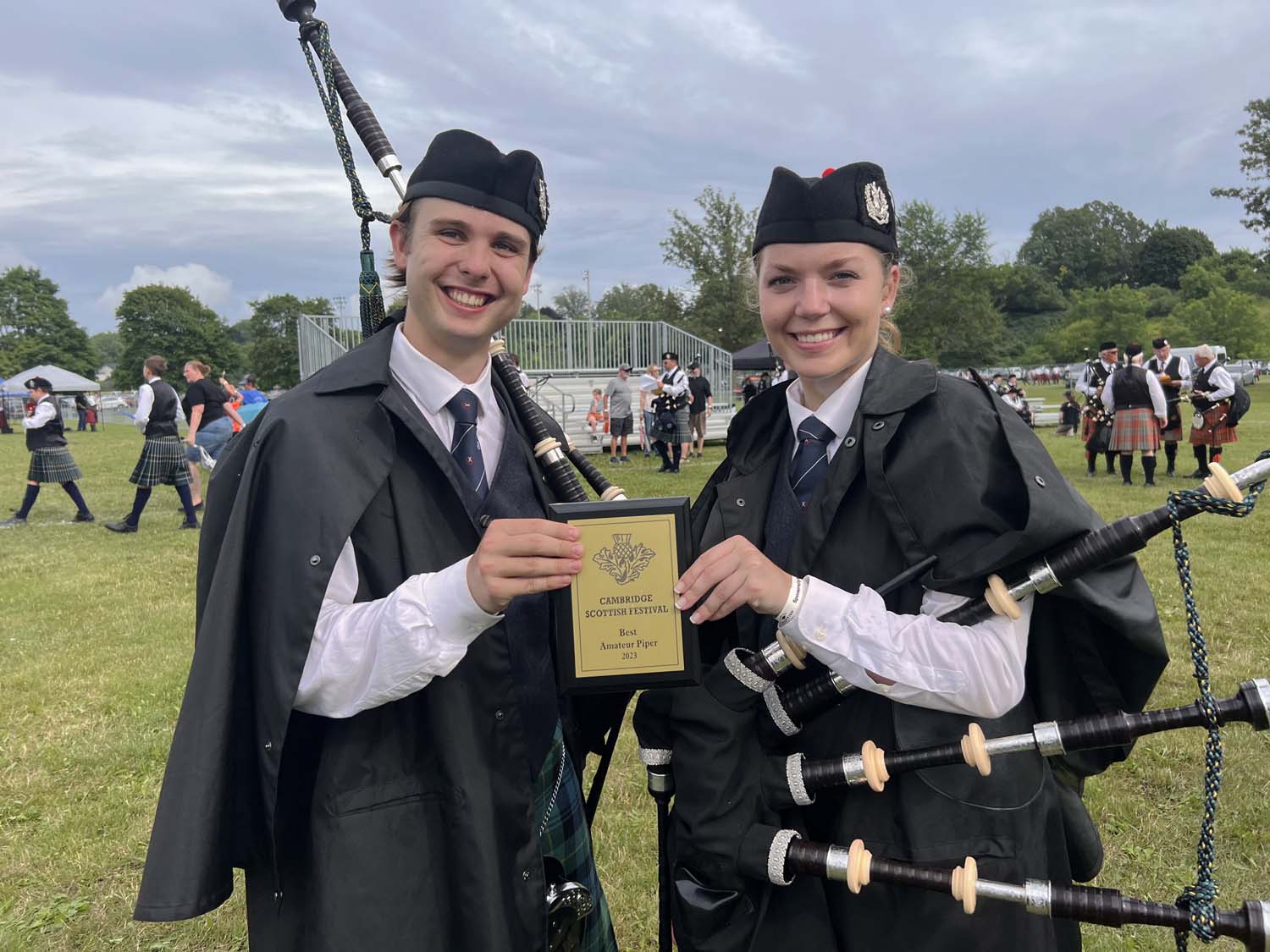 Senior Amateur Piobaireachd A
1st Kayleigh Johnstone, "The Old Men of the Shells" #1
2nd Mike Fenton
3rd Mitchell Arnold
4th Jean-Sebastien Gamache
5th John Mitchell
Judge: Bob Worrall
Senior Amateur Piobaireachd B
1st Henry Paluch, "The MacGregors' Salute"
2nd Michael Malish
3rd Evan Burlew
4th Alexander MacDonald
5th Ray Flanagan
Judge: Brad Davidson
Grade 1
2/4 March
1st Kayleigh Johnstone
2nd Henry Paluch
3rd Iain Dewar
4th Ray Flanagan
5th Alexander MacDonald
Judge: Colin MacLellan
Strathspey & Reel
1st Michael Malish
2nd Jean-Sebastien Gamache
3rd Iain Dewar
4th Kayleigh Johnstone
5th Alexander Rocheleau
Judge: Chris Dodson
6/8 March
1st Henry Paluch
2nd Charles David Mitchell
3rd Michael Malish
4th Kayleigh Johnstone
5th Alexander MacDonald
Judge: Norman MacDonald