Short-shorts? Harry's got short-shorts!
And there's Dowco Triumph Street of Vancouver, Belfast, Glasgow, Aberdeen and who-knows-where else. While the band didn't make the British list, it must have been pleased with their eighth and, even more so, placing ahead of their obsession/nemesis SFU. I understand that now the minority of band members actually live in British Columbia. With Dowco's apparently successful formula, I predict (but don't hope) that bands with a membership across countries and continents with no apparent home base will be increasingly common. But will this Vancouver mainstay shift its official base to the UK? Might be the first band ever to do that. This is not a criticism, just a fact. As the Nobel Laureate says, the times they are a-changin'.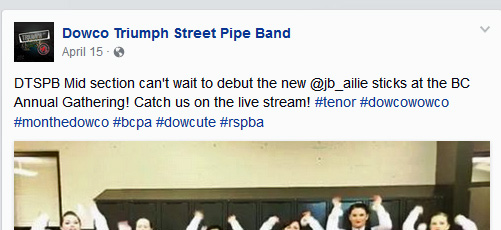 Speaking of "The Dowco," as they are being increasingly referred to, even by themselves . . . have they forsaken one of the greatest names ever devised for a pipe band in favour of an obscure – but obviously much valued – sponsor from the steel industry? You see, this is the risk when you agree to a sponsor's name being added to a well-established and cherished identity. Let's hope that Peoples Ford Boghall & Bathgate Caledonian don't start referring to themselves as "The Peoples." Or what if ScottishPower one day merged with them to become "Power to the Peoples"? That's gold, Jerry! Gold!