Solo Piping Judges' Association welcomes Bruce Hitchings as chair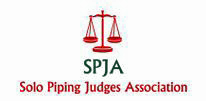 Bruce Hitchings was made chair at the 2023 annual general meeting of the UK's Solo Piping Judges' Association, taking over from Colin MacLellan, who decided to step down after six years in the role.
A native of New Zealand and resident of Scotland for nearly 50 years, Hitchings has received both an MBE and a BEM for his contributions to piping and a military service of 33 years, mostly as pipe-major with the Queen's Own Highlanders, including eight years as Senior Pipe-Major of the British Army. His solo competition successes in the UK and New Zealand are too many to list.
"I am grateful and honoured to be elected as the chair of the Solo Piping Judges' Association," Hitchings said. "My intention is to carry on the excellent legacy that Colin has left. I look forward to working with competing pipers through the Competing Pipers' Association and the competition organizers through the Joint Committee for Solo Piping Competitions for the future good of piping. I wish to thank everyone for their support and good wishes."
He added that cooperation and transparency are essential for understanding why decisions and procedures are made.
The chair position is decided annually. The organization's first chair was the late Andrew Wright, who held the role from 2014 until handing it to MacLellan in 2017.
"I feel that this is an appropriate time to step aside and allow new leadership and ideas to follow," MacLellan said. "It has been an immense privilege being chair of the association and I thank everyone for their support and their friendship."
About 30 SPJA members attended the meeting, with approximately 25 gathering at the Army School of Piping at Inchdrewer House, Edinburgh, and six joining online from North America.
The meeting covered various aspects of the association before moving to an interactive seminar that welcomed adjudicators on the Competing Pipers Association's Supplementary List.
Actively competing solo pipers John Dew, Cameron May and Brodie Watson-Massey accepted and delivered on the daunting task of performing a piobaireachd and, later, an MSR for attending SPJA members in two simulated competitions.
The performances were critiqued in small breakout groups that collaboratively discussed their opinions before creating a prize list in each domain. According to reports, the playing standard was excellent, leading to various lists submitted by the small groups.
The association reported that it is on solid financial ground and paid suitable homage to the passing of Andrew Wright and the voluntary retirements of Malcolm McRae, Neill Mulvie and Stuart Samson, each receiving a gift in appreciation of their long service as adjudicators.
The SPJA welcomed three new members: Andrew Berthoff, Toronto; Michael Cusack, Houston; and Moira Robertson, Inverlochy, Scotland.