Taps aff at Atholl Gathering as Roddy, Ben, Angus D. have an extra sunny day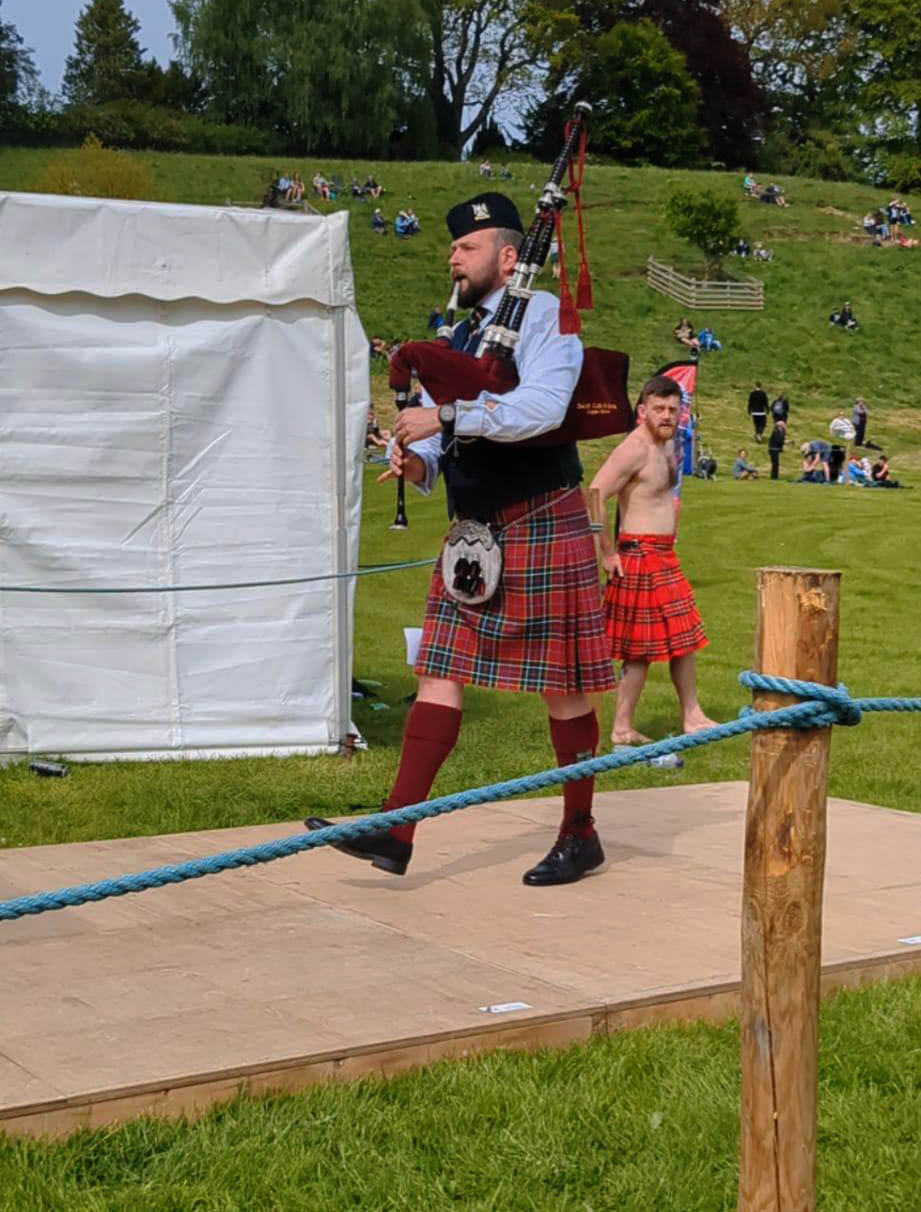 Blair Atholl, Scotland – May 28, 2023 – Under bright sunny skies, the first significant Scottish outdoor solo piping competition of 2023 was held at the annual Atholl Gathering in the shadow of Blair Castle on the Duke of Atholl's estate. Roddy MacLeod of Glasgow had the most success overall, winning the Premier & A-Grade Piobaireachd and taking second in the Open MSR, while Edinburgh's Ben Duncan and Angus D. MacColl of Benderloch, Scotland, took the MSR and Hornpipe & Jig, respectively.
Even though MacLeod elected not to play in the Hornpipe & Jig, there was a tie in aggregate points between MacLeod and MacColl, and MacLeod won on Piobaireachd preference.
Due to the large entry, the Open light music was run in heats, judged by the judges who made up the benches for the finals, with one on each heat.
Premier- & A-Grade
Piobaireachd
1st Roddy MacLeod
2nd Sarah Muir, Glasgow
3rd Angus D. MacColl, Benderloch, Scotland
4th Sandy Cameron, Fort William, Scotland
5th Steven Leask, Glasgow
Judges: Robert Barnes, Ian Duncan
Open
MSR
1st Ben Duncan, Edinburgh
2nd Roddy MacLeod
3rd Sandy Cameron
4th Sarah Muir
5th Angus D. MacColl
Judges: Murray Henderson, John Wilson
Hornpipe & Jig
1st Angus D. MacColl
2nd Sandy Cameron
3rd Sarah Muir
4th Bobby Allan
5th Steven Leask
Judge: Willie Morrison, Robert Wallace
B-Grade
Piobaireachd
1st Cameron May, Lesmahagow, Scotland
2nd John MacDonald
3rd Eireann Ianetta-McKay, Glasgow
4th Fraser Allison, Balfron, Scotland
5th Eddie Gaul, Dundee, Scotland
Judges: Chris Armstrong, Patricia Henderson
C-Grade
Piobaireachd
1st Alistair Brown, Ayr, Scotland
2nd Keith Bowes, Glasgow
3rd Cameron MacLeod, Glasgow
4th Daniel Johnstone, Glasgow
5th Calum Dunbar, Glasgow
Judges: Derek Fraser, Ronnie McShannon