World's Grade 1 Qualifier draw decided
The 21 Grade 1 bands competing and much of the piping and drumming world waited intently to hear about the draw for the Qualifying groups at the 2016 World Pipe Band Championships, which has just been announced by the Royal Scottish Pipe Band Association. Each group is well-balanced with plenty of opportunity for unexpected bands to get into the Grade 1 Final.
With 11 bands in Group 1 and 10 in Group 2 competing on Friday, August 12th, six bands from each group will go on to compete in the Final on Saturday, August 13th, at Glasgow Green in Glasgow.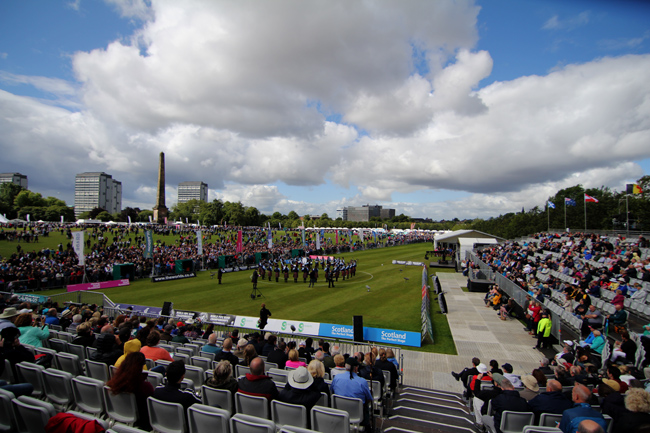 Each group features three bands that have placed in the three major championships held so far in the RSPBA season, with Group 1 having British Champions Inveraray & District, reigning World Champions Shotts & Dykehead and the re-formed Spirit of Scotland, which has placed in all three majors. Group 1 also features Simon Fraser University, which placed fifth at the 2015 World Championships. Group 2 includes both UK Champions Field Marshal Montgomery and European Champions St. Laurence O'Toole, along with a resurgent ScottishPower, which has also placed at all three majors.
Grade 1
Qualifier 1
Bleary & District (Northern Ireland)
Shotts & Dykehead Caledonia (Scotland)
Los Angeles Scots (USA)
Inveraray & District (Scotland)
Peel Regional Police (Canada)
New Zealand Police (New Zealand)
Simon Fraser University (Canada)
Vale of Atholl (Scotland)
Police Scotland Fife (Scotland)
Peoples Ford Boghall & Bathgate Caledonia (Scotland)
Spirit of Scotland (Scotland)
Qualifier 2
Greater Glasgow Police (Scotland)
St. Laurence O'Toole (Ireland)
78th Fraser Highlanders (Canada)
Ravara (Northern Ireland)
Ottawa Police Service (Canada)
Manawatu Scottish (New Zealand)
78th Highlanders (Halifax Citadel) (Canada)
Bagad Cap Caval (Brittany)
Field Marshal Montgomery (Northern Ireland)
ScottishPower (Scotland)
The 21 total bands are one fewer than in 2015, with Denny & Dunipace Gleneagles shut down at least for the year and Stuart Highlanders of the USA and Canada's Toronto Police opting not to attend this year's World's. Bagad Cap Caval of Brittany and Manawatu Scottish of New Zealand return to the competition after a few years away. The RSPBA and its adjudicators will need to be extra careful when recording results with the 78th Fraser Highlanders and the 78th Highlanders (Halifax Citadel) both competing in Group 2.
The RSPBA has not formally announced the adjudicators for the Grade 1 qualifying rounds, but a preliminary list had Jim Campbell Sam Young (piping); Ciaran Mordaunt (drumming); and Nat Russell (ensemble) making up one team, and G. Wilson, William Garrett (piping); Greg Dinsdale (drumming); and Peter Snaddon comprising the other. Each competing group plays both a Medley and MSR of their own choice, with the judging teams alternating. The 12 bands that compete in the Final must play a different Medley and MSR, thus providing a strategic element to the event in that a band with a preferred MSR and/or medley must decide what to go with on the Friday.
Preliminary announcement for the Grade 1 Final had the Medley judged by Harry Stevenson and Alan Ronaldson (piping), Gordon Craig (drumming), and Jennifer Hutcheon (ensemble), and MSR judges announced as Ronnie McShannon and Jim Wark (piping), Sandy Steele (drumming), and Iain MacInnes (ensemble).
The Grade 2 competition has a healthy number, with 25 bands vying in two qualifying groups for six spots each in a 12-band Medley Final.
pipes|drums readers might enjoy revisiting our photo feature of the 2015 World Pipe Band Championships.