Alan Bevan wins 2023 Boney Invitational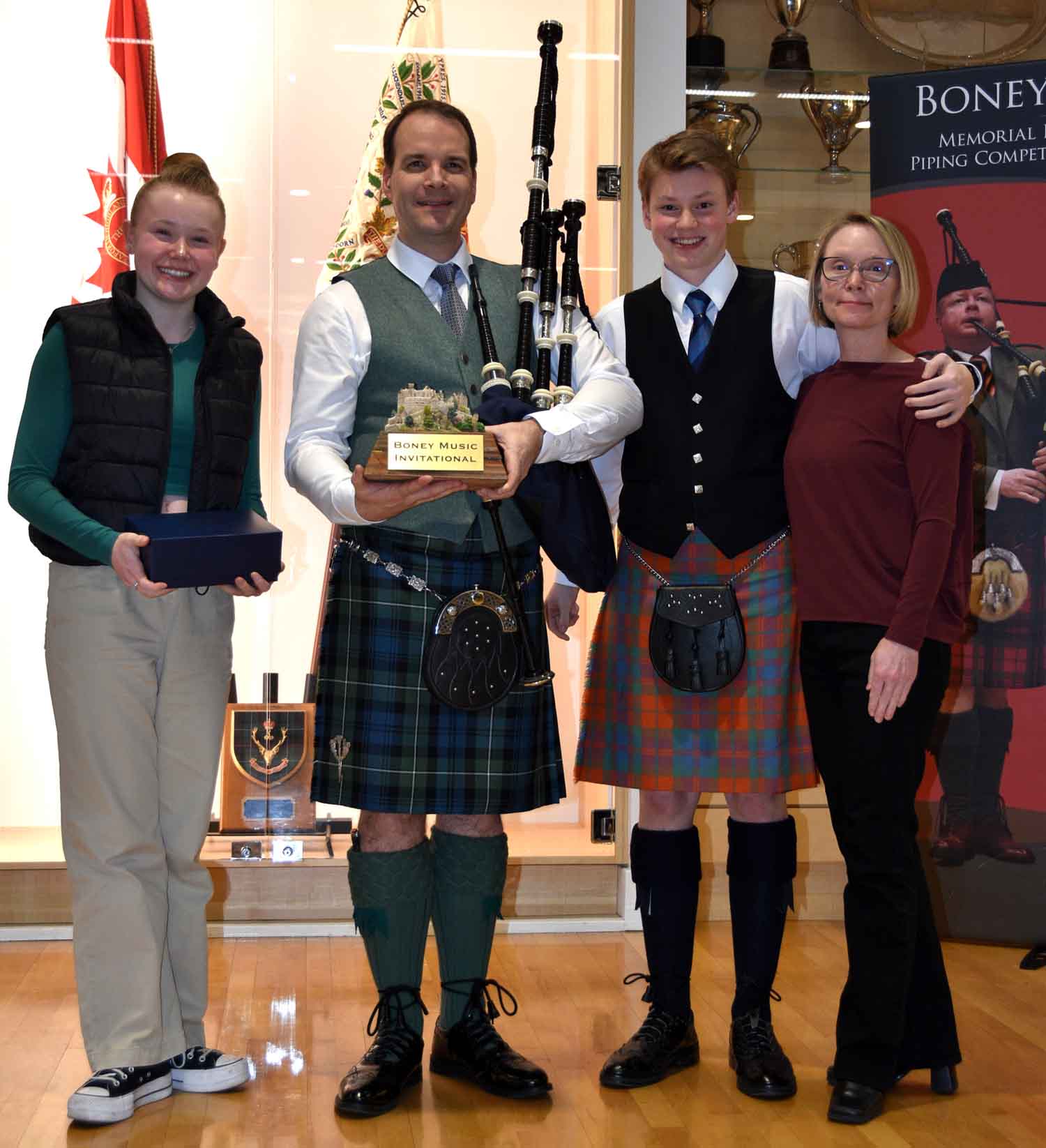 Vancouver – February 11, 2023 – Alan Bevan of Abbotsford, British Columbia, was the winner of the 2023 Boney Music Memorial Invitational Piping Competition & Recital, an event named in honour of the late western Canada piper, who started the event in 2016 as a means to raise funds for cancer research while showcasing some of the top piping talent in the Pacific Northwest.
Bevan's MSR and Medley performance were chosen overall the best by a packed audience at the Seaforth Armoury. He competed against Jamie Kubasiewicz of Winnipeg, who finished second, and Alastair Lee and Zephan Knichel, both of Surrey, British Columbia. Invitations are made to the previous year's top finishers in the British Columbia Piping Association's Grand Aggregate table from BCPA-sanctioned events.
The event was ably emceed by David Hilder, and there were comments from various leaders and representatives, including those from the BC Cancer Society who said that the Boney Invitational has raised more than $18,000 since it started.
The competition was made available in a high quality streaming production via Facebook Live, and viewers could also donate to the cause. The archived videos are available via the British Columbia Pipers Association's Facebook page.
The event also put a spotlight on Andrew Bonar's young son, Cameron, who delivered a performance that could only be described as spellbinding. (Go to 53:21 to hear his freestyle medley.) Andrew Bonar's daughter, Kate, a world-class competitive Highland dancer, performed to a huge ovation.
Andrew Bonar died in 2017 from brain cancer at the age of 51. In his piping career, he won most top North American events and gained the Silver Medal at the Northern Meeting, among many other prizes in Scotland. He was a member of Grade 1 Simon Fraser University almost since its inception, playing in all six of the band's World Championship victories. He was an active composer, publishing his own collection, Boney Music, and an in-demand judge and teacher.
If you have not already, you can donate the to BC Cancer Foundation here.
Be sure to check the links below to learn more about Andrew Bonar, including pieces in his own words.