At Pacific Northwest Games, Hawai'i Caledonian says aloha to competition with first win; Portland Metro rolls on; Knichel and Bonar near-perfect in solo piping
Seattle – July 22-23, 2023 – Portland Metro continued their run of success by winning both Grade 2 band events at the two-day Pacific Northwest Scottish Highland Games in hot, dry conditions at the Enumclaw Expo Center. Hawai'i Caledonian from the state of Hawaii made their competitive debut a huge success by winning an event in Grade 5, a grade that the Keith Highlanders won overall.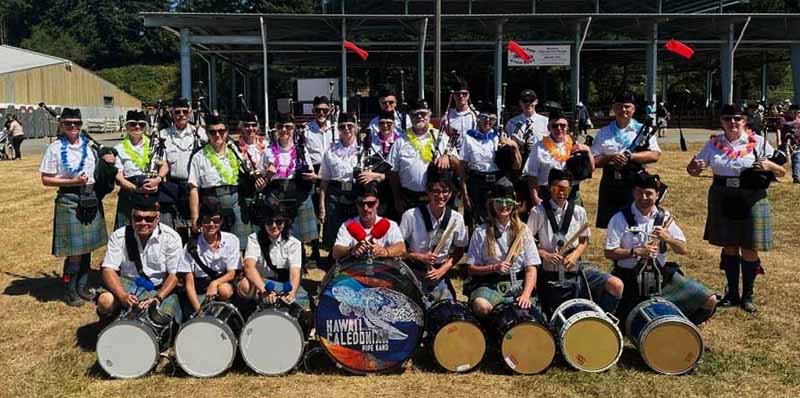 Zephan Knichel of Surrey, British Columbia, was on fire in the Open solo piping, winning three of four events and placing second in the Piobaireachd, which was won by Seumas Coyne of Los Angeles. Similarly, Cameron Bonar, also of Surrey, took two of three Grade 1 Amateur Piping events and was second in the Piobaireachd, which was won by Liam Forrest of Mission City, British Columbia.
Our thanks once again to the British Columbia Pipers Association for their thoughtful sending of results and photos to pipes|drums on behalf of their members.
Bands
Grade 1
Medley (Saturday)
1st Simon Fraser University
Judges: Rob Menzies, Terry Lee (piping); John Fisher (drumming); Gregor Merry (ensemble)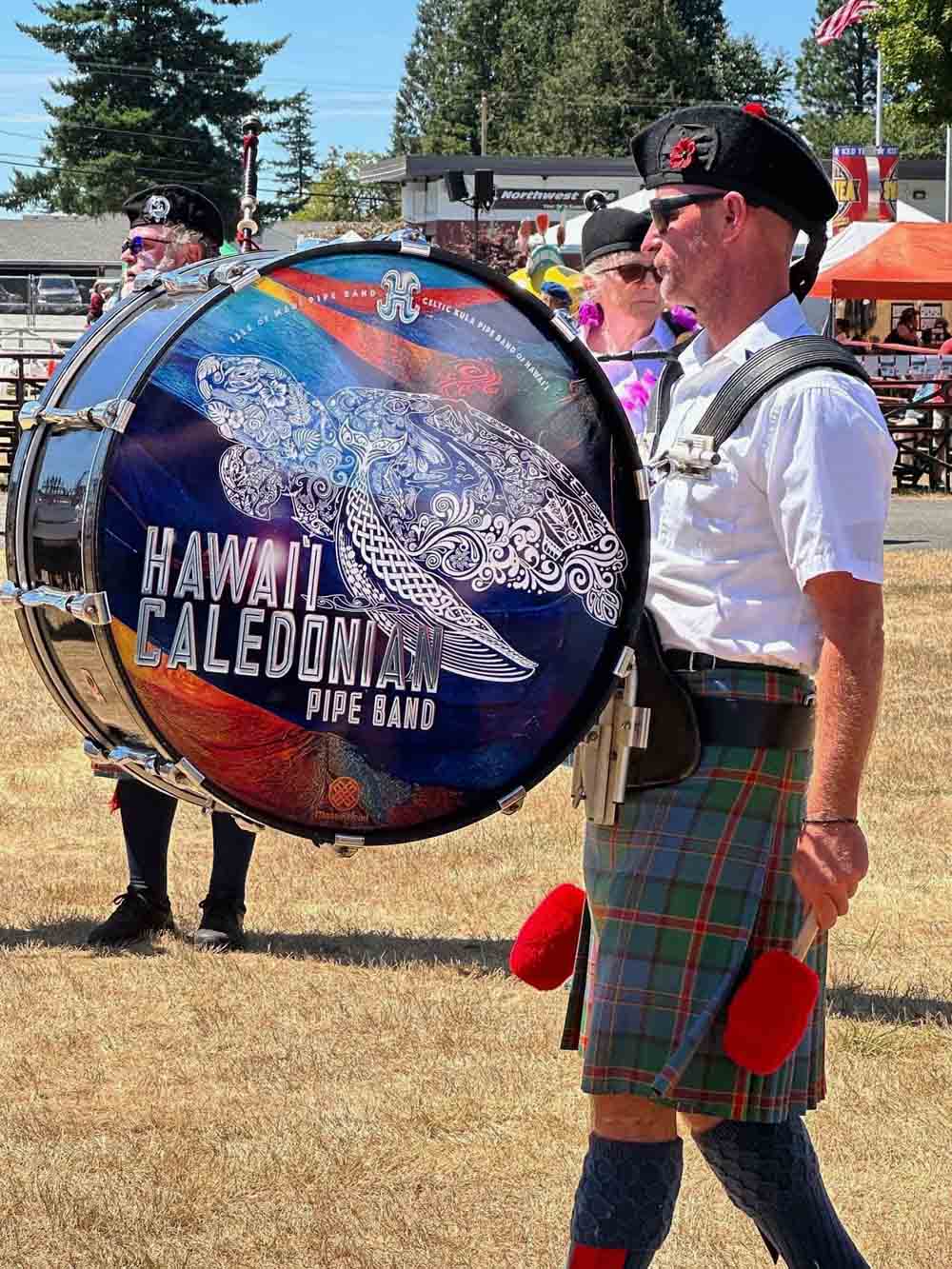 Medley (Sunday)
1st Simon Fraser University
Judges: Rob Menzies, Terry Lee (piping); Gregor Merry (drumming); John Fisher (ensemble)
MSR (Saturday)
1st Simon Fraser University
Judges: Rob Menzies, Terry Lee (piping); John Fisher (drumming); Gregor Merry (ensemble)
MSR (Sunday)
1st Simon Fraser University
Judges: Rob Menzies, Terry Lee (piping); Gregor Merry (drumming); John Fisher (ensemble)
Grade 2
Medley
1st Portland Metro (1,2,1,1)
2nd Cascadia (2,1,2,2)
Judges: Rob Menzies, Terry Lee (piping); Gregor Merry (drumming); John Fisher (ensemble)
MSR
1st Portland Metro (1,1,1,1)
2nd Cascadia (2,2,2,2)
Judges: Rob Menzies, Terry Lee (piping); John Fisher (drumming); Gregor Merry (ensemble)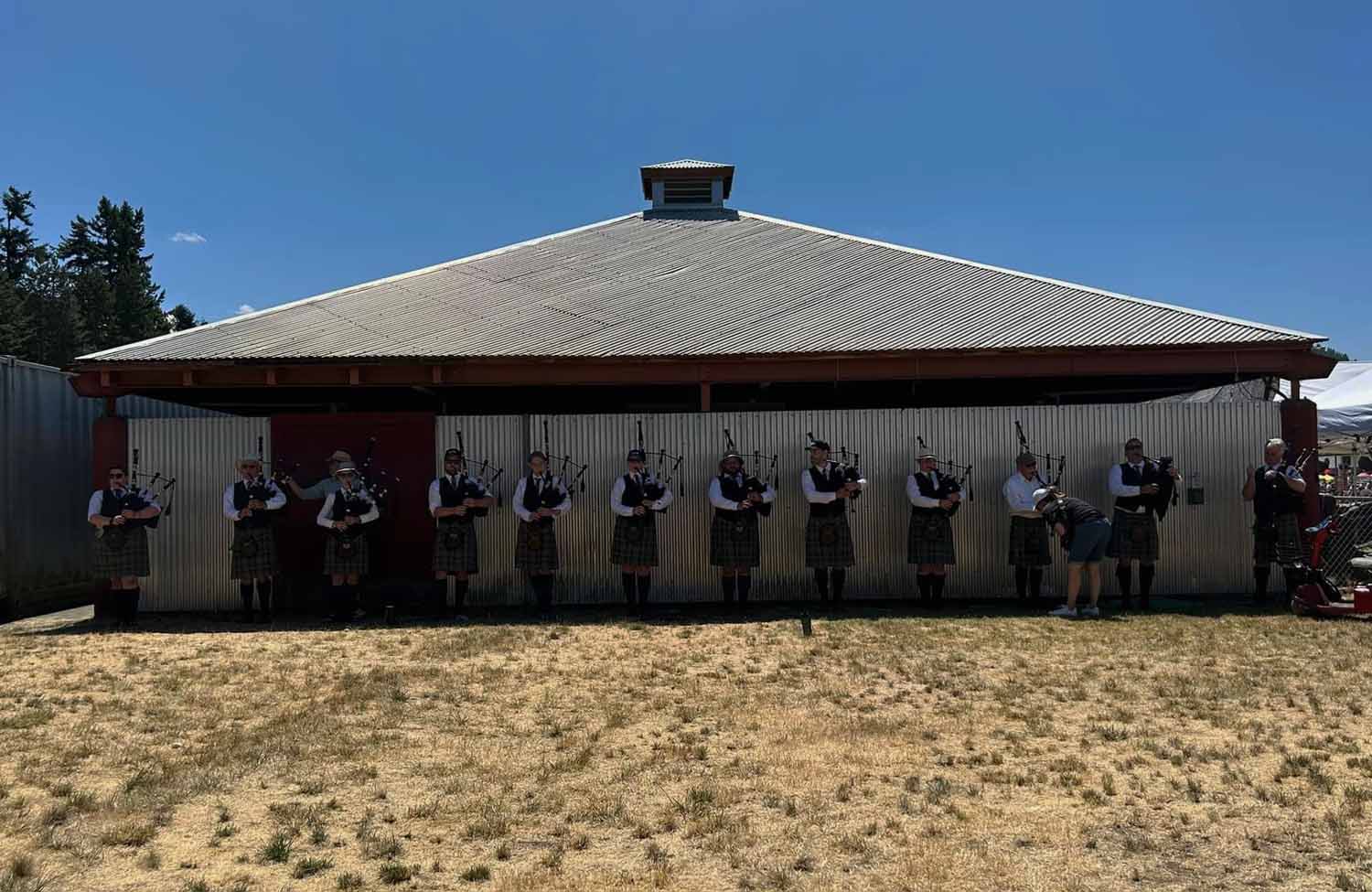 Grade 3
Medley
1st Robert Malcolm Memorial 3 (1,1,1,1)
2nd Greighlan Crossing (2,2,2,2)
3rd Keith Highlanders 3 (3,3,3,3)
Judges: Rob Menzies, Terry Lee (piping); John Fisher (drumming); Gregor Merry (ensemble)
MSR
1st Robert Malcolm Memorial 3 (1,1,1,1)
2nd Greighlan Crossing (2,3,2,2)
3rd Keith Highlanders 3 (3,2,3,3)
Judges: Rob Menzies, Terry Lee (piping); Gregor Merry (drumming); John Fisher (ensemble)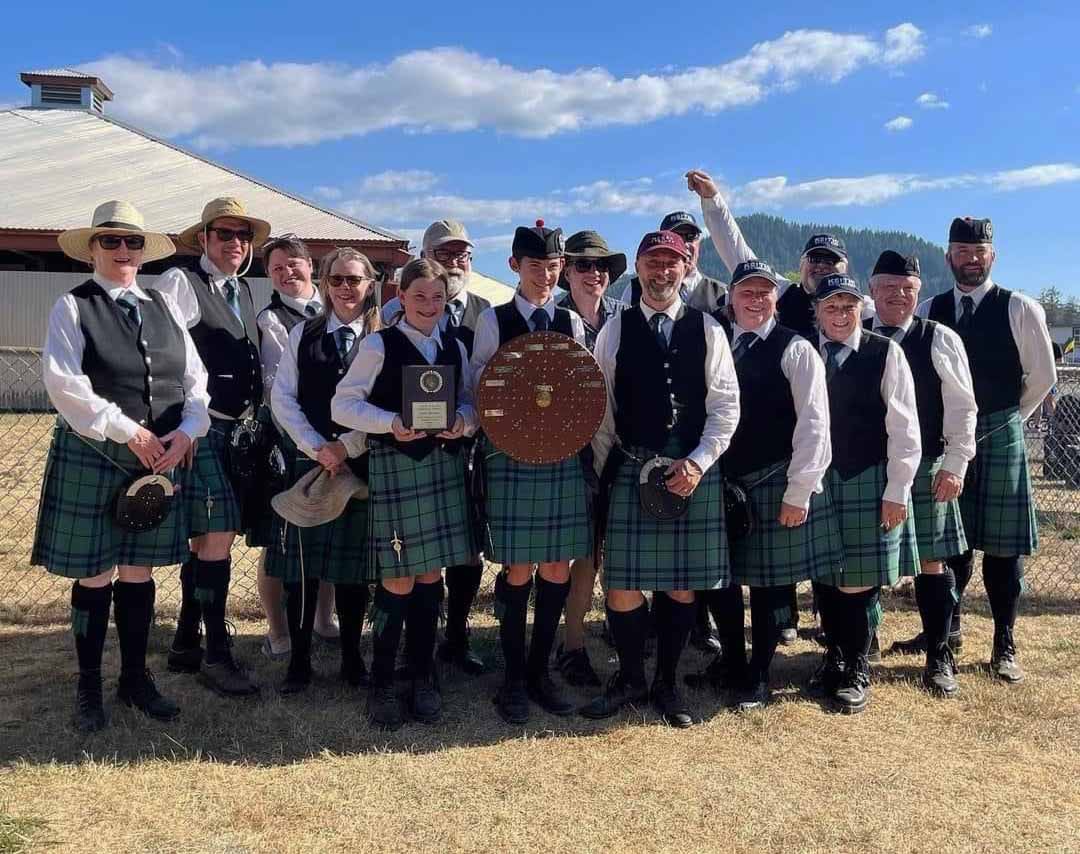 Grade 4
Medley
1st Northwest Junior (1,1,4,2)
2nd Keith Highlanders (5,5,1,1)
3rd Kenmore & District (3,4,3,3)
4th Robert Malcolm Memorial 4 (2,2,5,4)
5th Clan Gordon (4,3,2,5)
Judges: Rob Menzies, Terry Lee (piping); Gregor Merry (drumming); John Fisher (ensemble)
MSR
1st Northwest Junior (1,1,1,1)
2nd Kenmore & District (3,3,2,2)
3rd Clan Gordon (2,2,3,3)
4th Robert Malcolm Memorial 4 (4,4,4,4)
Judges: Rob Menzies, Terry Lee (piping); John Fisher (drumming); Gregor Merry (ensemble)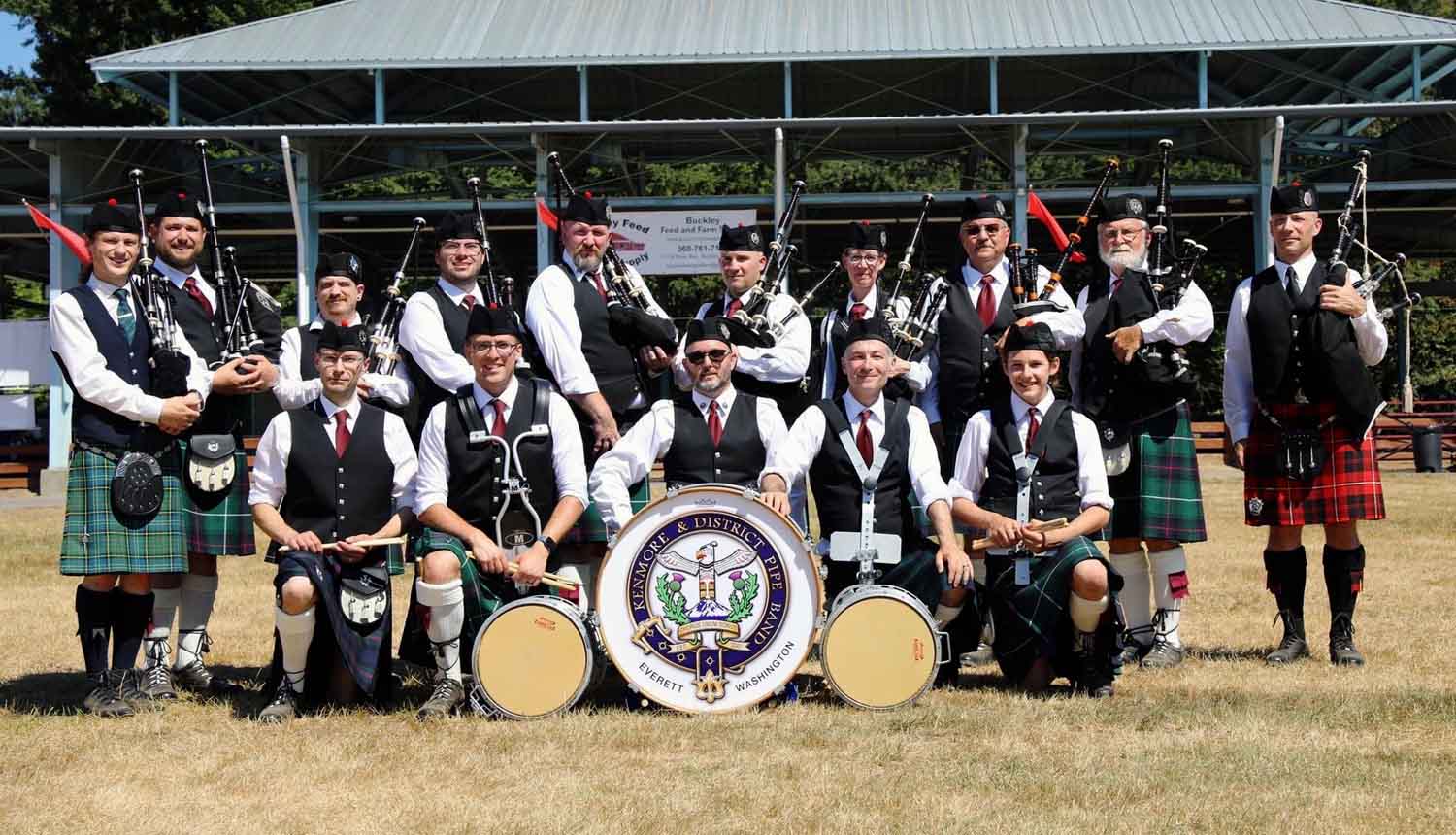 Grade 5
Quick Marches Set (Saturday)
1st Hawai'i Caledonian (1,1,2,3)
2nd Keith Highlanders 5 (2,2,3,1)
3rd Portland Metro Youth (3,3,1,2)
Judges: Rob Menzies, Terry Lee (piping); John Fisher (drumming); Gregor Merry (ensemble)
Quick Marches Set (Sunday)
1st Keith Highlanders 5 (1,1,3,1)
2nd Portland Metro Youth (3,3,1,2)
3rd Hawai'i Caledonian (2,2,2,3)
Judges: Rob Menzies, Terry Lee (piping); Gregor Merry (drumming); John Fisher (ensemble)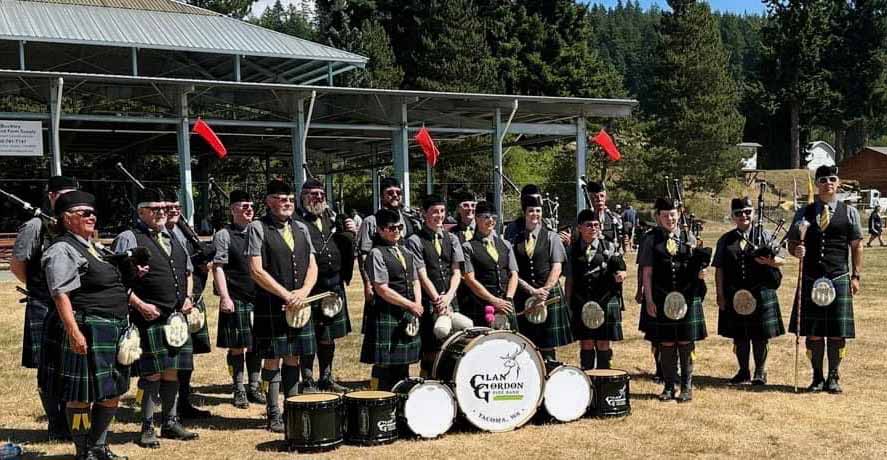 Piping Quartets
Grade 1 (MSR)
1st Simon Fraser University (2)
Judge: Danielle Millar
Grade 2 (MSR)
1st Cascadia (1)
2nd Cascadia (2)
3rd Portland Metro (2)
Judge: Jack Lee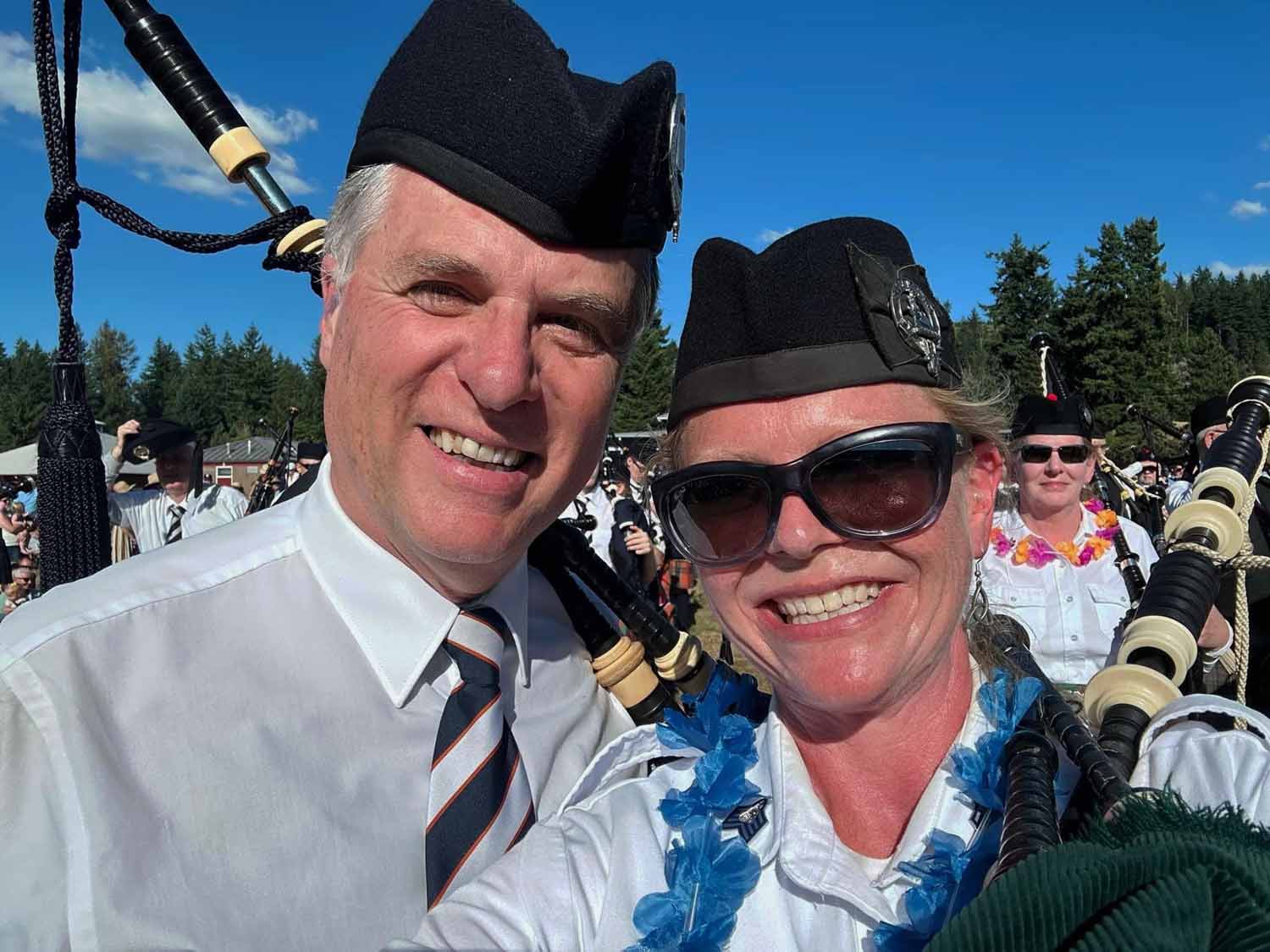 Grade 3 (MSR)
1st Keith Highlanders (1)
2nd Robert Malcom Memorial (1)
3rd Robert Malcom Memorial (3)
Judge: Ian Coletti
Grade 4 (MSR)
1st Northwest Jr (2)
2nd RMM 4 (1)
3rd Northwest Jr (1)
4th Kenmore & District (2)
5th Kenmore & District (1)
Judge: Danielle Millar
Drum Corps Fanfare
Grade 1
1st Simon Fraser University
Judges: John Fisher, Gregor Merry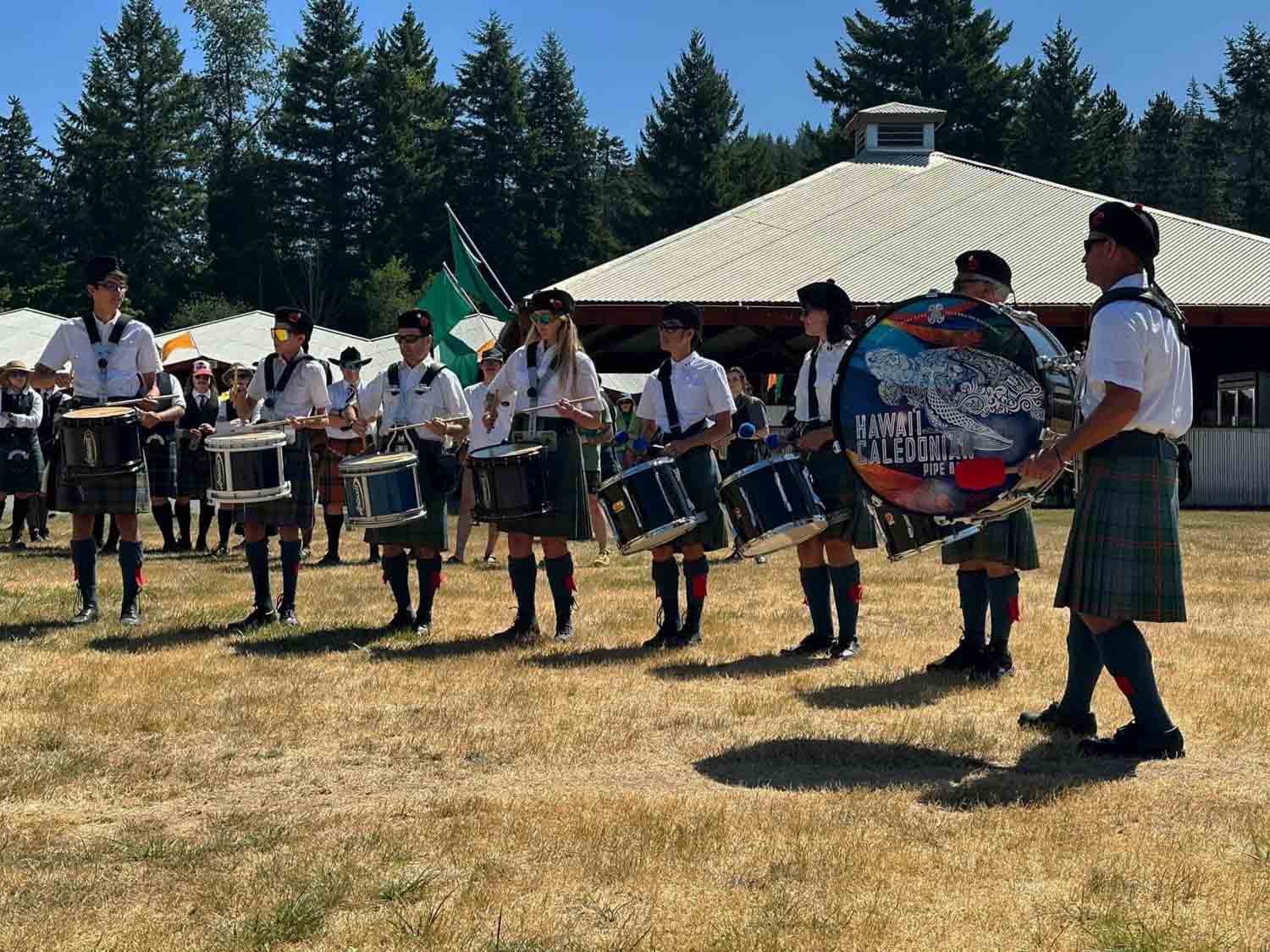 Grade 4
1st Hawai'i Caledonia
Judges: John Fisher, Gregor Merry

Solo Piping
Open
Piobaireachd
1st Seumas Coyne, "The Black Wedder's White Tail"
2nd Zephan Knichel, "Welcome Johnny Back Again"
3rd Joseph Stewart, Salmon, Idaho, "The MacLeods' Controversy"
4th Alistair Bevan, Abbotsford, British Columbia, "Nameless – Hiharin dro odro"
Judge: Jack Lee
2/4 March
1st Gordon Conn, Calgary
2nd Zephan Knichel
3rd Tori Killoran, Pitt Meadows, British Columbia
4th Callum Bevan, Abbotsford, British Columbia
5th Seumas Coyne
6th Joseph Stewart
Judge: Rob Menzies
Strathspey & Reel
1st Zephan Knichel
2nd Gordon Conn
3rd Callum Bevan
4th Seumas Coyne
5th Darran Forrest, Mission City, British Columbia
6th Tori Killoran
Judge: Danielle Millar
Jig
1st Zephan Knichel
2nd Callum Bevan
3rd Joseph Stewart
4th Gordon Conn
5th Alistair Bevan
6th Darran Forrest
Judge: Terry Lee
Grade 1
Piobaireachd
1st Liam Forrest
2nd Cameron Bonar
3rd Colin Forrest
4th Gavin Guidotti
5th Aaron Malcomb
6th Malachi Wonder
Judge: Alan Bevan
2/4 March
1st Cameron Bonar
2nd Colin Forrest
3rd Liam Forrest
4th George Panagiotou
5th Jeff Rowell
6th Aiden Fowler
Judge: Jack Lee
Strathspey & Reel
1st Cameron Bonar
2nd Colin Forrest
3rd George Panagiotou
4th Aiden Fowler
5th Gavin Guidotti
6th Malachi Wonder
Judge: Rob Menzies
Jig
1st Cameron Bonar
2nd Colin Forrest
3rd Liam Forrest
4th Aaron Malcomb
5th Gavin Guidotti
6th Jeff Rowell
Judge: Keith Paton
Grade 2
Piobaireachd
1st Allison Jackson
2nd Jack Martin
3rd Jon Scott
4th Ian MacPhail
5th Paul Mackay
6th Liam Boyle
Judge: Terry Lee
6/8 March
1st Liam Boyle
2nd Paul Mackay
3rd Jack Martin
4th Brittany Crooks
5th Ian MacPhail
6th Marcus Range
Judge: Ian Coletti
Hornpipe & Jig
1st Liam Boyle
2nd Paul Mackay
3rd Jack Martin
4th Jon Scott
5th Ian MacPhail
6th Allison Jackson
Judge: Keith Paton
Strathspey & Reel
1st Liam Boyle
2nd Ian MacPhail
3rd Paul Mackay
4th Jack Martin
5th Kim Greely
6th Allison Jackson
Judge: Danielle Millar
Grade 3
Piobaireachd
1st Grace Barnes
2nd Evan Jamieson
3rd Connor Lambie
4th Laurie Gardner
5th Eric Spears
6th Melanie Brown
Judge: Alan Bevan
2/4 March
1st Grace Barnes
2nd Tyler Coleman
3rd Connor Lambie
4th Evan Jamieson
5th Tamara Miceli
6th Laurie Gardner
Judge: Ian Coletti
Jig
1st Grace Barnes
2nd Evan Jamieson
3rd Connor Lambie
4th Tyler Coleman
5th Eric Spears
6th Garrett Bargabos
Judge: Keith Paton
Strathspey & Reel
1st Grace Barnes
2nd Evan Jamieson
3rd Connor Lambie
4th Laurie Gardner
5th Garrett Bargabos
6th Tamara Miceli
Judge: Terry Lee
Grade 4
Piobaireachd
1st Duncan MacLeod
2nd Alex Evans
3rd Truin Tomasetti
4th Kevin Maloney
5th Jayne Ferlitsch
6th Lawson Schubert
Judge: Rob Menzies
2/4 March
1st Truin Tomasetti
2nd Keelan Allen
3rd Kevin Maloney
4th Jayne Ferlitsch
5th Duncan MacLeod
6th Alex Evans
Judge: Jack Lee
6/8 March
1st Kevin Maloney
2nd Alex Evans
3rd Alexander Affleck
4th Truin Tomasetti
5th Duncan MacLeod
6th Tim Riddle
Judge: Danielle Millar
Strathspey & Reel
1st Alex Evans
2nd Kevin Maloney
3rd Gavin Calder
4th Truin Tomasetti
5th Lawson Schubert
6th Alexander Affleck
Judge: Keith Paton
Grade 5
2/4 March
1st Gavin Syme
2nd Logan Gillespie
3rd Evan Markus
4th Adelynn Williams
5th Eden Svangtun
6th Troy Anderson
Judge: Keith Paton
6/8 March
1st Gavin Syme
2nd Eden Svangtun
3rd Logan Gillespie
4th Adelynn Williams
5th Joe Williamson
Judge: Ian Coletti
Slow Air
1st Gavin Syme
2nd Adelynn Williams
3rd Keira Maloney
4th Logan Gillespie
5th Joe Williamson
6th Evan Markus
Judge: Ian Coletti
Adult
2/4 March
1st Steve Barnes
2nd Doug Gardner
3rd Marilyn Crandall
4th Sean Maloney
5th Barry Kirk
6th Rochelle Eldridge
Judge: Ian Coletti
Piobaireachd
1st Steve Barnes
2nd Sean Maloney
3rd Marilyn Crandall
4th Barry Kirk
5th Doug Gardner
6th Bruce Crawford
Judge: Rob Menzies
Slow Air
1st Doug Gardner
2nd Steve Barnes
3rd Sean Maloney
4th Marilyn Crandall
5th Stephen McDonald
6th Barry Kirk
Judge: Terry Lee
Strathspey & Reel
1st Doug Gardner
2nd Steve Barnes
3rd Barry Kirk
4th Marilyn Crandall
5th Sean Maloney
Judge: Keith Paton
Beginner
2/4 March
1st Maeve Ross
Judge: Alan Bevan
6/8 March
1st Maeve Ross
Judge: Rob Menzies
Slow Air
1st Maeve Ross
Judge: Danielle Millar

Solo Drumming
Snare
Open
MSR
1st Blair Brown
2nd Robert Graham Jr.
3rd Taylor Killoran
4th Jake Mix
Judge: John Fisher
Hornpipe & Jig
1st Taylor Killoran
2nd Blair Brown
3rd Jake Mix
Judge: Gregor Merry
Grade 1
MSR
1st Cameron Johnston
Judge: John Fisher
Hornpipe & Jig
1st Cameron Johnston
Judge: Gregor Merry
Grade 2
MSR
1st Megan Millar
2nd Malcolm Fuller
3rd Mackenzie Wang
Judge: Gregor Merry
Hornpipe & Jig
1st Megan Millar
2nd Malcolm Fuller
3rd Mackenzie Wang
Judge: Gregor Merry
Grade 3
2/4 March
1st Callum Ross
2nd Nathan Affleck
3rd Josh Lewis
Judge: John Fisher
6/8 March
1st Callum Ross
2nd Hope Barnes
3rd Nathan Affleck
Judge: Gregor Merry
Grade 4
2/4 March
1st Jayce Edetsberger
2nd Peter Della Croce
3rd Max Fenwick
4th Caleb Guidotti
5th Oscar Knox
6th Anna Schubert
Judge: John Fisher
6/8 March
1st Max Fenwick
2nd Caleb Guidotti
3rd Peter Della Croce
4th Oscar Knox
5th Anna Schubert
6th Jayce Edetsberger
Judge: Gregor Merry
Beginner
2/4 March
1st Toby Roy
Judge: Gregor Merry
6/8 March
1st Toby Roy
Judge: John Fisher
Tenor
Intermediate
6/8 March
1st Lindsay MacGregor
Judge: Gregor Merry
MSR
1st Mitchell Olding
2nd Ryan Niksch
Judge: John Fisher
Novice
2/4 March
1st Ryley Jackson
Judge: John Fisher