Canning steps down as Shotts P-M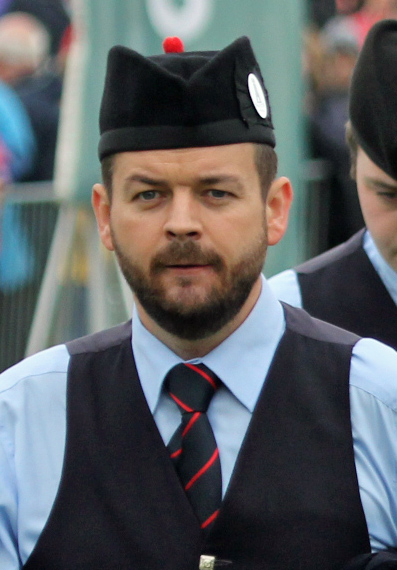 Shotts & Dykehead Caledonia has confirmed that Ryan Canning has stepped down as pipe-major of the Grade 1 band – and from pipe bands altogether – for an undetermined length of time.
The move follows several years of the band working to rebuild itself after an extraordinary series of events after Canning led Shotts to its 2015 World Championship victory. Over the last few years, Shotts had edged back into several prize lists at RSPBA major championships.
+ Shotts & Dykehead Caledonia: 2015 World Pipe Band Champions
A native of Northern Ireland, Canning had been pipe-major of the band since after the 2012 competition season, after serving 16 years as a front-rank piper with multi-World's-winning Field Marshal Montgomery.
+ Ryan Canning accepts Shotts Pipe-Major position
Canning had made a passing comment at the World Pipe Band Championships that 25 years in Grade 1 bands, and two or three practices a week had taken a toll, and that he intended to step away.
"The band has no comment at this stage other than Ryan is leaving the band for personal reasons," said Band Chairman Ewan McAllister. "The band is sorry to see him go, but fully support him in his decision. It would be unprofessional of me or anyone to say anything other than that at this stage. There will be an official announcement in due course."
Several other members of the band responded with the same official statement, as the band has seemingly learned from the public relations storm that ensued after the departure of legendary Lead-Drummer Jim Kilpatrick in 2015 under acrimonious circumstances.
+ Shotts-Kilpatrick story continues: band offers an apology
McAllister confirmed that Canning had informed the band about his plans a few weeks before the World Championships. The group formed a guard of honour in tribute to Canning as they came off the World's arena following their Medley performance, Canning's last as pipe-major.
Despite a strong pipe section for the last two years, the Shotts & Dykehead Caledonia drum corps has been slower to regenerate success after the Kilpatrick's departure. Andrew Lawson eventually took over the corps, which has consistently finished lower than eighth at major championships, including an eleventh and twelfth in the 12-band Grade 1 Final at the 2018 World's.
+ Shotts appoints Andrew Lawson leading-drummer
In addition to his work with pipe bands, Canning operates a highly successful drone reed-making business in Scotland. He is also a top-flight light music solo competitor and a well-played composer. He has published two collections of music, most recently The Blockbuster in 2015.
+ New Blockbuster collection from Ryan Canning
Shotts's pipe-sergeant is the rapidly rising solo piper Stephen Leask, who is considered by many as a logical successor to Canning.
After the 2017 season, Shotts lost several pipers, including Pipe-Sergeant Glenn Brown.
Under Canning, Shotts delivered its well-received "RISE" concert at the Glasgow Royal Concert Hall in August 2017, and this summer released a recording of the event.
+ Shotts RISE recording ready for pre-order
Shotts & Dykehead Caledonia is one of the world's oldest and most successful pipe bands. Over its 108 years, the band has won 100 RSPBA major championships and 17 RSPBA Champion of Champions titles, as well as 103 drumming championships and 19 RSPBA Best Drum Corps Champion of Champions awards. Shotts has won 16 World Pipe Band Championships, the most by any band since the competition was formalized in 1946.