PPBSO outdoor circuit starts Saturday with Georgetown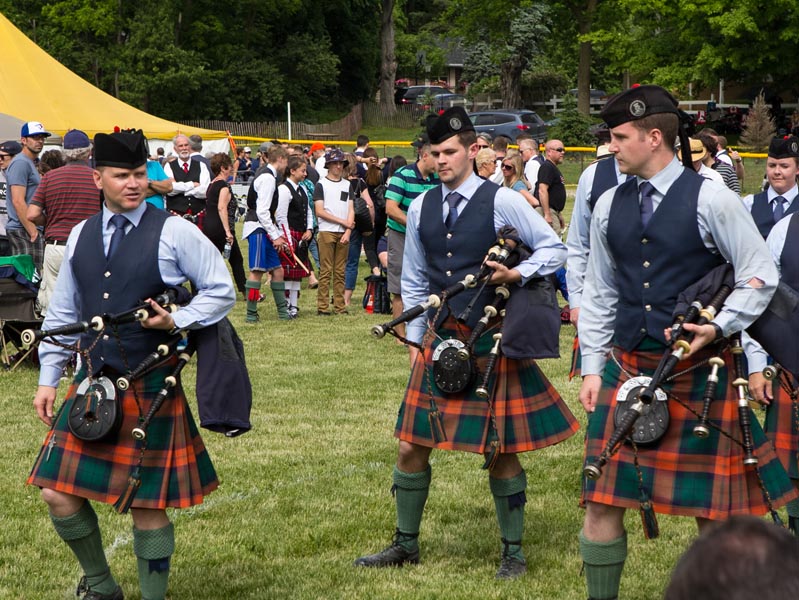 After an unusual cold and damp "spring" following a chronically long winter, the Pipers & Pipe Band of Ontario's outdoor competition season will finally launch on Saturday, June 8, with the Georgetown Highland Games at Georgetown Ontario.
While the association has only one actively competing Grade 1 band in the 78th Fraser Highlanders, the premier event will see three contestants. The 78th Highlanders (Halifax Citadel) will make the journey from Nova Scotia, and, from Florida, City of Dunedin will make their international debut in Grade 1, both bands competing against the 78th Frasers in the medley competition.
The PPBSO's only other Grade 1 band, the Toronto Police, announced their hiatus from competing due to the band's ongoing search for a suitable lead-drummer.
The 78th Highlanders (Halifax Citadel) also revealed the lead-drummer challenges led to the band deciding not to attend the World Championships, but continuing to compete in North America.
In Grade 2, three police bands will compete in the MSR contest. The Peel Regional Police, Toronto Police (Grade 2) and Ottawa Police Service will vie for the prize. The contest marks the return of the Ottawa Police to competition after a hiatus of more than a year, with the band voluntarily moving down to Grade 2.
A total of 26 bands will compete in grades 3, 4 and 5, and more than 180 individuals are entered for solo events across all grades.
"We're all excited for the beginning of the outdoor season and are looking forward to Georgetown," said PPBSO President Chris Buchanan. "It's going to be the start of a great season."
Georgetown includes a Friday Silver Medal Competing Pipers Association qualifier for pipers grade B in piobaireachd by the CPA, as well as a C-Grade piobaireachd competition. Ten players have entered for the Silver Medal event, the winner getting a bye to the 2020 competitions at the Argyllshire Gathering and Northern Meeting.
Weather continues to be unpredictable, but a recent forecast indicated a high of 22 degrees Celsius and sunny.
The Grade 1 competition was won last year by the 78th Fraser Highlanders.
The first outdoor event for Ontario was on May 25 at the Kingston Scottish Festival in Kingston, where a total of nine bands competed across the three lower grades. The event is not sanctioned by the PPBSO.
Stay tuned to pipes|drums for results and videos (taken and used with the written permission of games organizers and bands) from Georgetown.
---
Related articles

PPBSO adds C-Grade event to Silver Medal qualifier round at Georgetown
April 19, 2019
---

78th Fraser Highlanders win Georgetown
June 9, 2018
---

Georgetown 2018 videos: Grade 1 and Grade 2 contests
June 10, 2018
---

Grade 1 Toronto Police still searching for L-D
October 11, 2018
---

Grade 1 78th Halifax again hangs out shingle for L-D
November 15, 2018