Vale ends long L-D search at Lee Lawson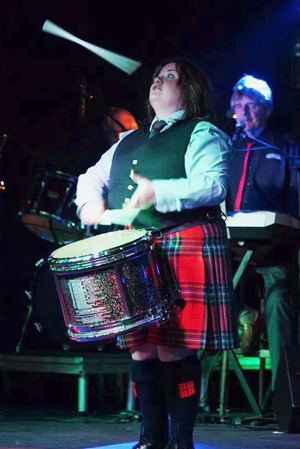 The Grade 1 Vale of Atholl of Pitlochry, Scotland, ended its four-month search for a leading-drummer with the appointment of Grade 1 veteran Lee Lawson to the role, making her the first female and the second named "Lawson" to become a leading-drummer in Grade 1 in the UK since the end of the 2015 season.
A native of Northern Ireland, Lawson played with Vale of Atholl at various times when Paul Turner was the band's leading-drummer in the 2000s, and she has also been a corps member with Grade 1 Field Marshal Montgomery and the Royal Ulster Constabulary Pipe Band (now Police Service of Northern Ireland).
She resides in Northern Ireland and plans to remain there, bringing other Northern Irish drummers, as well as a few from England and Scotland, for what will be a rebuilt corps. The band's drum section will maintain two practice bases, one in Northern Ireland and another in Scotland, and Lawson-Irwin will travel to Scotland "as often as possible" for practices there.
The double practice locations follows an apparent trend with top-grade bands. Field Marshal Montgomery has held practices in both its home ground of Belfast and in Glasgow for its members based in Scotland. In the fall, the Grade 1 Dowco Triumph Street of Vancouver announced that it would maintain a UK unit, with Pipe-Major David Hilder travelling regularly to Glasgow for practices there.
"I'm absolutely delighted to be returning to The Vale and taking on the role of leading-drummer," Lawson said. "It has been an ambition of mine for some time to be able to lead a corps in Grade 1, so to be able to make my debut with a band I loved being a member of in the past is an honour, a privilege and a dream come true. It's my aim to rejuvenate the drum corps and have them established as a worthy competitor in the grade and hopefully achieve some top-six placings once again. I will be bringing some new players with me to add to those already there. We will be putting in a lot of hard work over the next few months to be the best we can be to hit the grass in May. There are definitely fun and exciting times ahead and I am very much looking forward to the upcoming season and many more happy years with the Vale."
Lawson has leading-drummer experience with the Grade 2 Howard Memorial in 2012, and in 2015 was L-D of the Grade 4A Marlacoo & District, which won the RSPBA's Champion of Champions drumming title for that grade.
During Lawson's drumming career she has gained Ulster, All-Ireland and World championship wins in various solo grades from Juvenile to Senior.
Vale of Atholl had been searching for a lead-tip after the departure of Alistair McNab, who had led the band's drum corps since 2013.
Rumours had been rampant over the fall that former Shotts & Dykehead Caledonia L-D Jim Kilpatrick was to join Vale of Atholl. Though reportedly very close to being finalized, the deal did not transpire, and Kilpatrick subsequently joined the resurrected Grade 1 Spirit of Scotland along with the five former Shotts snare drummers who departed with him.
Late last year the Grade 1 Los Angeles Scots appointed Molly Steuber to its leading-drummer post, making her the third female ever in that role in Grade 1. Shotts & Dykehead Caledonia made Andrew Lawson its leading-drummer in November 2015.
The first female leading-drummer to compete in Grade 1 was Kyla Richdale (nee MacNeil) of New Westminster, British Columbia, who ran the now defunct Abbotsford Police Pipe Band corps for a few seasons, including competing at the World Pipe Band Championships in 1997. Strictly speaking, Allison Savage was the first female L-D with a Grade 1 band, but the Deeside Ladies Pipe Band never competed in the top grade after being upgraded following the 1987 season.
Lawson is also a piper. In addition to Turner, Vale of Atholl has had several notable leading-drummers since becoming Grade 1 in the early 1980s, including he late James King and John Moneagle.