Family & Community: P-M Ross Harvey and L-D Kerr McQuillan of Peoples Ford Boghall & Bathgate Caledonia, Part 1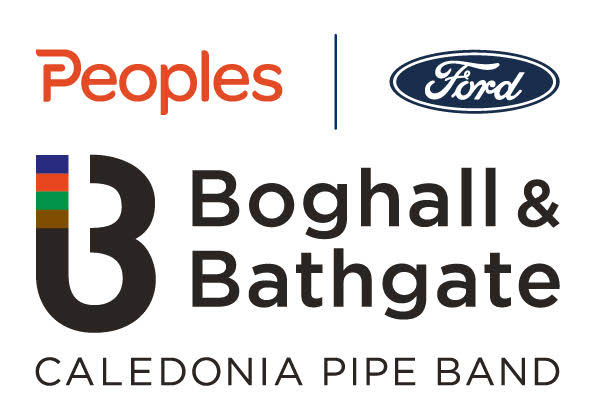 If there were ever a pipe band that exemplifies the word "family," it's got to be Scotland's Peoples Ford Boghall & Bathgate Caledonia.
Since the 1972, "Boghall" has pretty much written the book on sustaining excellence with a family atmosphere, growing and sustaining itself from within, by teaching, teaching and more teaching within the West Lothian community.
And now, at a time when most bands are struggling for personnel and recruiting leaders from many miles, countries and even continents away, Boghall's leadership is an outlier. Pipe-Major Ross Harvey and Leading-Drummer Kerr McQuillan have come up through the Boghall organization ranks for virtually their entire piping and drumming lives.
In the 18-year-old McQuillan's case, his entire life.
Indeed, his pedigree is Boghall 100 percent. His father, the famous tenor drummer Stevie McQuillan, has been with the Boghall organization since 1984, and his young son was born with a pair of sticks in his crib. He was destined to be a drummer and, since assuming the leading-drummer role just after the 2022 World Championships, he is by all accounts the youngest L-D of a world-class Grade 1 band in history.
His solo success is already huge: seven times a World Solo Drumming Champion in both the snare and tenor Under 18 sections, and he's already established a successful business in KMQ Drums.
An 18-year-old being given such a responsibility is one thing, succeeding perhaps the world's longest-running sustained percussion excellence is quite another. He's only the fourth leading-drummer in the band's 50 years of existence. Melvin Sim was the band's first L-D, followed by David Steadman, and McQuillan follows in the massive footsteps of legendary figures Gordon Brown and Gordon's father, Tom Brown.
And Ross Harvey himself succeeded Pipe-Major Ross Walker after the 2015 World Championships, who had followed his brother, Craig, in the role. After a few years as a pupil at Edinburgh's Craigmount High School, taking his first lessons there, Harvey has been with Boghall since his school days.
The family theme was even more apparent when Harvey's two-year-old son, Eoin, needed attention during the interview after his dad rushed home from his full-time job running the famed piping and drumming program at George Watson's College in Edinburgh to connect with us.
The continuing competitive excellence of the band is evidenced in numerous championship wins and close to 200 prizes at majors, including a fifth overall at the 2022 World's and a first in the Saturday Medley event.
We're delighted to bring you a two-part conversation with Pipe-Major Ross Harvey and Leading-Drummer Kerr McQuillan of Peoples Ford Boghall & Bathgate Caledonia, whose tradition of family and community piping and drumming values have helped to make it one of the world's most consistently excellent Grade 1 bands at the highest level.
Stay tuned for Part 2 of our conversation with Ross Harvey and Kerr McQuillan coming soon.