Glenn Brown added to world-class Capt. John Medal lineup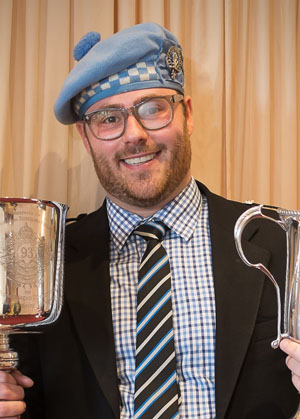 Glenn Brown, winner of the 2017 Senior Piobaireachd at the Argyllshire Gathering, has been added to the lineup of world-class pipers for the 2018 Captain John A. MacLellan MBE Memorial Trust Dinner on Sunday, August 26, in Edinburgh.
"This is an event that I've wanted to play in since its inception, and I'm honoured to have been asked to take part," said Brown. "The idea of playing more modern compositions is one I feel strongly about, whether light music or piobaireachd, so this is right up my street."
The addition of Brown brings the event to five recitalist-competitors, each of whom was a major piobaireachd prize-winner in 2017.
The black-tie event, sponsored in part by the William Grant Foundation, will take place again at the five-star Caledonian Waldorf Astoria Hotel in the heart of Edinburgh. Each piper is assigned a tune composed by, or strongly associated with, the late Captain John MacLellan, voted one of the 20 Greatest Pipers of All-Time by a pipes|drums panel of experts.
+ The Greatest 20 Pipers in History
Andrew Wright will be the sole adjudicator of the competition.
+ Faye Henderson wins MacLellan Memorial Medal
Tickets to the usually sold-out event are £40 each, and include beverages and a dinner put on by the head chef of the hotel, considered one of the best in the UK. Tickets are available by email request from the organizers.
It will be the sixth time that the competition has been held since 2011. Until the William Grant Foundation stepped in with sponsorship in 2015, it was staged bi-annually.
The date of the contest also allows pipers visiting Scotland to compete at the Argyllshire Gathering and Northern Meeting to attend the event between those competitions.
"We are delighted that the 2018 rendition of the Captain John A. MacLellan MBE Memorial Trust Dinner will feature five of the winners last year's more significant ceol mor competitions," said organizer Colin MacLellan. "This is a first for the event, and it promises to be an unforgettable night of fine music, superior dining, and wonderful camaraderie."